Energy Storage
Battery Storage and Grid Optimisation
Energy Storage Solutions are transforming the power landscape, optimising our grid networks, and aiding widespread adoption of renewable energy assets.
With an anticipated 23% compounded annual growth rate and up to 88GW added annually globally through to 2030, battery energy storage solutions (BESS) are being deployed at national, commercial, and domestic levels. In conjunction with renewable energy generation projects from solar, wind, hydro and biomass, and clean energy generation technologies such as green hydrogen, nuclear, and carbon capture and storage, they are aiding the move away from traditional fossil fuels.
Utility-scale battery storage is on the rise, for smart grid balancing to defer peak generation demands and relieve grid congestion in energy transmission and distribution. These standalone responsive systems help maintain the frequency (Hz) in periods of high usage, and ensure energy generated in off-peak times is stored not lost. The rapidly advancing technology means these projects are economically and environmentally essential to meet our growing energy needs. 
The same principles apply to industrial, commercial and domestic energy storage solutions: Energy security, on-demand power, and cost-control amidst rising energy prices sit alongside carbon reduction strategies using renewable energy. 
Compatibility and compliance are vital in BESS installations. We work with grid network contractors and end user industry customers to provide cable solutions that meet relevant national and international and industry-specific standards and delivers performance with future-proofing in mind.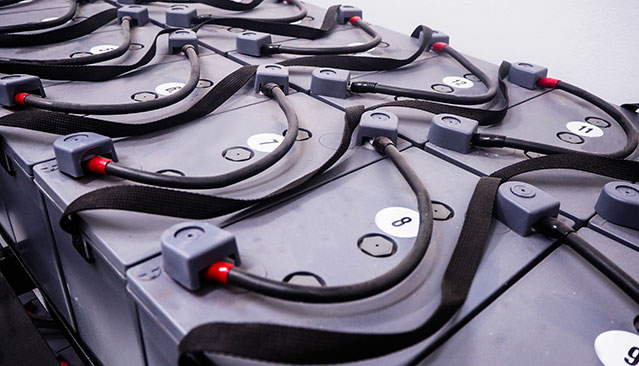 Battery Energy Storage Cable Solutions
The environmental and installation parameters can vary hugely between project sites: it may be a brownfield or greenfield location; near existing industrial clusters or comparatively remote in location. The location can mean private grids are required before reaching the contestable connections. Navigating the cable specification not only to achieve performance demands but to meet and withstand the challenges of the environment, whether that's MDPE sheathing and waterblocking layers for Medium Voltage cables in external use in waterlogged ground, or LSZH sheathed cables for internal runs and terminations.
Cable longevity - and minimal asset management - is also a factor for these sites. With an anticipated BESS project licenced operational lifespan of 20 to 30 years any need to replace or repair cables is to be avoided at all costs, especially where cables cross land owned privately and are buried in the ground. The work our Cable Lab does to ensure the quality and compliance of the cables you install helps minimise and mitigate that risk.
CPR rated cables for BESS projects
Within Europe, the Construction Products Regulation (CPR) applies where the installation connects into a building. Our CPR-compliant range includes Low Smoke Zero Halogen cables, with DoPs provided on request and held for the mandatory 10 year period should you require it in the future for your records.
With countries stating differing mandatory minimum Euroclassifications, we offer a range of CPR compliant cable options, depending on the design parameters and geo-specific requirements, including high-performance Cca and B2ca LSZH sheathed solutions.
Contestable Connections: DNO-approved Utility Cables
Connecting to the grid network requires Medium Voltage cables holding specific approvals applicable to the Distribution Network Operator. In the UK that means holding DNO approved cables for UKPN, SSE, SPEN, WPD and ENW - cables that we can hold in stock for next-day delivery or have manufactured in G81-certified factories to your specific project lengths and against your installation timelines.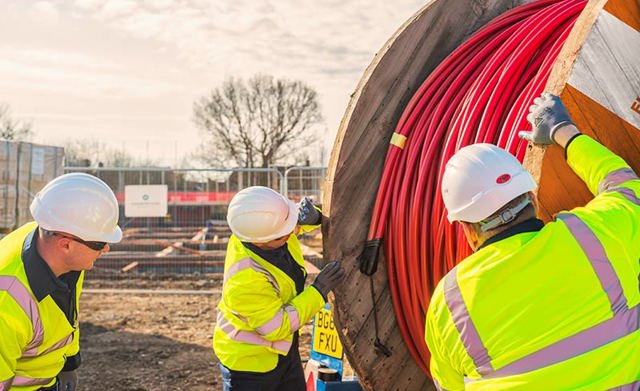 Green credentials for sustainable energy projects
There's a growing awareness of the link between renewable and green energy projects and the green credentials of the supply chain involved with the installation. Our sustainability practices and work to reduce our carbon emissions make us the ideal supply partner to collaborate on green energy projects. For information on our efforts, see our latest sustainability report or speak to a member of the team for more on how we can support specific goals and targets.
The Cable Lab
Quality and Compliance matter. Our world-class IECEE CBTL & ISO/IEC 17025 accredited cable testing laboratory gives you the assurance you need to install with confidence.
Read on
ESG & Sustainability
Our commitment to our people, our stakeholders, our local communities, and the wider environment is ingrained in our culture.
Read more
CPD Cable Training
Providing training for companies to help improve their understanding of the cables they use, covering products, compliance regulations, applications and more.
Learn more