Battery Storage Technology Cables
Battery Storage is growing in importance for a number of industries, playing a key role in emerging technologies.

From Renewable energy to E-mobility, battery storage technology and battery energy storage systems (BESS) are aiding widespread adoption and transforming the power landscape and strengthening our sustainable energy infrastructure.
Battery energy storage systems also support national power network grid balancing, and can replace conventional power generators. The UK Government recently relaxed planning legislation to make it easier for large-scale batteries for renewable energy solutions to be constructed. The UK has the largest installed capacity of offshore wind in the world but as wind speed and availability is not constant it can result in production that is lost rather than efficiently used. Battery storage technology will help mitigate this by stabilising and balancing the outflow. It is part of a wider move to smarter grid tech.
On a smaller scale, microgeneration battery storage technology (also referred to as Energy storage systems or thermal stores) is allowing home and business owners to control their own energy consumption, combining with solar PV to provide power on demand rather than having to export excess to the grid.
In many cases, the combination of size and weight reduction and capacity increase, alongside rising energy demands and increasing grid volatility makes integrating battery storage facilities and technology into wider installations a key consideration, both from an efficiency point of view and for the associated green credentials.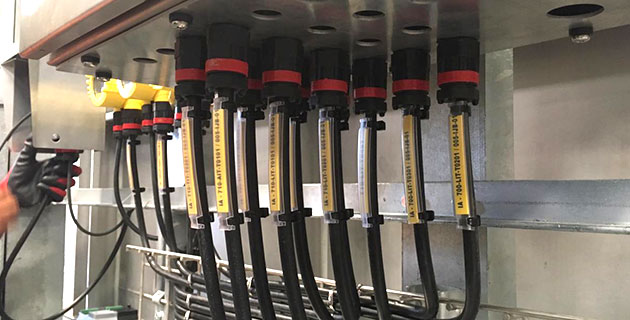 Eland cables offers a range of cables, such as the FHL2G and FHLR2GCB2G cables compatible with battery storage including:
LFP battery: lithium iron phosphate battery (LiFePO battery or LFP battery). Common applications include vehicle use, utility-scale stationary applications including domestic PV installations, and backup power.
Sodium Nickel battery: Sodium-nickel chloride battery (Na-NiCl2) with applications in EVs, HEVs (hybrid electric vehicle), trucks, buses and vans, as well as stationary field and distributed renewable generators (micro wind turbines and large PV plants).
NMC battery: Lithium nickel manganese cobalt oxides (abbreviated Li-NMC, LNMC or NMC) used widely in major car manufacturer EV brands including BMW i8, Audi e-tron GE, BMW i3, Chevrolet Bolt, Hyundai Kona Electric, Jaguar I-Pace, Nissan Leaf, Renault ZOE, and the VW e-Golf.
NCA battery: Lithium nickel cobalt aluminium oxides (NCA): Used by Tesla in their EV model traction batteries.
For support with compatibility and wider power installation integration, please speak to one of our team who will be able to provide specification guidance.
Your tailored quote direct to your inbox
Your basket is currently empty
Project Services
Our extensive portfolio is backed by a wide range of services that help your project run smoothly, together providing a complete cable solution
Learn more
Cable Testing
Learn more about our UKAS accredited ISO 17025 testing laboratory, our specialist MV test facility, and the tests that provide quality and compliance assurance
Read on
Cable calculator
Use our cable calculator to aid with cable sizing in accordance with British BS7671 and International IEC 60364-5-52 standards
Calculate cable size