Tailored Logistics
For end-to-end delivery
FORS Silver Fleet Accreditation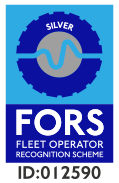 Our fleet covers the majority of the UK on a next-day delivery basis, and is FORS Silver accredited. The FORS accreditation is an important one for us as it's a commitment to safe working practices, road safety awareness for freight shipping (including attention to cyclists and vulnerable road users), and legal compliance. Our drivers and logistics team are all individually assessed, having to demonstrate fuel efficient driving techniques to go alongside green route planning and monitoring of emissions and fuel usage. The team have also completed the British Safety Council's Driver Safety Awareness training.
The added benefit of our fleet, over-and-above the ability to support deliveries to sites that require FORS compliance, is the accessibility and accountability - we can track drivers on the road, speak directly to them on the phone, and provide PODs straight away. As a customer it means we can give you a clearer ETA and help you better manage your onsite delivery timings.
Our continued investment in our 'last mile' service is important - it's the control and flexibility to meet your delivery requirements. Put simply, for you as a customer it means a trusted logistics service.
There will remain occasions when we utilise the services of one of our premium logistics partners, but we hold them to the same high standards and track each step. For international shipments we work with specialist freight forwarders who will ensure a swift and timely delivery to port and beyond, with all paperwork and customs documentations complete. You can expect your cables to be delivered where and when you want them.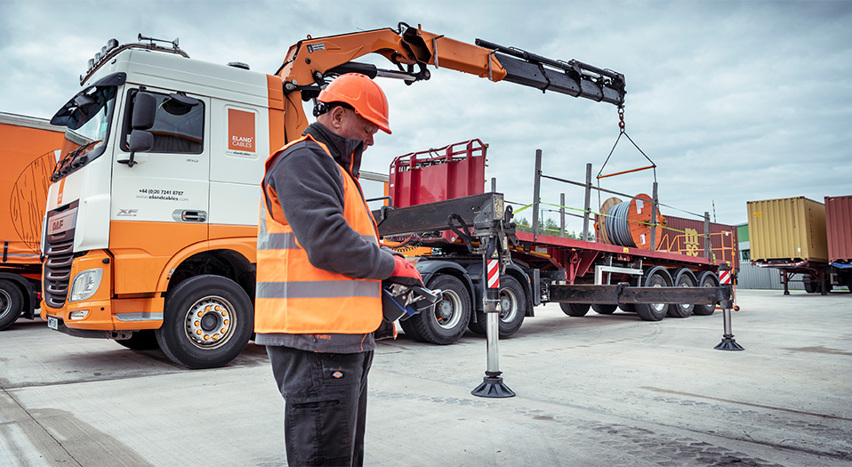 Stockholding and Storage Facilities
Our cables are stored according to their application environment - inside where appropriate, or where for external use outside with end-caps to prevent water ingress. Where relevant, cables are also protected with a UV wrap. Our extensive stockholding supports our commitment to next-day deliveries from stock, with our expansive facility also allowing for the storage of millions of pounds of project-allocated stock. This capacity to hold stock on a call-off basis gives projects greater flexibility with their on-site storage and security provisions.
Project Distribution Hubs for large-scale projects
For some client projects the logistics of getting cable to site are more complicated with challenging schedule of daily or weekly deliveries over an extended period. For these clients we can assist by establishing a distribution hub specific to them and their project, as part of our wider project support services. The advantage of this is greater visibility of cable availability and the ability to support flexing and ad-hoc schedules. 
All cables held in the project distribution hub are fully QA tested by The Cable Lab prior to shipment. 
Our portfolio
Cables across power, data, control and instrumentation as well as cable accessories to support installation
Products
The Cable Lab
Cable testing is central to our commitment to quality, compliant products
Learn more
Case Studies
Learn about some of the projects we've been involved in and how our services have helped make a difference
Our projects