The Cable Lab
Cable Testing and Expert Technical Support
Born out of a desire for technical excellence, The Cable Lab is testament to our ongoing commitment to product quality and compliance and central to our customer commitment. We remain vigilant of the issue of non-compliance and sub-standard cables that exists across the industry and so undertake tests on over 100 different cables each week from across our cable portfolio. Our highly qualified technical and industry experts include members of European and International technical committees and consultants to regulatory bodies. This unrivalled wealth of knowledge and expertise is on hand to lead our in-house quality assurance and to deliver expert cable technical support and services.
ISO/IEC 17025 UKAS Accredited Cable Testing
Our independent cable laboratory is accredited by the United Kingdom Accreditation Service (UKAS) to ISO/IEC 17025 - the international reference standard for a test facility - producing universally accepted test results, reports and certifications. Through this accreditation, our laboratory is recognised under the European Accreditation Multilateral Agreement (EA MLF), the International Accreditation Forum (IAF) and the International Laboratory Accreditation Cooperation (ILAC), which in their own words means "Accredited once, accepted everywhere."
In this centre of technical excellence we combine experts who can share their knowledge to support customer projects, alongside a rigorous testing regime for both our own Quality Assurance and third-party cable assessments across all cable types. Our specialist MV test facility adds an extra level of testing for cables rated over 3kV.
Eland Cables, through The Cable Lab, also holds two BSI Kitemark accreditations, recognised globally as a symbol of trust and quality - the BSI Cable Verification Kitemark and the BSI RoHS Trusted Kitemark.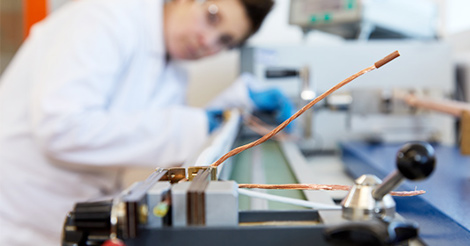 Independent Testing Services
Quality and compliance isn't just for our own cables. The Cable Lab offers testing, analysis and reporting on third-party sourced cables, across the breadth of power, data, control and instrumentation.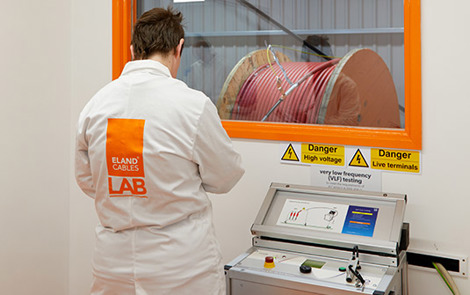 Specialist MV Test Facility
Testing Medium Voltage cables over 3kV in our dedicated facility, covering British standard BS6622, BS7835 and international standard IEC 60502-2 cables. Includes VLF voltage withstand testing on completed cable on drum.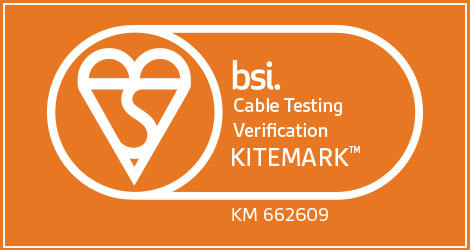 BSI Kitemark Cable Testing
A globally recognised third-party mark of quality that provides valuable assurance of quality. It's the most intensive cable testing on the market.
---
Additional Lab Services
CPD cable training
Allow our experts to share their knowledge with cable training on a range of subjects as part of your Continuous Professional Development programme. Tailored training courses also available.
GO
Customised Cable Solutions
Whether a fully bespoke cable is specified or a composite cable will fulfil requirements, our technical experts will work with our customers' engineers to confirm the brief, design a solution, and manufacture the ideal cable.
GO
Technical Hotline
For support on any aspect of cable selection, specification or installation you can contact our hotline for advice by email or telephone.
GO
Regulatory Compliance
Learn more about some of the regulations and legislation that we check our cables for compliance with.
Cable FAQs
Read our answers to some of the cable, industry, and electrotechnical questions you've been wanting to ask.
FAQs
Start a FastQuote
Our online quotation tool is the quick and easy way to submit your cable enquiry
Add Products
Project services
Our complete cable solutions include a range of services to support your project including tailored logistics and project distribution hubs
Our Services