Customised cable solutions
Our portfolio of cables cover a broad spectrum of applications across an equally broad range of industries, but there are times when those products won't quite meet the requirements of your application. It's then that the combination of expert technical advice, coupled with our experience in cable R&D, can make the difference. Custom cables can be a cost-effective solution to your application conundrums.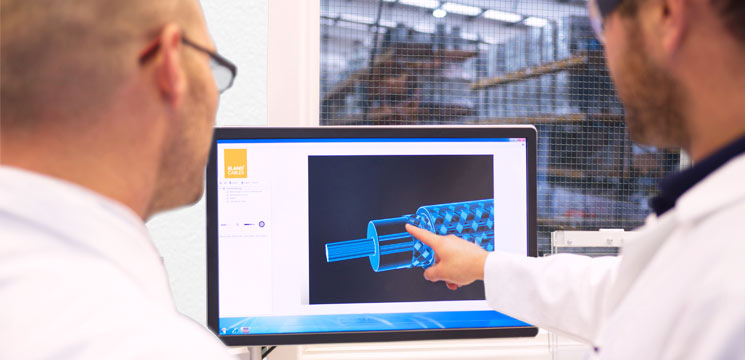 What do we mean by customised cables?
Customised cables can cover a wide range of services, from designing a wholly bespoke cable against a unique specification, to adapting and changing existing cables to improve efficiency or overcome the limitations of a particular installation. Cable harnesses with high quality terminations, designed to your precise requirements, are also available as a cost-effective and time-saving pre-installation solution.
With all our custom cable solutions, after our experts have confirmed the cable design, we can have the cable manufactured in low minimum order quantities on short lead-times, have it rigorously tested in our in-house laboratory to confirm performance, and then delivered to you ready for installation. Where required, The Cable Lab® can also support you with any additional third-party approvals necessary for the cable, with the UKAS accredited facility being able to demonstrate compliance through its testing regimen.
Our technical experts have experience creating custom designed cable solutions for highly regulated organisations such as Network Rail and other leading utilities, for whom we regularly develop new cables.

Our Custom Cable Solutions include:
Custom designed cable
Fully bespoke design developed by our technical experts against a unique application's specification

Composite cable
Used in many industries and particularly beneficial where there is a common and aggressive environment form which to protect the cable, or to reduce installation time (eg: cable pulling) and complexity. Composite cables may be manufactured by laying (twisting) complete cables of different or similar designs together, or placing the assembly under a collective armour layer and/or a final collective sheath.

Braiding, armouring and electrical screening
These options can place additional mechanical / electrical / EMI layers on an existing cable. Mechanical protection can be provided by adding either a flexible galvanised steel wire braid or simply more steel wire armour. Protection from electrical interference can be achieved by adding a metallic screen, such as a tinned copper braid or an aluminium/polyester foil.

Oversheathing and Resheathing
Whether extruding a new sheath over an existing product or resheathing in order to maintain the original overall product dimensions, this customisation can offer protection against environmental damage and enhance product performance  to support a long service life.
Oversheathing often involves a sheath colour change whether for cable identification or to provide additional environmental protection and UV stability. For outdoor use, cables can be oversheathed with weather-resistant materials such as Polyethylene (PE) and Polyurethane (PUR) making them suitable for use in ducts and harsh environments. The colour change options are extensive.
Cable harnessing
Cables pre-terminated with crimped lugs or glands, cut to precise lengths and, where appropriate, bundled and with cable markers, can offer economies in both time and money when replicated for frequent installations. These can be single lengths or multiple cables running a complex design route. See our cable harnessing page for more information.
Bespoke Cable Testing
All customised cables designed by The Cable Lab will be subject to testing to relevant standards or, where more appropriate, performance criteria such as conductor resistance, insulation tensile and elongation, and vertical flame propagation. Independent cable testing will be conducted under our UKAS accreditation and, where required by industry or application, we can submit for relevant cable certification and cable approval processes.
For more information or to discuss possible custom designed cable solutions, please complete an enquiry form, contact our technical experts on the Technical Hotline +44 (0)20 7241 8500, or email technical@elandcables.com.
Back to top
Call Sales on +44 (0)20 7241 8787
Click to Email Us We will reply within 3 hours
Technical Hotline +44 (0)20 7241 8500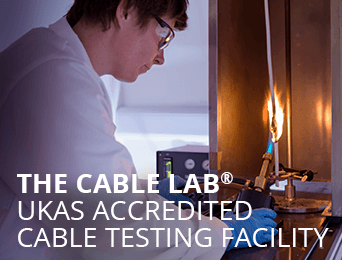 The Cable Lab®
UKAS-accredited specialist cable testing laboratory
The Cable Lab® our in-house cable testing facility, is UKAS-accredited to ISO 17025, which is the single most important standard for calibration and testing laboratories around the world. Accreditation to this international standard demonstrates our laboratory's technical competence and the accuracy of its results.
For our customers, it means peace of mind. They can have full confidence in the quality of our products and can demonstrate due diligence in selecting their cable supplier.
Our customers can also rely on the Cable Lab's services for an independent, objective and comprehensive quality assessment of cables procured from third parties.

About Eland Cables
Established in 1975, Eland Cables is a supplier of power, data, instrumentation and control cables and cable accessories to the world's most demanding industries and to some of its most prestigious projects. Our reputation is built on an unswerving focus on quality, technical expertise and customer service.
Quality
Our focus on quality has resulted in our in-house specialist cable testing facility securing the ISO 17025 accreditation. This certifies the competence, impartiality and performance capability of our laboratory and its evaluations. In turn, it means peace of mind for our customers with regard to the quality of the cables they source from us.

Expert tecHnical support
Our highly-qualified technical team is on hand to provide technical support with all aspects of cable selection, technical specification, regulatory requirements, and bespoke cable design and manufacture.

Complete Cable Solutions
We are a key contributor to projects in over 100 countries every year, adding value through comprehensive technical support, reliable logistics, innovative solutions, and a customer-centric approach.