Food & Beverage Cables
Supporting operations in food processing
Food safety standards require stringent protocols to prevent cross-contamination. The automation of food processing plants, whether bottling factories, grain milling, abattoirs and meat packing, dairy processing, or food packaging, require a combination of power, control and instrumentation cables to maintain operation.
In many ways, food processing plants operate in the same way as any automated warehouse, requiring a range of power, control and fieldbus (data) cables to operate. Yet Food & Beverage (F&B) cables and their accompanying accessories can not only deliver the required performance but can also support food safety standards. It's not just the use of Low Smoke Zero Halogen (LSZH) cables in factories to minimise the smoke and toxic fumes emitted in the event of a fire. The use of Polyurethane (PUR) instead of PVC as a sheathing materials can prevent bacterial microbial cross-contamination or the effects of atmospheric moisture – PVC being permeable and so supporting bacterial growth; ExE grade cable glands are designed for flammable environments – important in milling and sugar refineries where a build-up of dust particles can cause a risk of explosion. Choosing the correct specification for your application is critical.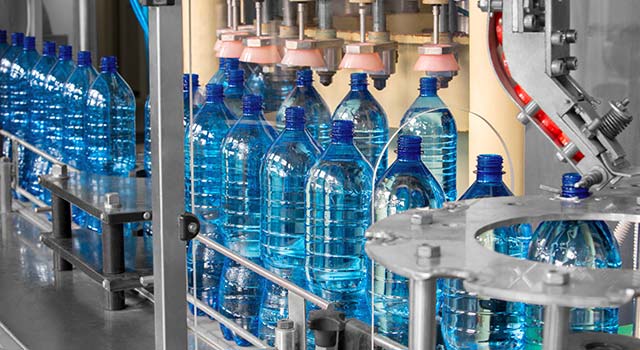 Food & Beverage (F&B) Cable Applications
Automation and Equipment
Production lines can run 24hrs a day 365 days of the year and so the cables connecting power, controlling conveyor line speeds, and signals identifying necessary actions must match the demands of performance. Eland Cables offers a comprehensive range of automation cables for control, servo and fieldbus applications, including the Veriflex brand which hold the BSI Kitemark as a valuable third-party certification mark of quality.
Cold Storage
Whilst many cables will continue to operate to temperatures as low as -25oC, they may only be suitable for fixed applications. Additionally, industrial cold storage, whether refrigeration or freezers, may require the option for even lower temperatures. The Arctic grade 318-A offers a multicore PVC cable that retains its flexibility down to -40oC. For easy identification it is available with blue or yellow sheathing.
Line Wash-downs
Food processing plants handling meat or dairy require frequent and ongoing sanitising to maintain cleanliness – it's not hard to imagine the enormity of the task. These rooms, and the cables connecting equipment and infrastructure, are subject to water pressure from hoses and direct impact from the water spray, requiring a robust construction and a non-permeable outer sheathing. This can be an aggressive environment and so the cables need to withstand this frequent process.
Food & Beverage (F&B) Cable Specifications
PUR Cables
Our portfolio of Polyurethane cables covers both power and control applications, from the Veriflex PUR-JZ 06/1kV cable for control, signalling and monitoring applications, the H05BQ-F and H07BQ-F cable for industrial equipment power, to the Powerchain PUR cable for drag chain applications, and low voltage PUR power cables.
Customised cables
If the cable you need for your installation isn't readily available or you working within confined parameters, the option to design a customised cable may be appropriate. From resheathing or oversheathing to change the outer barrier – perhaps from PVC to PUR – to creating a composite cable that puts both power and electro-magnetic shielded data together to save space, the technical experts of The Cable Lab can design, develop, manufacture and test a solution that works for your specific application.
The Cable Lab
Quality and Compliance matter. Our world-class IECEE CBTL & ISO/IEC 17025 accredited cable testing laboratory gives you the assurance you need to install with confidence.
Read on
ESG & Sustainability
Our commitment to our people, our stakeholders, our local communities, and the wider environment is ingrained in our culture.
Read more
CPD Cable Training
Providing training for companies to help improve their understanding of the cables they use, covering products, compliance regulations, applications and more.
Learn more