Switchgear cables
To control, protect and isolate equipment
Eland Cables is a leading international supplier of switchgear cables and we have one of the most comprehensive portfolios in the industry.
As switchgear cable specialists, we have a detailed understanding of switchgear systems and of the power distribution systems of which they form part. Our cable solutions encompass technical support with specification, cables of the highest quality, and delivery to site on some of the shortest lead times available.
Our core switchgear cable range is the tri-rated panel wire, manufactured in accordance with British (BS), American (UL) and Canadian (CSA) standards. This high temperature cable meets the specifications set by BS 6231 Type CK, UL 1015, and CSA C22.2 No.210.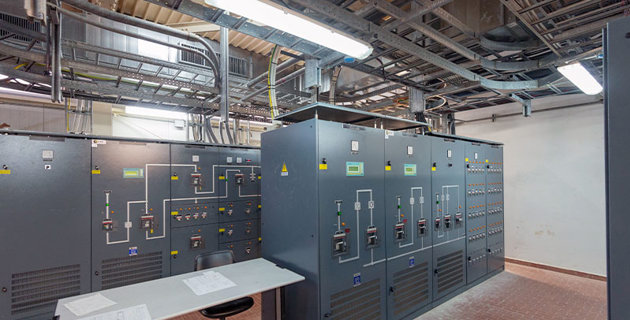 It is designed for use in the wiring of switch, control, metering, relay and instrument panels of power switchgear. It is the cable of choice for equipment installations required to meet North American and European wiring regulations – as such it is also in heavy demand for switchgear solutions across the Middle East. Our tri-rated switchgear cable is regularly selected by quality-conscious organisations such as Network Rail for use in its railway stations across the United Kingdom, and by leading engineering firms such as ABB for its panel wiring projects, around the world, including the Burj Khalifa's switchgear systems.
Innovative switchgear cable solutions to solve specific industry challenges
In addition to tri-rated cables, we supply a wide range of other switchgear cables manufactured in accordance with various British, European and international standards for a variety of specialist applications. This includes Coil End Lead, a flexible supply and distribution cable with a rugged construction and tight bend radius and the highly flexible LifY cable.
This type of cable is ideal for use in confined spaces as it gives designers greater freedom when planning wiring routes. We also supply the PVC single core 6381Y cable and the 6381B cable, its low smoke zero halogen equivalent, for telecommunication equipment and power applications. Our switchgear cables are frequently used in safety-critical environments including hospitals, airports and utility infrastructure.
In addition to switchgear cable, we supply a comprehensive range of power cables to connect external power systems to switchgear systems. These include steel wire armoured cable BSW5467 and BS6724 for fixed applications and the H07RN-F (rubber) and H07ZZ-F (LSZH) for flexible applications, both of which we supply in large quantities.
As with all the projects we work on, our switchgear cable solutions cover the full spectrum of services from technical support to expert logistics, ensuring your switchgear installation runs smoothly and to time.
The Cable Lab
Quality and Compliance matter. Our world-class IECEE CBTL & ISO/IEC 17025 accredited cable testing laboratory gives you the assurance you need to install with confidence.
Read on
ESG & Sustainability
Our commitment to our people, our stakeholders, our local communities, and the wider environment is ingrained in our culture.
Read more
CPD Cable Training
Providing training for companies to help improve their understanding of the cables they use, covering products, compliance regulations, applications and more.
Learn more