Bavaria set to trial Siemens hydro-powered train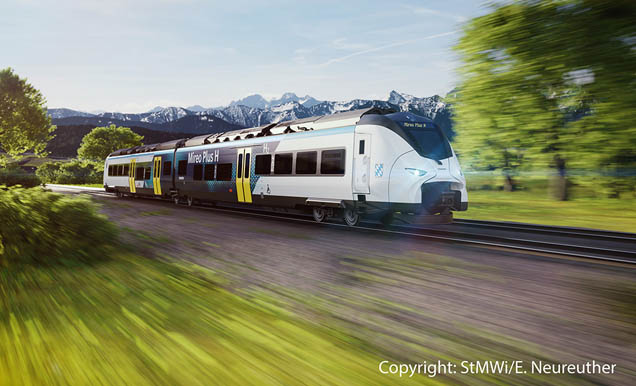 For over a decade Siemens have been working on hydrogen electrolysis and in early October 2020 Siemens Energy and Siemens Mobility declared their collaboration on the development of hydrogen solutions that will make it possible to produce and use sustainably-generated hydrogen across a host of applications. One such innovation has its focus within the rail industry:
In Bavaria testing has begun on a two-car hydro-powered train. The Augsburg to Füssen route, amongst others, is expected to commence full operation during the summer months of 2023 though will make its debut to the public next year. It's initially planned for a 30month pilot operation in the rail network of Bayerische Regiobahn (BRB) with this leap forward in the use of green hydrogen supported by the Bavarian State Ministers for Economic Affairs and for Transport. A Memorandum of Understanding (MoU) to this effect was signed on Monday 12th of July 2021 by Kerstin Schreyer (Minister for Transport), Hubert Aiwanger (Minister for Economic Affairs), and senior ambassadors of Bayerische Regiobahn (BRB) and Siemens Mobility.
The hydro-powered train is being developed on the basis of the Siemens Mobility Mireo Plus H platform. Designed to run for up to 800km (497 miles) on non-electrified rail lines, the main components of the hydrogen traction drive are two fuel cells mounted on the roof. The Siemens system uses the newest generation of batteries from Saft which are installed under the floor.
Arnulf Schuchmann, Technical Managing Director of BRB, said: "We agreed to test hydrogen technology and to test the Siemens Mobility train in passenger service because we are curious and open to alternative forms of propulsion in the railway sector as well. Within the Transdev Group, to which we belong, there is already a lot of experience with alternative drives in the bus sector."
Kerstin Schreyer, Bavaria's State Minister for Transport explained: "The Free State of Bavaria sets itself ambitious climate targets and wants to implement a clear climate protection strategy in the transport sector. Innovative technologies and green hydrogen play a special role in this. In addition to the direct use of electricity, hydrogen has the potential to be used in a wide range of flexible applications, so that the rail transport sector can also be completely converted to renewable energies in the future. I am pleased that the Free State can also test this innovative technology in regular operation in this project."
Karl Blaim, Managing Director of Siemens Mobility commented "Siemens Mobility is a leading supplier in the development of alternative drives, which can contribute significantly to reducing emissions, especially in regional transport where there are no electrified overhead lines. The technology partnership between Siemens Mobility and the State of Bavaria enables the further development of the Mireo Plus H for Bavaria and supports climate-friendly passenger transport in the state."
Hubert Aiwanger, Bavaria's Minister of Economic Affairs comments on the development partnership. "The train is another important component in Bavaria's hydrogen strategy. My ministry is promoting research, development and applications in the field of hydrogen technology. We're organizing this rail project together with our partners because we're convinced that hydrogen technology will make a significant contribution to decarbonizing transport. We'll prove in Bavaria that business and climate protection can be reconciled with green hydrogen. However, it is by no means enough to put the hydrogen train on the track, since many aspects have to be taken into account during operation. Safety requirements have to be implemented, staff training, the refuelling of the vehicle, the routes on which it will travel, and many other activities have already begun."
When looking at the usage of hydropower in the mobility sector in particular, Natalia Westhaeuser, Vice President New Energy Business, Siemens Energy previously commented on why we need hydrogen in transportation "Far from being incompatible, battery technology and hydrogen technology optimally complement one another. Batteries are excellent for smaller modes of transportation, shorter ranges, and lighter loads. Hydrogen is ideal for longer ranges or for transporting heavy loads, which is generally what's required for air, marine, heavy cargo, and railway transport. In this case, the benefits of hydrogen are a high storage capacity and fast fuelling."
The continued advancement of alternative drives in rail transport is part of Siemens Mobility's sustainability strategy. Understanding that although the demand for hydrogen might be in its infancy it continues to grow year on year, and by applying the use green hydrogen will be a key factor in the future for all. From our point of view as rail industry specialists, and stakeholders in a number of Network Rail cable specifications, we'll watch with interest to see where our expertise – and our extensive experience in the renewables and e-mobility sectors – can support further developments.