Virgin Hyperloop - Passenger testing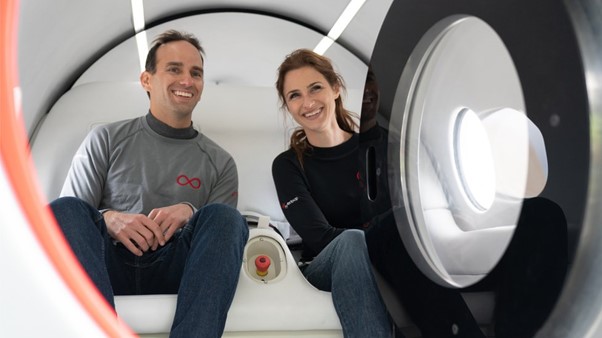 When we first talked about Virgin Hyperloop it seemed like the stuff of science fiction, but it's now become a step closer to reality with two of its staff becoming the first passengers to test out the high-speed vacuum pods.
These lucky employees became the first passengers to trial use of the pods on Sunday afternoon (8th November 2020), travelling on the 500m length DevLoop test track located in Las Vegas, Nevada. They completed the journey in just 15 seconds, reaching 107mph. It falls short of Virgin's estimated speed of 760mph but they say that the speed was hampered by the length of the track and the acceleration required.
The concept builds on a proposal by Elon Musk – based on the world's fastest magnetic levitation (Maglev) trains, which are then made faster by speeding along inside vacuum tubes. The world record for the fastest speed on a Maglev train was recorded in 2015 when a Japanese train on a test run near Mount Fuji reached speeds of 374mph.
So, what does this mean for Hyperloop? They believe that eventually passengers will be able to travel from New York to Washington in just 30 minutes, making these high-speed pods twice as fast as a commercial jet and four times faster than a high-speed train. They are also exploring concepts in other countries, including a hypothetical 12 minute connection between Dubai and Abu Dhabi, which takes more than an hour by existing public transport and is often subject to extensive traffic delays.
Hyperloop have run more than 400 tests without passengers, but this latest development is a key safety test for technology that they hope will transform both passenger and cargo transportation. They are working towards their safety certification by 2025 and to be running commercial operations by 2030.
Critics have pointed out that Hyperloop travel systems would involve the considerable undertaking requiring both planning permission and then constructing vast networks of tubes for every travel path. For countries with long-established rail networks, it's a challenge that may hamper adoption in many countries, not to mention it may not sit easily next to long-standing rail improvement programmes such as HS2 in the UK. 
Sarah Luchian, one of the staff passengers, acknowledges the potential difficulties, saying: "Of course there's a lot of infrastructure to be built but I think we've mitigated a lot of risk that people didn't think was possible."
She added: "Infrastructure is such an important focus for so many people in government. We know people are looking for solutions. They're looking for the transportation of the future. We can keep building today's or yesterday's transport systems and keep encountering the same problems they bring or we can really look to build something that solves those problems."
You can watch a video of the journey here.