The world's first solar powered train offers an insight into the future of rail travel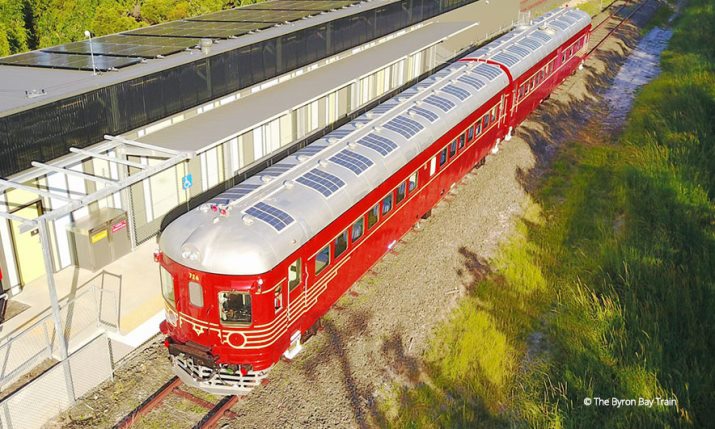 Have you ever thought of using solar energy to power railways around the world? A report from Imperial College London and 10:10 Climate Action suggests that solar energy could power 10% of Britain's routes. With connection costs getting more competitive, it means that solar traction power could be cheaper for rail companies than grid supply.
Australia has stepped to front of this trend with the first fully solar powered train offering regular journeys in New South Wales from this January. The company responsible for the project, Byron Bay Railroad, completely refurbished a vintage train that now has customised curved solar panels on its roof adding style to its journey.
Admittedly, the journey length isn't that far yet, only about 1.8 miles of Australia's Northern rail line. However, the project proves that solar energy could definitively power transportation while delivering real benefits to this small community, including traffic reduction and fewer emissions.
In case of an emergency, a diesel engine is maintained and accompanies the rolling stock, yet even during periods of cloudy sky it's not been necessary. The train has a 77kWh backup battery charged by the rooftop panels (connected by photovoltaic cables) and a solar array at one of the train stations, with the battery having the capacity to power one whole day's worth of journeys.
Of course, lack of sunshine is generally not a problem in New South Wales, where the region is expected to have an average of over 200 days of sun per year. In tropical areas with guaranteed sunshine throughout the year, rail lines could potentially rely exclusively on solar power with storage batteries support. The UK sadly can't offer the same consistently sunny climate (and summer feels particularly far off at the moment) but even powering 10% of rail routes would be environmentally beneficial - particularly if replacing routes currently using diesel-powered engines rather than electrified routes.
There have been other rail projects powered by renewable sources, in most cases we see electric trains attached to clean grids but what makes this Australian project unique is the fact that it generates its own power – it is entirely self-sufficient.
According to Bloomberg the cost of solar energy has been going down for the past six years and it has now achieved a stage in emerging markets such India and China where it's even cheaper than other renewable sources and even traditional coal-fired power. Together, the combination of clean energy generation and innovative solutions could be invaluable to the future of transportation.