New build homes + EV chargers to go hand-in-hand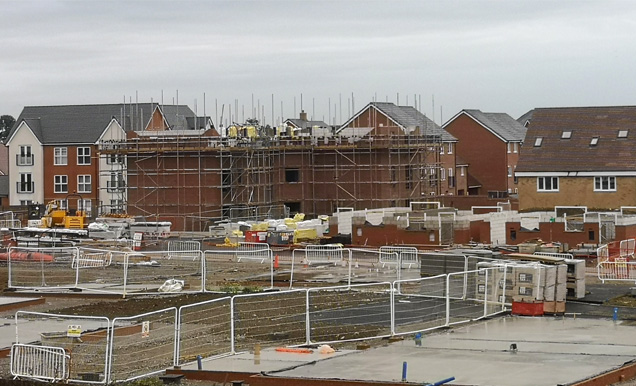 The UK government set an ambitious target to build 300,000 new homes each year by 2025 to meet the forecast shortage in housing. Whilst they are set to fall short of meeting those targets, the latest data shows that 2020 saw a boom in number of completed new builds not seen for over three decades.
Official statistics from the Ministry of Housing, Communities & Local Government reveal 243,770 homes were delivered in 2019/20 - the highest number of homes built in a year since 1987. Whilst this figure fell short of government targets, it was the seventh straight year that the number of homes delivered has increased.
Whilst the domestic residence construction boom is undoubtedly cause for industry celebration, additional legislation will also be introduced that requires all newly built homes and offices in England to include electric vehicle chargers as of 2022. Specifically, all new homes and offices will have to feature "smart" charging devices that can automatically charge vehicles during off-peak periods – a global first.
Stewart Baseley, executive chairman of the Home Builders Federation, comments: "Delivering new homes generates huge investment in infrastructure and amenities in communities, benefiting both new and existing residents.
"Looking ahead, building more high quality, environmentally friendly homes can play a major part in supporting the economy as the country recovers from the impacts of coronavirus."
Since 2010, more than 1.8 million homes have been built across England with over £3.9bn being allocated by Government through the Housing Infrastructure Fund. In the latest Spending Review, the government announced an additional £20bn of investment in housing, including £7.1bn for the National Home Building Fund. The government claims the fund will unlock 860,000 new homes. The Spending Review also included £12m of resource to take forward changes to the planning system. As a whole, the Ministry of Housing, Communities and Local Governments will receive nearly £10bn of funding in the 2021/22 financial year. The majority of these funds will go towards developing additional new-build homes.
By incorporating domestic trickle chargers into the framework of new homes it supports the wider shift to electric vehicles. The DNO grid will be expanded to accommodate the new housing estates and will have the demands of EV charging factored into the resource plan. It doesn't solve the wider public charging infrastructure challenge, but when the vast majority of journeys remain 'local' and can be achieved on a single charge, and by taking away the additional cost of retrospective installation, it will encourage more people to shift to full electric models when choosing to change their car. It demonstrates that collaboration between construction, the distribution network operators, and the wider eMobility industry can work in practice, and will put the UK on a roadmap to achieving not just housing goals but environmental goals too.