Sudan's First Wind Farm Turbine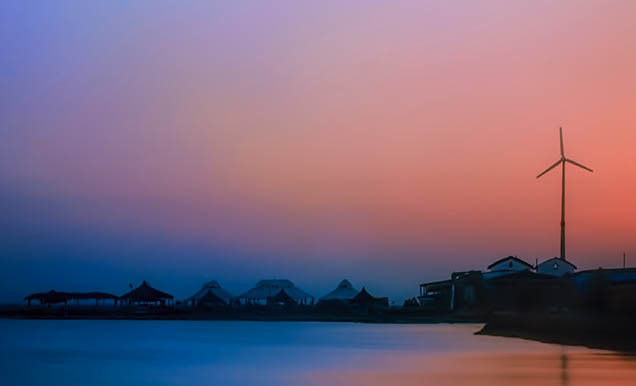 The first of Sudan's wind turbines has finally arrived on site. The 63m tall wind turbine has been transported 4,600km across the Sudan's Northern State, requiring seven vehicles to do so. Arriving in Dongola from the Netherlands where it was built, electrical transmission construction is expected to take up to three weeks with the rest of the construction expected in August 2021, making this is a great move forward for a country with an increase in power demand and substantial potential for wind power investment.
The United Nations Development Programme (UNDP) are supporting the project funded by the Government of Sudan and Global Environment Facility (GEF) where the generated power produced is predicted to supply enough power to fourteen thousand residential homes whilst connecting to the power grid.
The Dongola Wind Energy Pilot Project is to be used as a proof-of-concept example in the effort to attract potential investment in renewable energy. There's ample potential in the landscapes to capture renewable wind energy and reduce the current reliance on biomass and fossil fuels in the region.
"The arrival of our first wind turbine marks the first step in Sudan's wind power journey and continues the significant advances in renewable energy we have made over the past decade."
Yasir Abdalla Saied, Director-General for Directorate of Renewable Energy at the Ministry of Energy and Petroleum
Continued investment in renewable sources will see the Sudanese wind turbine used as an opportunity to equip engineers with knowledge and resources for training and teaching as expansion continues.
The UNDP works in circa 170 countries around the world with an objective to help build and sustain progress whilst eradicating poverty, with support for initiatives like these critical to those continued efforts. This feeds into the UN's SDGs (Sustainable Development Goals) which is partly an effort to protect the planet by increasing access to renewable energy sources but also create opportunities for continued resilience and self-sufficiency in the region.
"This exciting update is progress towards new solutions that help move the dial on access to affordable energy, improving health, education, the lives of women, and economic opportunities.
"Having supported Sudan with training, policy advice and research in this field for some time, the turbine's arrival is a symbolic milestone we are thrilled to see."
Yuri Afanasiev, UNDP's Resident Representative
By diversifying the use of solar, biomass and hydropower, all of which have been affected by the climate change droughts, Sudan is looking to broaden its ability to sustain the power grid. Excitingly, Sudan already has plans to increase the development within wind farms in two other regions in Nyala and the Red Sea coastal region.