Big friendly green giants in Dubai and China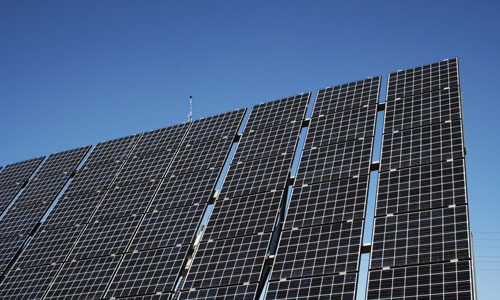 During winter, the average temperature in Dubai is 25 degrees Celsius - that's a lovely summer's day in the UK. With weather like that it should come as no surprise that Dubai is building the single largest single-site solar park in the world.
Occupying 77km of desert around 50km south of the city, the project was first launched in 2013 and has now completed the second of five phases of construction. His Highness Sheikh Mohammed bin Rashid has officially opened phase two of the park, which will generate 200MW of energy, enough electricity for 50,000 homes. The full plant is set to be operational in 2030 and have a capacity of 5000MW, powering 800,000 homes, or an estimated 25% of the total energy production for Dubai. Phase three will begin operations in 2020, and the fourth phase in 2021. Annually, the solar park will reduce over 6.5 million tonnes of CO2 emissions once complete.
This latest phase of the project involved installation of 2.3 million photovoltaic solar panels over 4.5 square kilometres in the inland location, which is surrounded by sand dunes that protect the panels from dust. The park will be connected to the Dubai power grid via a substation, which includes protection, automation and control, surveillance and communication systems. The substation will primarily be equipped with gas-insulated switchgear and power transformers that allow the energy to be transferred to the power grid.
The $327million USD plant is a part of Dubai's Clean Energy Strategy 2050, which aims to increase clean energy output in Dubai, with a total power output to 7% by 2020, 25% by 2030, and 75% by 2050. The UAE has long relied on natural gas as the main source of energy for electricity as, whilst the Emirate of Abu Dhabi holds 94% of the UAE's oil (6% of the world's crude reserves) Dubai and other neighbouring Emirates have very small reserves. Driven by the vision of the Dubai royal family, the commitment to going green is determined and the park is a crucial step towards achieving 10% of Dubai's electricity from renewables by 2020.
Longyangxia Dam Solar Park in China is similarly a green energy giant. The park stretches over 27 square kilometres in the western province of Qinghai. Also launched in 2013, the park has been constantly expanding, today consisting of nearly four million photovoltaic solar panels. It now has the capacity to produce enough power to supply up to 200,000 households. Like Dubai, China has made impressive leaps in their commitment to green energy and has ambitious plans. Solar was once seen as too expensive to be a viable option for sustainable energy production, but dropping prices have allowed the country to expand their solar operations to one of considerable size. China, previously a big proponent of hydro-power generation, plans to increase the share of renewable energy sources in the country's energy mix by 20% by 2030.
These giant solar parks play an important part in building a global sustainable future. With innovation and ambition driving the industry, it's going to be a race to see who can be the biggest and the greenest.