T-Pylons make their UK debut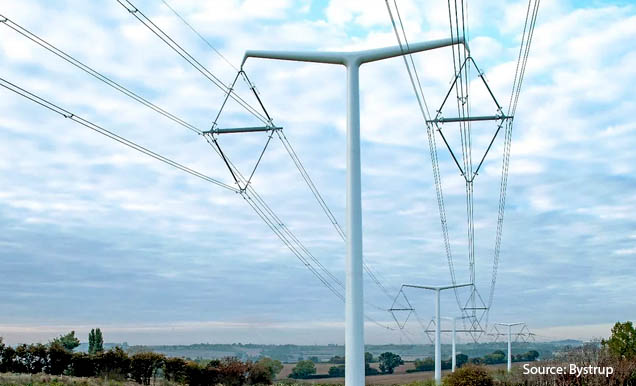 T-Pylons have made their debut in the UK – a world first for this new style of pylon – and they're set to bring low carbon energy to over 6 million homes and businesses.
So what are they? Standing at 35m (115ft) tall, they're about two-thirds the height of existing high-voltage pylons, and with a smaller ground footprint. It has a single pole and T-shaped arms which hold the DNO cables via diamond shaped suspended insulators. The T-Pylons are the first new design in the UK since 1927.
The innovative new galvanised steel pylon structure can be built on-site and is quick to assemble with less than 10 parts to it. Installed in sections of up to twelve T-pylons at a time, the length of cable between each T-Pylon can be up to 360m and connected in a process called 'stringing'. Each section takes around two weeks to string.
The aim of T-Pylons is to reduce the visual impact on the environment, and the new design could slowly become the norm, although there's a long way to go with circa 22,000 pylons across England and Wales. Right now, the project is initially expected to transition 249 old style pylons.
Designed by Danish company Bystrup, it won a Government supported Royal Institute of British Architects (RIBA) competition back in 2011. It's also been nominated for the IET Innovation Award 2014, won the Gold Prize at CIGRE in Seoul 2017, and won at the Steel Awards (SSDA) in 2017.
Where can you see them? National Grid has announced that the first 36 newly installed T-Pylons are linked to the Hinkley Connection Project. Woolavington and Loxton saw the first stringing, with work due to commence in April between Bridgwater and Woolavington where an additional 12 T-Pylons are to be installed. The 48 T-Pylons will be operational October 2022.
The entire Hinkley Connection route is expected to have a total of 116 T-Pylons, stretching 57km (35 miles) from Hinkley Point C to Seabank power station. Construction work has begun on the remaining 68 T-Pylons on the northern stretch between Sandford and Portbury in Somerset, with an expected completion date (including stringing), by 2023.
For more information on the aerial overhead lines (that conveniently happen to work with T-Pylons!) as well as our wider range of transmission, distribution and power networks cables, get in touch with the team.