Set sail around the Worlds' Largest Inland Waterway Windfarm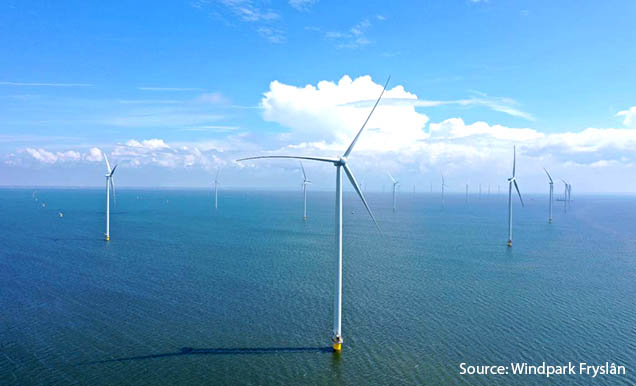 Location, location, location. With windfarms it's the most important thing, Most people think in terms of onshore or offshore, but there's a third category: near-shore and inland waterways. Still water-based but in shallower waters, making transmission, distribution and maintenance that bit easier. The world's largest windfarm in an inland waterway is in the Netherlands', named Windpark Fryslân and it's now fully commissioned. Although on a smaller scale than many of the offshore wind farms, the benefits of an installation in inland waters can produce wind speeds that are similar to those in offshore but with lower operational and construction costs owing to its proximity to land.
Windpark Fryslân is located in the northern part of IJsselmeer Lake, 6km off the Frisian coast. lJsselmeer is the Netherlands' largest lake, fed by numerous rivers including the IJssel, the Rhine, the Amstel, and the Vecht. This project comprises 89 4.3MW (megawatts) of turbines collectively producing up to 382.7MW of power. Annually, the wind farm will produce around 1.5TWh (terawatt hours) - approximately 1.2% of the Netherlands' electricity use, equating to around 500,000 households' consumption. The project is expected to save approximately 800,00 tonnes of CO2 emissions each year.
Beyond these newly built wind turbines, approximately 55km of wind turbine power cables were laid on land; 90km were strategically laid in the IJsselmeer (also known as lJssel Lake); a transformer substation was built in Breezanddijk; and a new nature reserve was created at Kornwerderzand. There's even an educational centre which features glass walls giving visitors the ability to learn about the benefits of wind power, and the how green electricity is distributed from the 180m towering turbines in IJsselmeer to the centre of the grid in Friesland.
In order to distribute the generated energy to consumers, power cables run from the wind turbines in the IJsselmeer to the substation in Breezanddijk. Inside this innovative substation electricity is converted to high-voltage power suitable for the grid.
It's near-shore location didn't mean construction was plain sailing though, having begun in 2019 the estimated completion date was June 2021 but the launch was pushed back due to issues including the pandemic, adverse weather, and logistical challenges. Now complete, even with the delays, it remains an impressive build schedule from Zuiderzeewind, a consortium comprising Van Oord and Siemens Gamesa Renewable Energy (SGRE).
Importantly for near-shore projects like this, it's still possible to sail between the wind turbines of Windpark Fryslân. Safety measures include the indication of wind turbines on nautical charts, a 50m compulsory safety zone and turbines fitted with nautical safety signs. It's a clear indication that wind energy can deliver on our growing power demands without compromising how we use our lakes and waterways.