It's no longer the future - Renewables are the here and now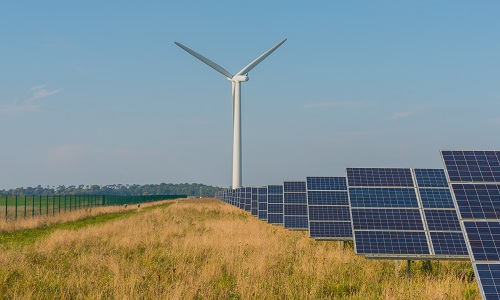 Back in October 2016, the BBC reported that the International Energy agency announced that the world's capacity to generate renewable power has now overtaken coal for the first time. It seems we have finally reached the tipping point where renewable energy has become financially viable on a global scale.
Admittedly, it is currently only the potential energy production that has surpassed coal's electricity generation, but the scale and pace at which renewable energy sources, whether wind, solar or hydro, are being embraced and installed is staggering. It is surely only a matter of time before coal is left in the shade in terms of energy production.
China is topping the list of countries installing eco-friendly power generation methods – 2 wind turbines an hour get installed and 20% of their electricity is produced by hydro-electric plants. Yet there is a long way still to go – even with this drive on renewables China is a huge consumer of fossil fuels with targets to reduce greenhouse gases and limit pollution still out of reach and reports of dangerously polluted smog an all-too-frequent occurrence.
Sweden is one of the shining lights. With 57% of its power already produced by renewable sources, they are on track to be entirely fossil fuel free by 2040. And they're not alone – Denmark announced it had generated 140% of its electricity needs from wind turbines on a particularly windy day in July 2016, Costa Rica managed 76 straight days without fossil fuels in Q3, and even the UK managed a day earlier this year. Major on- and offshore wind turbine fields, large-scale solar farms, and geothermal and hydroelectric plants are being used across the world to tap into the natural resources that each country possesses. Additionally, the cost of solar panels, photovoltaic cables and connections is coming down significantly, and has been met with enthusiasm from the average homeowner looking to install the technology and earn money from any surplus energy generated.
Not every country is at quite the same level. The UK has a target of for 15% of the UK's total energy requirements to come from renewable sources by 2020 – a target that on current data looks likely to be missed. While on track to meet power percentage generation goals, the UK is still lagging in other areas such as heat and transport, and in total energy requirement goals. A new nuclear plant has been given the green flag which, whilst cleaner than a coal-fired power station, still has long-term environmental considerations and isn't classified under 'green' fuel. And it's not just clean electricity that's needed – 12% of this target should be produced from clean heat pumps, and electric and hydrogen-fuelled transport should comprise 10% of the overall target. We need more cars, buses and trains to run on cleaner fuels. The rail industry is doing its bit with major projects underway across the Network Rail train network to electrify the lines, but this requires enormous investment and causes huge disruption to the existing service whilst upgrade work is being done to deliver this newer, faster, greener solution.
The positive thing is it's now proven that it can be done. Clean, green technology needs to continue to be put at the top of the agenda in order to reach the mandated targets, and there may be more hiccups and hurdles along the way, but now the potential has been realised it's up to us all to do our bit, make green energy choices where we can, and convert it into actual results.