Santa is coming - but so is your electricity bill!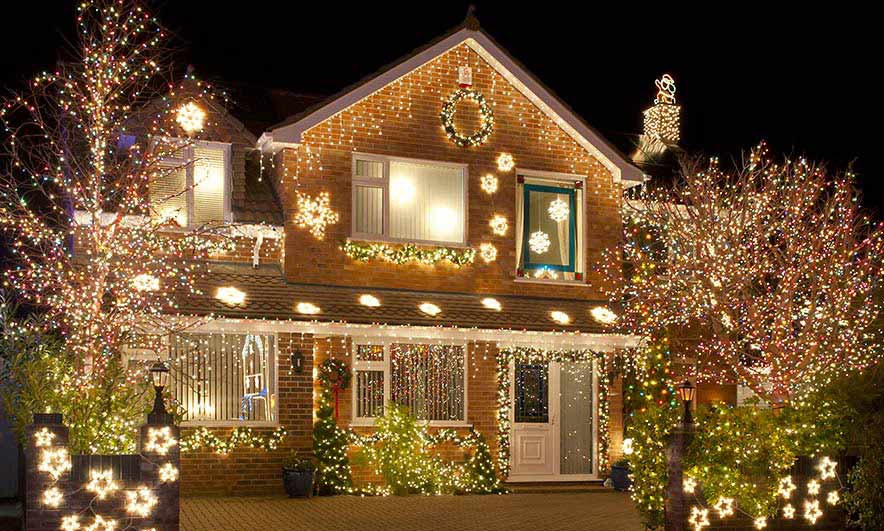 Did you realise that using a simple string of incandescent Christmas lights versus a set of LED lights may be using up to *90 times more to power? Before you deck the halls this Christmas, it could be worth throwing out those old lights and buying a more energy efficient set. LED lights may be more expensive as an initial outlay but the running costs can be dramatically different and that's before you consider the safety implications of the two systems.
So how do you work out the total wattage of a string of festive lights?
It's simple actually - Watts per bulb x Number of Bulbs = Total Watts
To give you an idea, a 100-count string of incandescent mini lights runs at approximately 40 watts, while a 70 count of 5mm wide angle LEDs is approximately 4.8 watts total (according to the website Christmaslightsetc.com). If you decide to decorate the outside of your house for the festive season an average house can use up to 80m of lights, with around 50 lights per metre. That makes for a sizeable potential electricity bill. The difference between the two systems may be as much as 38 watts total for LED lights versus the incandescent option approaching 1,925 watts.
Setting aside the cost of keeping these lights shining there's another consideration to bear in mind in your choice of incandescent or LED lights.  The increased wattage of the 'cheaper to buy' incandescent bulbs would mean plugging into multiple sockets and possibly even checking the overall house circuit - you don't want to trip your house electrics on Christmas Day and risk ruining the turkey just because of an overloaded circuit. And of course, there's worse that can happen too with older wiring systems - short circuits can lead to fire. Overall, it means both the running costs and the accompanying safety considerations are higher with the traditional option.
Maybe it's time to upgrade your decorations box with some safer, more cost effective and ultimately environmentally friendly options?
Happy holidays from everyone at Eland Cables.