Veriflex SY Cable – YSLYSY and HSLHSH Control Cable
Due to the mechanical strength provided by their galvanised steel wire braid (GSWB), SY cables, including the Veriflex SY PVC cable, are widely used in industrial applications as interconnecting cables in control equipment or machines where they are subjected to medium mechanical stresses. These flexible instrumentation cables can be used in installations where free movement is required without tensile stresses and without forced guidance systems.

SY cables, also known as armoured flexible control cable, shielded flex, or simply armoured flex, are strong and durable cables suitable for internal dry, damp or wet environments (including oil-water mixtures), and can be used outdoors when protected against direct sunlight. They are also referred to by their constructional reference: YSLYSY cables for the PVC sheathed variation.
More information
YSLYSY cable and HSLHSH cable specification
2 core SY cables are available as standard with black numbered cores, with 3 cores and above being black numbered cores with green/yellow. Coloured cores with and without green/yellow are also available upon request. 
European references for these cables indicate the core configurations within the sheathing
SY LSZH cable
Veriflex SY PVC cable
HSLHSH-OZ
LSZH sheathed cable with black numbered cores
YSLYSY-OZ
PVC sheathed cable with black numbered cores
HSLHSH-JZ
LSZH sheathed cable with black numbered cores and G/Y earth
YSLYSY-JZ
PVC sheathed cable with black numbered cores and G/Y earth
HSLHSH-OB
LSZH sheathed cable with coloured cores
YSLYSY-OB
PVC sheathed cable with coloured cores
HSLHSH-JB
LSZH sheathed cable with coloured cores including G/Y earth
YSLYSY-JB
PVC sheathed cable with coloured cores including G/Y earth
The grey oversheath SY flex cable with UL and CSA approval tends to be used on equipment intended for export to the North American market.
The clear oversheath of the Veriflex SY PVC cable allows the visual detection of any signs of deterioration, damage or corrosion.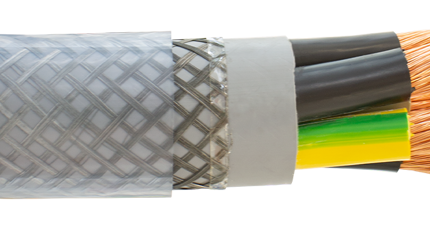 SY cable standards
SY control cables are manufactured generally to VDE0250, the German national standard that has become internationally recognised as the benchmark for cables, wires and flexible cords for power installations for process and automation equipment and applications in manufacturing plants. Our technical team in The Cable Lab conduct extensive tests on our SY cable portfolio to ensure that our stockholding meets the designated standards and performance requirements.
SY cable voltages
These flexible multi-core control cables with the mechanical protection of a steel wire braid have a voltage rating of 300/500V unless specified otherwise. 
For applications requiring power and control there is an SY cable with designed with a voltage rating of 0.6/1kV - speak to our team for more information.
SY cable selection and datasheets
As a leading SY control cable supplier we have vast experience of advising on SY cable properties and sizes. Our technical team is available to discuss the most suitable option for your application as well as offering a range of SY cable glands, terminations and other accessories. 
Additional sizes ranging from 5 cores up to 25 cores are listed on the cable technical specification sheet with larger cores sizes available upon request. All datasheets are available for download as PDFs. Please refer to them for full information. SY Cable with UL/CSA Approval also available upon request.
Also available area wide range of other industrial automation cables including unscreened YY cable for use where there is light mechanical stress and CY cable screened with copper wire braid for EMC protection. Talk to our technical experts for advice on control cable selection or see our SY cable datasheets.
Construction Table
Veriflex SY PVC (YSLYSY) Control Cable

SY LSZH Control Flexible Cable

VOLTAGE

300/500V

CONDUCTOR

Class 5 Flexible Stranded Copper

INSULATION

PVC (Polyvinyl Chloride)

LSZH (Low Smoke Zero Halogen)

BEDDING

PVC (Polyvinyl Chloride)

LSZH (Low Smoke Zero Halogen)

BRAID

GSWB (Galvanised Steel Wire Braid)

OUTER SHEATH

PVC (Polyvinyl Chloride)

LSZH (Low Smoke Zero Halogen)
Veriflex SY Cable – YSLYSY and HSLHSH Control Cable
| Product name | Part No | Cores | Nominal cross-sectional area (mm²) | Sheath colour | Length (m) | |
| --- | --- | --- | --- | --- | --- | --- |
| Veriflex SY PVC (YSLYSY) Control Cable | V0202012CL00000 | 2 | 0.75 | Transparent | | |
| Veriflex SY PVC (YSLYSY) Control Cable | V0202022CL00000 | 2 | 1 | Transparent | | |
| Veriflex SY PVC (YSLYSY) Control Cable | V0202032CL00000 | 2 | 1.5 | Transparent | | |
| Veriflex SY PVC (YSLYSY) Control Cable | V0202042CL000 | 2 | 2.5 | Transparent | | |
| Veriflex SY PVC (YSLYSY) Control Cable | V0203012CL00000 | 3 | 0.75 | Transparent | | |
| Veriflex SY PVC (YSLYSY) Control Cable | V0203021CL000 | 3 | 1 | Transparent | | |
| Veriflex SY PVC (YSLYSY) Control Cable | V0203031CL000 | 3 | 1.5 | Transparent | | |
| Veriflex SY PVC (YSLYSY) Control Cable | V0203041CL000 | 3 | 2.5 | Transparent | | |
| Veriflex SY PVC (YSLYSY) Control Cable | V0203051CL000 | 3 | 4 | Transparent | | |
| Veriflex SY PVC (YSLYSY) Control Cable | V0203061CL000 | 3 | 6 | Transparent | | |
| Veriflex SY PVC (YSLYSY) Control Cable | V0203071CL000 | 3 | 10 | Transparent | | |
| Veriflex SY PVC (YSLYSY) Control Cable | V0203081CL000 | 3 | 16 | Transparent | | |
| Veriflex SY PVC (YSLYSY) Control Cable | V0203091CL000 | 3 | 25 | Transparent | | |
| Veriflex SY PVC (YSLYSY) Control Cable | V0203101CL000 | 3 | 35 | Transparent | | |
| Veriflex SY PVC (YSLYSY) Control Cable | V0204011CL000 | 4 | 0.75 | Transparent | | |
| Veriflex SY PVC (YSLYSY) Control Cable | V0204021CL000 | 4 | 1 | Transparent | | |
| Veriflex SY PVC (YSLYSY) Control Cable | V0204031CL000 | 4 | 1.5 | Transparent | | |
| Veriflex SY PVC (YSLYSY) Control Cable | V0204041CL000 | 4 | 2.5 | Transparent | | |
| Veriflex SY PVC (YSLYSY) Control Cable | V0204051CL000 | 4 | 4 | Transparent | | |
| Veriflex SY PVC (YSLYSY) Control Cable | V0204061CL000 | 4 | 6 | Transparent | | |
| Veriflex SY PVC (YSLYSY) Control Cable | V0204071CL000 | 4 | 10 | Transparent | | |
| Veriflex SY PVC (YSLYSY) Control Cable | V0204081CL000 | 4 | 16 | Transparent | | |
| Veriflex SY PVC (YSLYSY) Control Cable | V0204091CL000 | 4 | 25 | Transparent | | |
| Veriflex SY PVC (YSLYSY) Control Cable | V0204101CL000 | 4 | 35 | Transparent | | |
| Veriflex SY PVC (YSLYSY) Control Cable | V0204111CL000 | 4 | 50 | Transparent | | |
| Veriflex SY PVC (YSLYSY) Control Cable | V0204121CL000 | 4 | 70 | Transparent | | |
| Veriflex SY PVC (YSLYSY) Control Cable | V0204131CL000 | 4 | 95 | Transparent | | |
| Veriflex SY PVC (YSLYSY) Control Cable | V0205011CL000 | 5 | 0.75 | Transparent | | |
| Veriflex SY PVC (YSLYSY) Control Cable | V0205021CL000 | 5 | 1 | Transparent | | |
| Veriflex SY PVC (YSLYSY) Control Cable | V0205031CL000 | 5 | 1.5 | Transparent | | |
| Veriflex SY PVC (YSLYSY) Control Cable | V0205041CL000 | 5 | 2.5 | Transparent | | |
| Veriflex SY PVC (YSLYSY) Control Cable | V0205051CL000 | 5 | 4 | Transparent | | |
| Veriflex SY PVC (YSLYSY) Control Cable | V0205061CL000 | 5 | 6 | Transparent | | |
| Veriflex SY PVC (YSLYSY) Control Cable | V0205071CL000 | 5 | 10 | Transparent | | |
| Veriflex SY PVC (YSLYSY) Control Cable | V0205081CL000 | 5 | 16 | Transparent | | |
| Veriflex SY PVC (YSLYSY) Control Cable | V0205091CL000 | 5 | 25 | Transparent | | |
| Veriflex SY PVC (YSLYSY) Control Cable | V0205101CL000 | 5 | 35 | Transparent | | |
| Veriflex SY PVC (YSLYSY) Control Cable | V0207011CL000 | 7 | 0.75 | Transparent | | |
| Veriflex SY PVC (YSLYSY) Control Cable | V0207021CL000 | 7 | 1 | Transparent | | |
| Veriflex SY PVC (YSLYSY) Control Cable | V0207031CL000 | 7 | 1.5 | Transparent | | |
| Veriflex SY PVC (YSLYSY) Control Cable | V0207041CL000 | 7 | 2.5 | Transparent | | |
| Veriflex SY PVC (YSLYSY) Control Cable | V0212011CL00000 | 12 | 0.75 | Transparent | | |
| Veriflex SY PVC (YSLYSY) Control Cable | V0212021CL00000 | 12 | 1 | Transparent | | |
| Veriflex SY PVC (YSLYSY) Control Cable | V0212031CL00000 | 12 | 1.5 | Transparent | | |
| Veriflex SY PVC (YSLYSY) Control Cable | V0212041CL00001 | 12 | 2.5 | Transparent | | |
| Veriflex SY PVC (YSLYSY) Control Cable | V0218011CL00000 | 18 | 0.75 | Transparent | | |
| Veriflex SY PVC (YSLYSY) Control Cable | V0218021CL00000 | 18 | 1 | Transparent | | |
| Veriflex SY PVC (YSLYSY) Control Cable | V0218031CL00000 | 18 | 1.5 | Transparent | | |
| Veriflex SY PVC (YSLYSY) Control Cable | V0218041CL00001 | 18 | 2.5 | Transparent | | |
| Veriflex SY PVC (YSLYSY) Control Cable | V0225011CL000 | 25 | 0.75 | Transparent | | |
| Veriflex SY PVC (YSLYSY) Control Cable | V0225021CL000 | 25 | 1 | Transparent | | |
| Veriflex SY PVC (YSLYSY) Control Cable | V0225031CL000 | 25 | 1.5 | Transparent | | |
| SY LSZH Control Flexible Cable | A5E2015 | 2 | 1.5 | Black | | |
| SY LSZH Control Flexible Cable | A5E3010 | 3 | 1 | Black | | |
| SY LSZH Control Flexible Cable | A5E3015 | 3 | 1.5 | Black | | |
| SY LSZH Control Flexible Cable | A5E3025 | 3 | 2.5 | Black | | |
| SY LSZH Control Flexible Cable | A5E3040 | 3 | 4 | Black | | |
| SY LSZH Control Flexible Cable | A5E3060 | 3 | 6 | Black | | |
| SY LSZH Control Flexible Cable | A5E4015 | 4 | 1.5 | Black | | |
| SY LSZH Control Flexible Cable | A5E4025 | 4 | 2.5 | Black | | |
| SY LSZH Control Flexible Cable | A5E4040 | 4 | 4 | Black | | |
| SY LSZH Control Flexible Cable | A5E4060 | 4 | 6 | Black | | |
| SY LSZH Control Flexible Cable | A5E5015 | 5 | 1.5 | Black | | |
| SY LSZH Control Flexible Cable | A5E5025 | 5 | 2.5 | Black | | |
| SY LSZH Control Flexible Cable | A5E5060 | 5 | 6 | Black | | |
| SY LSZH Control Flexible Cable | A5E510 | 5 | 10 | Black | | |
| SY LSZH Control Flexible Cable | A5E516 | 5 | 16 | Black | | |