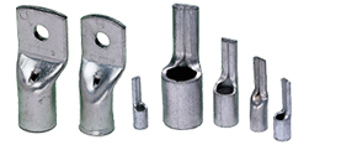 Eland Cables supplies a comprehensive range of cable lugs (also referred to as crimp lugs) designed for terminating and connecting our low and medium voltage cables to equipment.
Our cable lugs work in conjunction with standard cable crimping tools and come with inspection holes to ensure the conductor has been fully inserted before crimping occurs. Lugs with a bell mouth ensure smooth transition from lug to cable, avoiding problems of chafing where the cable is subjected to vibration. 
Our range of cable lugs covers cables with copper and aluminium conductors.
Cable Lugs Portfolio
Some of our most widely supplied cable lugs include:
| | |
| --- | --- |
| Copper tube terminals | Our standard copper tube terminals are manufactured from seamless copper tube. The internal barrel diameters of these cable lugs suit standard cables as defined in BS EN 60228. |
| Copper tube pin terminals | Our copper tube pin terminals are designed to terminate conductors into contact blocks. These cable lugs are manufactured from copper strips, rolled, brazed and tin plated. |
| Long palm lugs | Our long palm lugs provide added connectivity through a larger surface area for secure connections to the power source. These lugs are available blank or drilled. |
| Transformer terminal 4-hole fixing | Our transformer terminal 4-hole fixing, also known as a four-hole crimp lug, connect to the four fixing studs on transformer fixing points to give the best surface contact possible. The FT70 to FT300 are of a brazed palm type. The FT400 to FT1000 are formed from 1 single tube. |
| Uninsulated copper brazed sheet terminals | Our uninsulated copper brazed sheet terminals tend to be used when the size of the fixing hole is too large for the specified cable lug. |

In addition to the above standard cable lugs, we supply a wide range of specialist cable lugs designed to meet specific applications as well as a range of compatible cable glands, cable cleats and cable management systems. As cable experts, our technical team is ideally suited to advise on the compatibility of the cable lugs to various cable types. We can also provide crimp and lug testing in our Cable Lab to cover compression and mechanical connnectors for power cables at rated voltages of up to 36kV. 
| Product name | Part No | Type | Cable Size | Size | Stud Diameter | Pack Quantity | Quantity | |
| --- | --- | --- | --- | --- | --- | --- | --- | --- |
| Copper Tube Terminals | FT6-5 | n/a | 6 | n/a | 5 | 10 | | |
| Copper Tube Terminals | FT6-6 | n/a | 6 | n/a | 6 | 10 | | |
| Copper Tube Terminals | FT6-8 | n/a | 6 | n/a | 8 | 10 | | |
| Copper Tube Terminals | FT10-5 | n/a | 10 | n/a | 5 | 10 | | |
| Copper Tube Terminals | FT10-6 | n/a | 10 | n/a | 6 | 10 | | |
| Copper Tube Terminals | FT10-10 | n/a | 10 | n/a | 10 | 10 | | |
| Copper Tube Terminals | FT16-5 | n/a | 16 | n/a | 5 | 10 | | |
| Copper Tube Terminals | FT16-6 | n/a | 16 | n/a | 6 | 10 | | |
| Copper Tube Terminals | FT16-8 | n/a | 16 | n/a | 8 | 10 | | |
| Copper Tube Terminals | FT16-10 | n/a | 16 | n/a | 10 | 10 | | |
| Copper Tube Terminals | FT16-12 | n/a | 16 | n/a | - | 10 | | |
| Copper Tube Terminals | FT25-5 | n/a | 25 | n/a | 5 | 10 | | |
| Copper Tube Terminals | FT25-6 | n/a | 25 | n/a | 6 | 10 | | |
| Copper Tube Terminals | FT25-8 | n/a | 25 | n/a | 8 | 10 | | |
| Copper Tube Terminals | FT25-10 | n/a | 25 | n/a | 10 | 10 | | |
| Copper Tube Terminals | FT25-12 | n/a | 25 | n/a | 12 | 10 | | |
| Copper Tube Terminals | FT35-6 | n/a | 35 | n/a | 6 | 10 | | |
| Copper Tube Terminals | FT35-8 | n/a | 35 | n/a | 8 | 10 | | |
| Copper Tube Terminals | FT35-10 | n/a | 35 | n/a | 10 | 10 | | |
| Copper Tube Terminals | FT35-12 | n/a | 35 | n/a | 12 | 10 | | |
| Copper Tube Terminals | FT35-14 | n/a | 35 | n/a | 14 | 10 | | |
| Copper Tube Terminals | FT50-6 | n/a | 50 | n/a | 6 | 10 | | |
| Copper Tube Terminals | FT50-8 | n/a | 50 | n/a | 8 | 10 | | |
| Copper Tube Terminals | FT50-10 | n/a | 50 | n/a | 10 | 10 | | |
| Copper Tube Terminals | FT50-12 | n/a | 50 | n/a | 12 | 10 | | |
| Copper Tube Terminals | FT50-14 | n/a | 50 | n/a | 14 | 10 | | |
| Copper Tube Terminals | FT50-16 | n/a | 50 | n/a | 16 | 10 | | |
| Copper Tube Terminals | FT70-6 | n/a | 70 | n/a | 6 | 10 | | |
| Copper Tube Terminals | FT70-8 | n/a | 70 | n/a | 8 | 10 | | |
| Copper Tube Terminals | FT70-10 | n/a | 70 | n/a | 10 | 10 | | |
| Copper Tube Terminals | FT70-12 | n/a | 70 | n/a | 12 | 10 | | |
| Copper Tube Terminals | FT70-14 | n/a | 70 | n/a | 14 | 10 | | |
| Copper Tube Terminals | FT70-16 | n/a | 70 | n/a | 16 | 10 | | |
| Copper Tube Terminals | FT95-8 | n/a | 95 | n/a | 8 | 10 | | |
| Copper Tube Terminals | FT95-10 | n/a | 95 | n/a | 10 | 10 | | |
| Copper Tube Terminals | FT95-12 | n/a | 95 | n/a | 12 | 10 | | |
| Copper Tube Terminals | FT95-14 | n/a | 95 | n/a | 14 | 10 | | |
| Copper Tube Terminals | FT95-16 | n/a | 95 | n/a | 16 | 10 | | |
| Copper Tube Terminals | FT120-8 | n/a | 120 | n/a | 8 | 10 | | |
| Copper Tube Terminals | FT120-10 | n/a | 120 | n/a | 10 | 10 | | |
| Copper Tube Terminals | FT120-12 | n/a | 120 | n/a | 12 | 10 | | |
| Copper Tube Terminals | FT120-14 | n/a | 120 | n/a | 14 | 10 | | |
| Copper Tube Terminals | FT120-16 | n/a | 120 | n/a | 16 | 10 | | |
| Copper Tube Terminals | FT120-20 | n/a | 120 | n/a | 20 | 10 | | |
| Copper Tube Terminals | FT150-10 | n/a | 150 | n/a | 10 | 10 | | |
| Copper Tube Terminals | FT150-12 | n/a | 150 | n/a | 12 | 10 | | |
| Copper Tube Terminals | FT150-14 | n/a | 150 | n/a | 14 | 10 | | |
| Copper Tube Terminals | FT150-16 | n/a | 150 | n/a | 16 | 10 | | |
| Copper Tube Terminals | FT150-20 | n/a | 150 | n/a | 20 | 10 | | |
| Copper Tube Terminals | FT185-10 | n/a | 185 | n/a | 10 | 10 | | |
| Copper Tube Terminals | FT185-12 | n/a | 185 | n/a | 12 | 10 | | |
| Copper Tube Terminals | FT185-14 | n/a | 185 | n/a | 14 | 10 | | |
| Copper Tube Terminals | FT185-16 | n/a | 185 | n/a | 16 | 10 | | |
| Copper Tube Terminals | FT185-20 | n/a | 185 | n/a | 20 | 10 | | |
| Copper Tube Terminals | FT240-10 | n/a | 240 | n/a | 10 | 10 | | |
| Copper Tube Terminals | FT240-12 | n/a | 240 | n/a | 12 | 10 | | |
| Copper Tube Terminals | FT240-14 | n/a | 240 | n/a | 14 | 10 | | |
| Copper Tube Terminals | FT240-16 | n/a | 240 | n/a | 16 | 10 | | |
| Copper Tube Terminals | FT240-20 | n/a | 240 | n/a | 20 | 10 | | |
| Copper Tube Terminals | FT300-10 | n/a | 300 | n/a | 10 | 10 | | |
| Copper Tube Terminals | FT300-12 | n/a | 300 | n/a | 12 | 10 | | |
| Copper Tube Terminals | FT300-14 | n/a | 300 | n/a | 14 | 10 | | |
| Copper Tube Terminals | FT300-16 | n/a | 300 | n/a | 16 | 10 | | |
| Copper Tube Terminals | FT300-20 | n/a | 300 | n/a | 20 | 10 | | |
| Copper Tube Terminals | FT400-12 | n/a | 400 | n/a | 12 | 10 | | |
| Copper Tube Terminals | FT400-14 | n/a | 400 | n/a | 14 | 10 | | |
| Copper Tube Terminals | FT400-16 | n/a | 400 | n/a | 16 | 10 | | |
| Copper Tube Terminals | FT400-20 | n/a | 400 | n/a | 20 | 10 | | |
| Copper Tube Terminals | FT500-14 | n/a | 500 | n/a | 14 | 10 | | |
| Copper Tube Terminals | FT500-16 | n/a | 500 | n/a | 16 | 10 | | |
| Copper Tube Terminals | FT500-20 | n/a | 500 | n/a | 20 | 10 | | |
| Copper Tube Pin Terminals | FTP15 | n/a | 1.5 | n/a | n/a | 100 | | |
| Copper Tube Pin Terminals | FTP025 | n/a | 2.5 | n/a | n/a | 100 | | |
| Copper Tube Pin Terminals | FTP6 | n/a | 6 | n/a | n/a | 100 | | |
| Copper Tube Pin Terminals | FTP10 | n/a | 10 | n/a | n/a | 100 | | |
| Copper Tube Pin Terminals | FTP16 | n/a | 16 | n/a | n/a | 100 | | |
| Copper Tube Pin Terminals | FTP25 | n/a | 25 | n/a | n/a | 100 | | |
| Copper Tube Pin Terminals | FTP35 | n/a | 35 | n/a | n/a | 100 | | |
| Copper Tube Pin Terminals | FTP50 | n/a | 50 | n/a | n/a | 100 | | |
| Copper Tube Pin Terminals | FTP70 | n/a | 70 | n/a | n/a | 50 | | |
| Copper Tube Pin Terminals | FTP95 | n/a | 95 | n/a | n/a | 50 | | |
| Long Palm Lugs | FT10/LP | n/a | 10 | n/a | n/a | 1 | | |
| Long Palm Lugs | FT16/LP | n/a | 16 | n/a | n/a | 1 | | |
| Long Palm Lugs | FT25/LP | n/a | 25 | n/a | n/a | 1 | | |
| Long Palm Lugs | FT35/LP | n/a | 35 | n/a | n/a | 1 | | |
| Long Palm Lugs | FT50/LP | n/a | 50 | n/a | n/a | 1 | | |
| Long Palm Lugs | FT70/LP | n/a | 70 | n/a | n/a | 1 | | |
| Long Palm Lugs | FT95/LP | n/a | 95 | n/a | n/a | 1 | | |
| Long Palm Lugs | FT120/LP | n/a | 120 | n/a | n/a | 1 | | |
| Long Palm Lugs | FT150/LP | n/a | 150 | n/a | n/a | 1 | | |
| Long Palm Lugs | FT185/LP | n/a | 185 | n/a | n/a | 1 | | |
| Long Palm Lugs | FT240/LP | n/a | 240 | n/a | n/a | 1 | | |
| Long Palm Lugs | FT300/LP | n/a | 300 | n/a | n/a | 1 | | |
| Long Palm Lugs | FT400/LP | n/a | 400 | n/a | n/a | 1 | | |
| Long Palm Lugs | FT500/LP | n/a | 500 | n/a | n/a | 1 | | |
| Long Palm Lugs | FT630/LP | n/a | 630 | n/a | n/a | 1 | | |
| Long Palm Lugs | FT800/LP | n/a | 800 | n/a | n/a | 1 | | |
| Transformer Terminals 4 Hole Fixing | FT70-8 | Brazed | n/a | 15 | n/a | 10 | | |
| Transformer Terminals 4 Hole Fixing | FT95-8 | Brazed | n/a | 17 | n/a | 10 | | |
| Transformer Terminals 4 Hole Fixing | FT120-8 | Brazed | n/a | 19 | n/a | 10 | | |
| Transformer Terminals 4 Hole Fixing | FT150-8 | Brazed | n/a | 21 | n/a | 10 | | |
| Transformer Terminals 4 Hole Fixing | FT185-8 | Brazed | n/a | 23 | n/a | 10 | | |
| Transformer Terminals 4 Hole Fixing | FT240-8 | Brazed | n/a | 26 | n/a | 10 | | |
| Transformer Terminals 4 Hole Fixing | FT300-8 | Brazed | n/a | 28 | n/a | 10 | | |
| Transformer Terminals 4 Hole Fixing | FT400-8 | Formed | n/a | 36 | n/a | 10 | | |
| Transformer Terminals 4 Hole Fixing | FT500-8 | Formed | n/a | 38 | n/a | 10 | | |
| Transformer Terminals 4 Hole Fixing | FT630-8 | Formed | n/a | 44 | n/a | 10 | | |
| Transformer Terminals 4 Hole Fixing | FT800-8 | Formed | n/a | 49 | n/a | 10 | | |
| Transformer Terminals 4 Hole Fixing | FT1000-8 | Formed | n/a | 53 | n/a | 10 | | |
| Uninsulated Copper Brazed Sheet Terminals | FBY1M27D | n/a | 0.5 - 1.5 | n/a | 2.4 | 100 | | |
| Uninsulated Copper Brazed Sheet Terminals | FBY1M32D | n/a | 0.5 - 1.5 | n/a | 3 | 100 | | |
| Uninsulated Copper Brazed Sheet Terminals | FBY1M37D | n/a | 0.5 - 1.5 | n/a | 3.5 | 100 | | |
| Uninsulated Copper Brazed Sheet Terminals | FBY1M43D | n/a | 0.5 - 1.5 | n/a | 4 | 100 | | |
| Uninsulated Copper Brazed Sheet Terminals | FBY1M53D | n/a | 0.5 - 1.5 | n/a | 5 | 100 | | |
| Uninsulated Copper Brazed Sheet Terminals | FBY1M65D | n/a | 0.5 - 1.5 | n/a | 6 | 100 | | |
| Uninsulated Copper Brazed Sheet Terminals | FBY25M32D | n/a | 1.5 - 2.5 | n/a | 3 | 100 | | |
| Uninsulated Copper Brazed Sheet Terminals | FBY25M37D | n/a | 1.5 - 2.5 | n/a | 3.5 | 100 | | |
| Uninsulated Copper Brazed Sheet Terminals | FBY25M43D | n/a | 1.5 - 2.5 | n/a | 4 | 100 | | |
| Uninsulated Copper Brazed Sheet Terminals | FBY25M53D | n/a | 1.5 - 2.5 | n/a | 5 | 100 | | |
| Uninsulated Copper Brazed Sheet Terminals | FBY25M65D | n/a | 1.5 - 2.5 | n/a | 6 | 100 | | |
| Uninsulated Copper Brazed Sheet Terminals | FBY25M84D | n/a | 1.5 - 2.5 | n/a | 8 | 100 | | |
| Uninsulated Copper Brazed Sheet Terminals | FBY6M43D | n/a | 4.0 - 6.0 | n/a | 4 | 100 | | |
| Uninsulated Copper Brazed Sheet Terminals | FBY6M53D | n/a | 4.0 - 6.0 | n/a | 5 | 100 | | |
| Uninsulated Copper Brazed Sheet Terminals | FBY6M65D | n/a | 4.0 - 6.0 | n/a | 6 | 100 | | |
| Uninsulated Copper Brazed Sheet Terminals | FBY6M84D | n/a | 4.0 - 6.0 | n/a | 8 | 100 | | |
| Uninsulated Copper Brazed Sheet Terminals | FBY6M105D | n/a | 4.0 - 6.0 | n/a | 10 | 100 | | |
| Uninsulated Copper Brazed Sheet Terminals | FBY4-10 | n/a | 10 | n/a | 4 | 100 | | |
| Uninsulated Copper Brazed Sheet Terminals | FBY5-10 | n/a | 10 | n/a | 5 | 100 | | |
| Uninsulated Copper Brazed Sheet Terminals | FBY6-10 | n/a | 10 | n/a | 6 | 100 | | |
| Uninsulated Copper Brazed Sheet Terminals | FBY8-10 | n/a | 10 | n/a | 8 | 100 | | |
| Uninsulated Copper Brazed Sheet Terminals | FBY10-10 | n/a | 10 | n/a | 10 | 100 | | |
| Uninsulated Copper Brazed Sheet Terminals | FBY12-10 | n/a | 10 | n/a | 12 | 100 | | |
| Uninsulated Copper Brazed Sheet Terminals | FBY5-16 | n/a | 16 | n/a | 5 | 100 | | |
| Uninsulated Copper Brazed Sheet Terminals | FBY6-16 | n/a | 16 | n/a | 6 | 100 | | |
| Uninsulated Copper Brazed Sheet Terminals | FBY8-16 | n/a | 16 | n/a | 8 | 100 | | |
| Uninsulated Copper Brazed Sheet Terminals | FBY10-16 | n/a | 16 | n/a | 10 | 100 | | |
| Uninsulated Copper Brazed Sheet Terminals | FBY12-16 | n/a | 16 | n/a | 12 | 100 | | |
| Uninsulated Copper Brazed Sheet Terminals | FBY5-25 | n/a | 25 | n/a | 5 | 100 | | |
| Uninsulated Copper Brazed Sheet Terminals | FBY6-25 | n/a | 25 | n/a | 6 | 100 | | |
| Uninsulated Copper Brazed Sheet Terminals | FBY8-25 | n/a | 25 | n/a | 8 | 100 | | |
| Uninsulated Copper Brazed Sheet Terminals | FBY10-25 | n/a | 25 | n/a | 10 | 100 | | |
| Uninsulated Copper Brazed Sheet Terminals | FBY12-25 | n/a | 25 | n/a | 12 | 100 | | |
| Uninsulated Copper Brazed Sheet Terminals | FBY14-25 | n/a | 25 | n/a | 14 | 100 | | |
| Uninsulated Copper Brazed Sheet Terminals | FBY16-25 | n/a | 25 | n/a | 16 | 100 | | |
| Uninsulated Copper Brazed Sheet Terminals | FBY6-35 | n/a | 35 | n/a | 6 | 100 | | |
| Uninsulated Copper Brazed Sheet Terminals | FBY8-35 | n/a | 35 | n/a | 8 | 100 | | |
| Uninsulated Copper Brazed Sheet Terminals | FBY10-35 | n/a | 35 | n/a | 10 | 100 | | |
| Uninsulated Copper Brazed Sheet Terminals | FBY12-35 | n/a | 35 | n/a | 12 | 100 | | |
| Uninsulated Copper Brazed Sheet Terminals | FBY14-35 | n/a | 35 | n/a | 14 | 100 | | |
| Uninsulated Copper Brazed Sheet Terminals | FBY16-35 | n/a | 35 | n/a | 16 | 100 | | |
| Uninsulated Copper Brazed Sheet Terminals | FBY6-50 | n/a | 50 | n/a | 6 | 100 | | |
| Uninsulated Copper Brazed Sheet Terminals | FBY8-50 | n/a | 50 | n/a | 8 | 100 | | |
| Uninsulated Copper Brazed Sheet Terminals | FBY10-50 | n/a | 50 | n/a | 10 | 100 | | |
| Uninsulated Copper Brazed Sheet Terminals | FBY12-50 | n/a | 50 | n/a | 12 | 100 | | |
| Uninsulated Copper Brazed Sheet Terminals | FBY14-50 | n/a | 50 | n/a | 14 | 100 | | |
| Uninsulated Copper Brazed Sheet Terminals | FBY16-50 | n/a | 50 | n/a | 16 | 100 | | |
| Uninsulated Copper Brazed Sheet Terminals | FBY8-70 | n/a | 70 | n/a | 8 | 100 | | |
| Uninsulated Copper Brazed Sheet Terminals | FBY10-70 | n/a | 70 | n/a | 10 | 100 | | |
| Uninsulated Copper Brazed Sheet Terminals | FBY12-70 | n/a | 70 | n/a | 12 | 100 | | |
| Uninsulated Copper Brazed Sheet Terminals | FBY14-70 | n/a | 70 | n/a | 14 | 100 | | |
| Uninsulated Copper Brazed Sheet Terminals | FBY16-70 | n/a | 70 | n/a | 16 | 100 | | |
| Uninsulated Copper Brazed Sheet Terminals | FBY10-95 | n/a | 95 | n/a | 10 | 100 | | |
| Uninsulated Copper Brazed Sheet Terminals | FBY12-95 | n/a | 95 | n/a | 12 | 100 | | |
| Uninsulated Copper Brazed Sheet Terminals | FBY14-95 | n/a | 95 | n/a | 14 | 100 | | |
| Uninsulated Copper Brazed Sheet Terminals | FBY16-95 | n/a | 95 | n/a | 16 | 100 | | |
| Uninsulated Copper Brazed Sheet Terminals | FBY10-120 | n/a | 120 | n/a | 10 | 100 | | |
| Uninsulated Copper Brazed Sheet Terminals | FBY12-120 | n/a | 120 | n/a | 12 | 100 | | |
| Uninsulated Copper Brazed Sheet Terminals | FBY14-120 | n/a | 120 | n/a | 14 | 100 | | |
| Uninsulated Copper Brazed Sheet Terminals | FBY16-120 | n/a | 120 | n/a | 16 | 100 | | |
| Uninsulated Copper Brazed Sheet Terminals | FBY10-150 | n/a | 150 | n/a | 10 | 100 | | |
| Uninsulated Copper Brazed Sheet Terminals | FBY12-150 | n/a | 150 | n/a | 12 | 100 | | |
| Uninsulated Copper Brazed Sheet Terminals | FBY14-150 | n/a | 150 | n/a | 14 | 100 | | |
| Uninsulated Copper Brazed Sheet Terminals | FBY16-150 | n/a | 150 | n/a | 16 | 100 | | |
| Uninsulated Copper Brazed Sheet Terminals | FBY12-185 | n/a | 185 | n/a | 12 | 100 | | |
| Uninsulated Copper Brazed Sheet Terminals | FBY14-185 | n/a | 185 | n/a | 14 | 100 | | |
| Uninsulated Copper Brazed Sheet Terminals | FBY16-185 | n/a | 185 | n/a | 16 | 100 | | |
| Uninsulated Copper Brazed Sheet Terminals | FBY12-240 | n/a | 240 | n/a | 12 | 100 | | |
| Uninsulated Copper Brazed Sheet Terminals | FBY14-240 | n/a | 240 | n/a | 14 | 100 | | |
| Uninsulated Copper Brazed Sheet Terminals | FBY16-240 | n/a | 240 | n/a | 16 | 100 | | |