Press Release: Eland Cables' UKAS ISO 17025 accreditation is a first among UK cable suppliers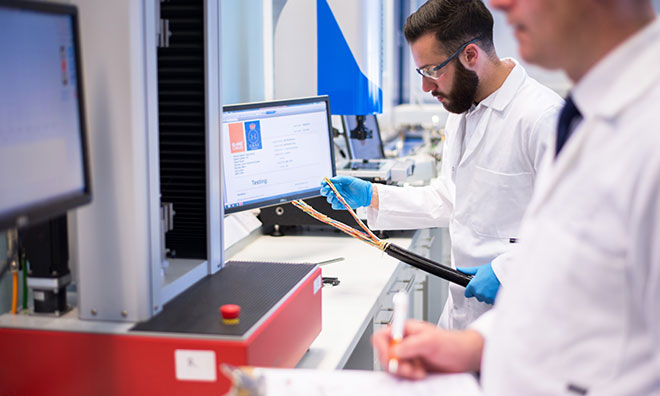 Eland Cables has always provided unrivalled expert technical support for its customers, recognising the vital importance of cable testing to assess product integrity, and the advantages of expert advice to assure appropriate performance, safety and cost-efficiency for a multitude of applications across all industry sectors.
It does this through its in-house specialist cable-testing laboratory which employs some of the industry's most advanced cable testing equipment and comprises a team of highly-qualified technicians, including a number who sit on European and International technical committees and provide consultancy to industry regulatory bodies.
This technical expertise and the testing capabilities have now been formally recognised by UKAS in the form of accreditation; making the Eland Cables Lab a centre of excellence and certifies the competence, impartiality and performance capability of the facility and its evaluations.
Eland Cables is unique among UK cable suppliers in having its specialist cable testing laboratory certified by UKAS to ISO 17025, which is the single most important standard for calibration and testing laboratories around the world. Accreditation to this international standard has demonstrated that the Eland Cables Lab is technically competent and able to produce precise and accurate test results. No other UK cable supplier can offer that level of expertise.
For Eland Cables' customers, it means peace of mind. The company is able to establish a full audit trail for the testing of cables and reporting of results and, by using Eland, customers are able to demonstrate that they have exercised due diligence in the selection and appointment of their cable supplier. 
Additionally, third parties can now access accredited testing services that provide independent, objective and comprehensive quality assessment of cables and the provision of a test report, including RoHS testing and the requirements for SONCAP approval. 
The company also provides unparalleled customer-centric technical support via its technical hotline, on +44 20 7241 8500, which gives direct access to its expert team for comprehensive, in-depth information and advice covering technical data, cable performance and regulatory requirements. Its industry-leading website includes a complete cable guide, and a technical library which contains technical specifications and cable standards.