Joining the EV delivery revolution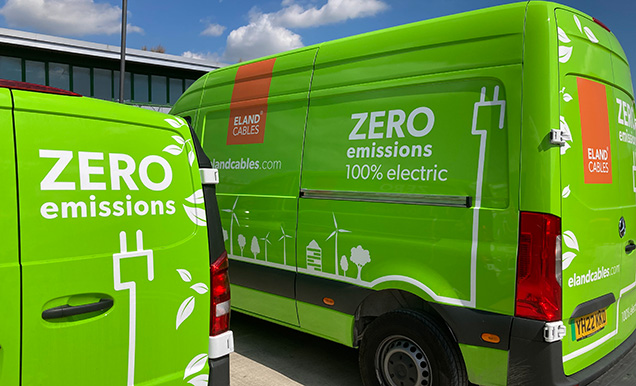 We've added electric vehicles (EVs) to our fleet, making our South Yorkshire deliveries more environmentally friendly. Our vans run on 100% electricity, charged at sites on green energy tariffs and using our own renewable energy produced from the PV solar panels we're installing.
Electric vehicles such as our vans are ideal for making local deliveries so they'll be visible on the roads as we support our customers and the electrical wholesalers nearby. It's an important and exciting step in our drive for Sustainable Operations on our journey to Net Zero.
The capacity of the EV means they're ideal for delivering reels and small drums, boxed and palletised for drop offs. Our larger cable drums of low and medium voltage cables, with their proportionately much heavier cables, will still for now require HGV delivery, potentially specialist offload vehicles – e-HGVs for long-distance transportation just aren't commercially accessible and viable quite yet, but we're keeping an eye on the technology as it evolves.
In the meantime, we're hoping the businesses of South Yorkshire will smile when they see our 'green machines' and know that we're taking steps to make positive changes to our communities and the environment.