New super-sewer for London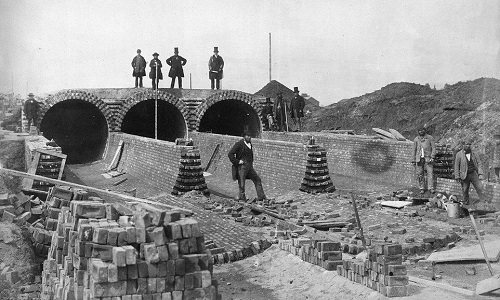 London's sewer system faces a very British problem: too much rain. First constructed in the 1850s, the sewers were built to accommodate the then four million residents of London. London's population is now eight million, so in addition to working twice as hard as they were designed to, just a few inches of downpour can force the tunnels to overflow into the Thames. To solve this problem and future-proof London's sewer network, work has now started on a new super-sewer designed to tackle the overflow problem, reducing pollution of the Thames, and accommodating the ever-growing population of the city.
The Thames Tideway Tunnel project will take seven years to complete and be the biggest upgrade to London's sewers since their construction. Amazingly, the old tunnels are still in excellent condition, but capacity has long been an issue. Rather than overflow into streets and homes, the old sewer network was designed to overflow into the Thames once or twice a year during severe storms. However, with London's increased population, there is not enough capacity in the current tunnels, and fewer greenspaces to soak up rainfall, which means that overflows happen on average once a week, polluting the river and creating health concerns for citizens. In addition to improving the current sewer systems, the new tunnel will help prevent overflow into the Thames, which will improve the water and ecosystems that are currently affected by the overflow.
Once completed, the super-sewer tunnel will be one of the biggest in the world, and brings with it the additional obstacle of digging under the entire length of a major city. At 25kms long, seven meters in diameter and reaching depths of up to 65 metres below the river, the tunnel will generally follow the route of the Thames, beginning in Acton in the West and stretching to Stratford in the East.
To construct the tunnel, shafts will be dug at various sites across the city, allowing a Tunnel Boring Machine (TBM) to be lowered and begin excavation. Concrete segments will be inserted as the TBM digs, and form the wall of the tunnel that will then be recast in concrete once excavation is completed. Excavated material will be pumped or moved by conveyor belt back to the shaft to be removed from the site, usually by barge. The cables required for projects such as this include fixed and mobile power supply to equipment such as the TBM and pumps, in addition to tunnel applications such as signalling, control and communications. They need to perform in comparatively harsh conditions (compared to those on the surface), so their tough construction is to ensure reliability of the equipment they supply to reduce the risk of failure and disruption to the project. 
The project is expected to cost £4.2 billion and will take six to seven years to complete.