Norway is tunnelling its way to safer sailing conditions with the Stad Ship tunnel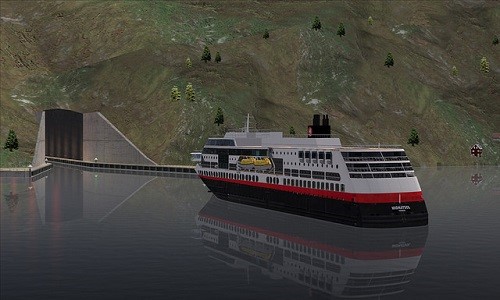 Norway has announced plans for the construction of a 1700-meter tunnel for ships to be able to pass through a peninsular. The tunnel will be located at the narrowest point of the Stad Peninsular, and will allow ships to avoid the treacherous Stadhavet Sea.
For years, ships transiting the area have been besieged by strong currents caused by underwater topography, wind, storms and complex wave patterns caused by a combination of these factors. The trip has always been demanding, with inclement conditions often causing delays and compromising safety.  
The new tunnel will cut through the narrowest part of the peninsula, and measuring 36-meters across and 49-meters high, it will be an incredible engineering achievement. Though this is not the first tunnel or canal in the world for ship passage, it is the first allowing cruise and freight ships that weigh up to 16,000 tonnes to pass through solid rock. The location was selected not only because the peninsula is at its narrowest point here, but also because the water conditions are sufficiently shielded to allow shipping to use the tunnel in the majority of weathers.
Its primary purpose is to increase safety and improve regularity by reducing delays for commercial vessels, but it will also be open to smaller leisure vessels, improving travel times between Norwegian cities and towns in the area. It is anticipated that up to five vessels an hour will be able to pass through the tunnel, as each voyage is likely to take approximately ten minutes. To avoid congestion, vessels will possibly get a timeslot from a traffic centre, similar to air traffic control, or a traffic light system will be employed.
Construction is expected to begin in 2019. The plan involves blasting out 8-million tonnes of solid rock using conventional blasting techniques that utilize underground drilling rigs and pallet rigs. The structure of the tunnel will be similar to that of a large and long mountain hall, while the upper part will be built the same way as conventional road tunnels. A pallet blasting method will be used, which means the construction will work downwards layer by layer.
This sort of work requires cables that can operate in harsh environments, including salt water and low temperatures, and they will need to withstand mechanical stress. They need to be of tough construction to ensure reliability to reduce the risk of failure, as this can cause disruption that is often costly and that can even comprise operational safety.
The project is estimated to cost 2.7 billion Norwegian kroner, and is expected to be finished in 2023.
Image credit the Norwegian Coastal Administration