HVO Biofuel changes the environmental profile of our Fleet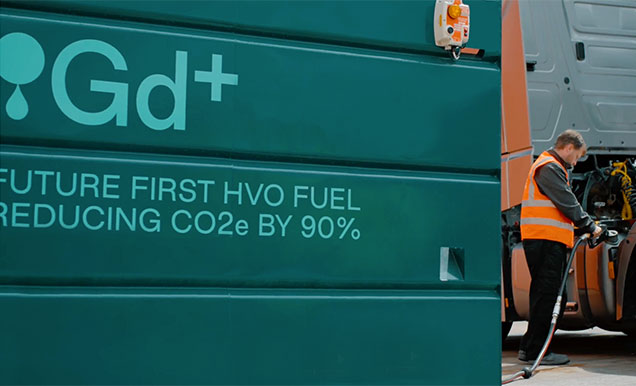 Switching from Diesel to Biofuel for our HGV fleet is a game-changer in terms of carbon emissions reduction and environmental protection. It's more than just a gesture – by using a RED-II compliant GreenD+ biofuel (a sustainable form of hydrotreated vegetable oil) it's helping to reduce fleet CO2 emissions by over 90%.
There's no escaping the fact that in terms of carbon emissions, transportation is a big contributor to the overall embodied carbon in any cable product. Behind the extraction and processing of raw materials, and the manufacturing of the cable itself, the trans-European (or trans-continental in some cases) movement of finished cables it's the next biggest factor. Cables will be loaded onto Heavy Goods Vehicles (HGVs) and shipped thousands of miles from manufacturer to supplier before moving onto the end customer site.
Whilst the news may carry stories about electric HGVs and other blossoming technologies that offer cleaner modes of transport, the reality is that the vast majority of large commercial vehicles on the road are diesel powered and will be for some time. The cost of the vehicle and the accompanying chargepoint is prohibitive to most, whilst a range of 130miles makes it suited to more local hub/spoke deliveries – it's one of the reasons Tesco was able to introduce their first Electric lorry into their fleet in August 2022. We've already got Electric Vans in our fleet – making deliveries of reels, pallets and small drums – but for the large drums that can weigh up to 10T each, our EVs won't fit them, let alone be able to manage the weight.
Modern Euro6 rated engines in HGVs are the most efficient 'ICE' (internal combustion engine) currently on the road and include features such as engine cut-outs whilst idling so as to provide fewer emissions – and our fleet all meet this standard (as required of FORS Silver status) – but we realised it wasn't enough. The big consideration was that any change needed to be practical for our fleet both home and abroad; our fleet makes 'door-to-door' deliveries across Europe so there's no point having a solution that only works close to our principal hub. Biofuels are already common in many countries on the continent plus it allows for dual-fuelling in the event the driver needs to top up with fuel somewhere that HVO isn't readily available.
After a trial and comparative study last year, we made the decision to install a 200,000 litres fuel tank at our main Denaby site. Our fleet has been running on biofuel as the principle fuel (and for many of the UK & Ireland based vehicles, their sole fuel) for more than 6 months now. The added bonus being it eliminated the short but regular journeys to nearby fuelling stations – in itself adding up to considerable annual mileage.
Is biofuel cheaper than diesel? No, not on the whole, the price fluctuates much as any other commodity product, but we have made the commercial decision to shoulder any associated costs. Why? Because the carbon emissions and NOX reductions make it the best choice for us and our customers – after all, what we do impacts their own Scope 3 carbon emissions reporting.
We're proud to talk about our vehicles and be able to explain the steps we've taken to be one of the most environmentally sustainable fleets not just in our industry, but on the road as a whole!
As featured on the cover of The Yorkshire Post's section https://www.yorkshirepost.co.uk/business/yorkshires-eland-cables-switches-entire-50-strong-hgv-fleet-to-biofuel-4031720