Eland Cables' Delivery Fleet Achieves FORS Silver Status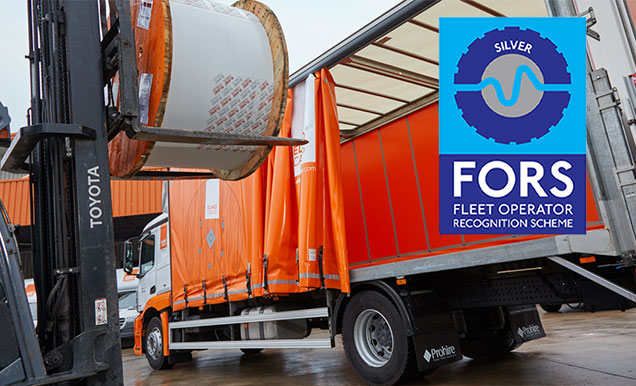 When you're talking about logistics and delivery, service is not just about us despatching your cables in a timely manner, it's also about what logistics teams refer to as 'the last mile'. As a customer, good service includes a hassle-free delivery, arriving where and when you need it. We're as concerned about how a cable arrives as we are with how it looks when it leaves us; it's one of the reasons we've recently been upgraded and accredited to FORS Silver status.
FORS, for those who don't know, is a freight logistics accreditation that focuses on road safety and driver awareness, alongside environmental monitoring practices around fuel usage, emissions and green routes. Silver level accreditation involves an additional investment in fleet road safety provisions to include safety measures such as 360-degree camera and blind spot signalling alarms. Our Hi-Abs, Artics, and large rigid trucks are all carrying drums of significant size and weight so heightened road safety awareness can only be a positive action.
So why did we seek FORS Silver accreditation? Aside from supporting some UK sites specifying only FORS accredited vehicles for delivery, it was about extending our focus on quality and compliance. Our next-day service can be that much better when it's our fleet and our drivers making the deliveries. FORS Silver is both an organisational accreditation and one that demands training of the drivers as individuals.
These CPC-certified drivers are not just trained in road safety awareness, but are also trained to handle cable reels and drums properly to avoid damage during unloading, and who share our care and commitment to delivering excellent customer service. Whether it be a self-offloading vehicle (Hi-Ab) or a truck requiring fork-lift assistance, the drums will have been loaded appropriately and securely, and driven to your site with the utmost care.
We recognise that our own fleet gives greater flexibility for customers. They can get instant PODs, accurate ETAs and we can have direct contact with the drivers via mobile – it all makes deliveries to site easier. The investment in the fleet also sees our trucks making transits to multiple EU countries daily, giving the reliable service and tailored deliveries you expect of us regardless of wider cross-border logistical challenges. Together, it adds to the compelling reason why our customers choose to work with us.