Building a sustainable future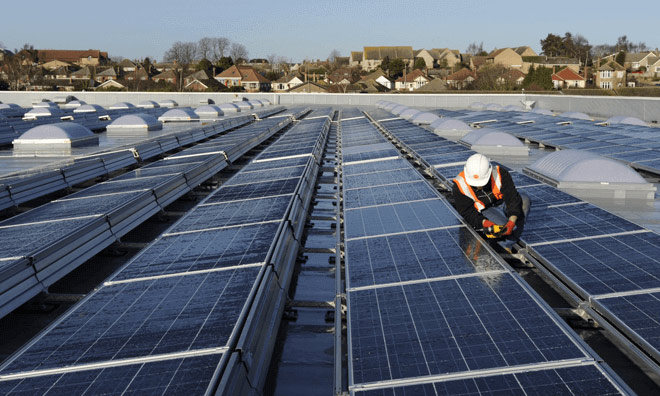 Businesses and organisations are offering innovative solutions in the field of energy consumption monitoring, optimisation and ultimately energy reduction, all in the name of building a sustainable future.
Many large UK retailers have made significant efforts to reduce their energy consumption, identifying energy-saving measures across their stores and distribution logistics, educating staff to help reduce energy consumption, as well as investing in energy monitoring and reporting systems. 
Supermarkets are now discussing giving their fridges a turbo boost with new aerodynamic technology, the same as used in Formula One cars. The use of aerofoils, which are designed and engineered to control the direction of airflow are now being developed to attach onto each refrigerator shelf keeping more of the cool air inside the cabinet. This in turn will result in significant energy savings with corresponding benefits to their carbon footprint, as well as an improved shopping experience for customers who will feel a reduction in the cold air spilling into these chilled aisles. 
Sainsbury's in particular has invested millions of pounds into sustainable technologies and initiatives including clean energy generation, energy efficiency and natural refrigerant projects, including the installation of LED lighting, biomass boilers, ground source heat pumps, solar thermal hot water and combined heat and power applications. Their two most environmentally friendly stores currently produce zero carbon emissions from their operational energy use, send zero waste to landfill, and have zero impact on water usage in their local catchment areas due to their 'Water Neutral' status.
In the UK, cables in our renewable energy portfolio play an instrumental part in a number of high-profile land-based and offshore wind farms, on large-scale solar farms, and on rooftop installations such as those found on Sainsbury's supermarkets across the country. Internationally, we participate in high profile renewable energy projects every year, such as the construction of the Sheikh Zayed Solar Power Plant in Mauritania, Africa's largest solar plant.
Innovative technologies are driving the renewable energy industry. Retailers are happy to invest in energy efficiency as they realise that they will achieve a reasonable return on investment within the medium term. Whilst it would be good to imagine the  vast majority of the actions being taken to reduce energy consumption are done with the impact on the environment as the driving force, if justifying it in commercially-viable cost-benefit terms achieves the same outcome then there are even fewer reasons why other companies can't follow Sainsbury's lead.