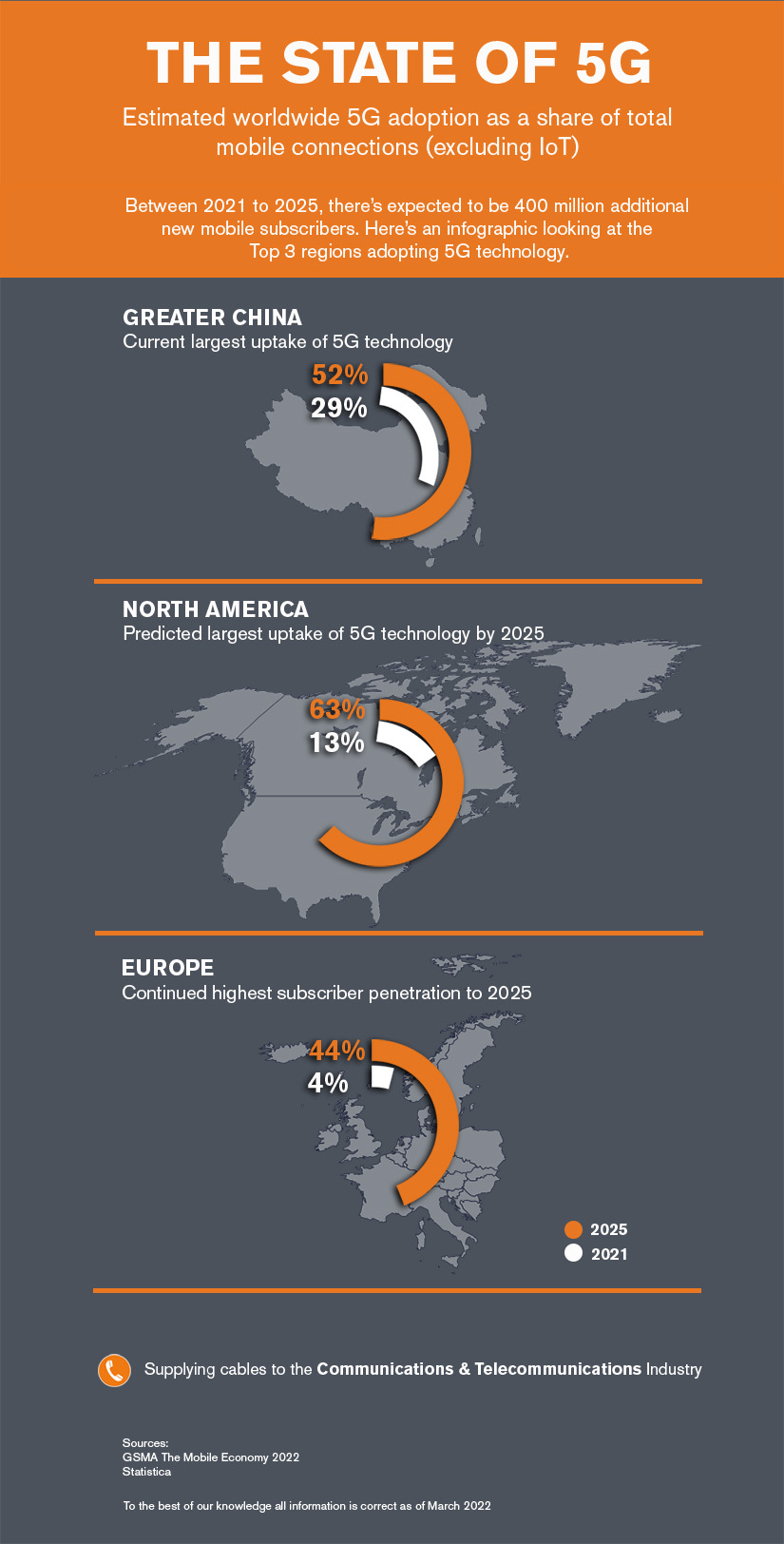 With the telecoms industry having to meet the growing demand for faster connections, 5G is being held up as the technology to meet that demand.
Recently in the UK, mobile-network operators EE, O2, Three, Virgin Media and Vodafone reached an agreement for the phasing out 2G and 3G mobile services by 2033. This might happen sooner to make way for faster connectivity if certain systems that rely on these connections can be transitioned over. Beyond smartphones, some older IoT 3G devices could find their core functionalities redundant, for example home security systems, remote medical devices, and cars with built-in GPS systems, as they'll lose the the ability to receive updates such as location or traffic alerts.
The 5G transition is global, but have you ever wondered just how fast countries are taking on the technology? In a recent report from GSMA titled 'The Mobile Economy 2022' it mapped out anticipated transitions from 2021 up to 2027. With the smartphone arena currently hitting a ceiling in breakthrough innovations due to its mature state, connectivity range and speed are the natural focus of evolution. The ongoing switch to 5G could become the largest space for growth for the industry over the next few years.
GSMA expect a milestone one billion global 5G connections this year, with the adoption of 4G to decline and 3G adoption to fall under the 20% mark. Despite the impressive start there's still growth required before 5G overtakes 4G and it will take some years before it happens.
By 2025, it's expected that one in four mobile connections will to be on a 5G network, whilst 4G will continue to dominate the number one position with 55% of connections. The largest region to adopt the technology is predicted to be North America going from 13% in 2021 to 63% in 2025, followed by Greater China from 29% to 52% (making it the current leader for early adoption) and then Europe from 4% to 44% by 2025, which will continue to be the world leader for subscriber penetration between 2021-2025 (86% to 87%).
Despite these shifts, the world is expected to continue to heavily rely on 3G and 4G connectivity for several years to come – but the pace of change has gained momentum and there's no stopping 5G now!