Gas Emissions Testing for Cables
GAS EMISSIONS TESTING: DETERMINING THE HALOGEN ACID GAS CONTENT - BS EN 60754-1
The test is to determine the amount of halogen acid gases that are created when cable insulation and sheathing compounds are burned. The test is applicable to both electrical cables and fibre optic cables. 
Samples of the polymer insulation or sheathing are prepared - the test requires circa 750mg of material which is then cut into smaller pieces. They are then conditioned at a temperature of 23oC with a humidity of 50% for a period of 16 hours. 
The test methodology for determining the halogen acid gas content states that after the conditioning period, the cable sample material is placed into a quartz glass tube in the centre of a tube furnace. It is heated under a steady 20ml/mm2/h stream of dry air up to a temperature of 800oC, maintaining that temperature for a period of 20 minutes. As the gases from the heated samples are emitted they are absorbed into a sodium hydroxide solution in wash bottles. A baseline test is also performed, without the cable sample being in the tube furnace.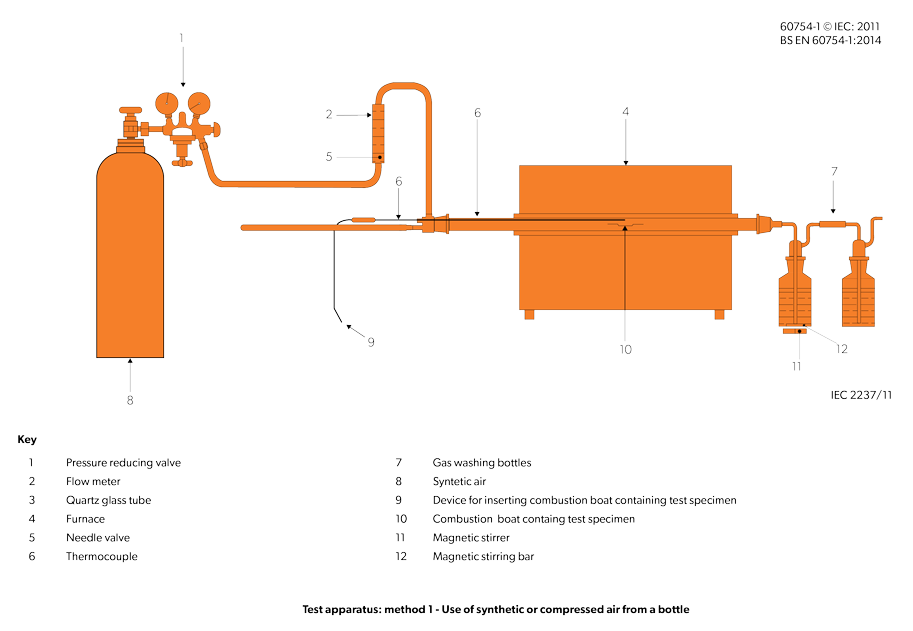 DETERMINING THE ACIDITY BY PH MEASUREMENT - BS EN 60754-2
In the second part of the Gas Emissions Test, the acidity of the gases by pH value are measured and recorded, as set out in standard IEC 60754. It uses an aqueous solution collected from the gases evolved in combustion to determine how corrosive the gases are.
The test requires 1g (with a tolerance of +/- 0.005g) of insulation material to be placed in a combustion boat inside a tube furnace which is then heated to 935oC for a period of 30 minutes.
As the material heats, gases are emitted which are absorbed into a catch solution. After the 30 minute test duration the catch solution is made up to a volume of 1 litre, from which the pH value and the conductivity of the solution can then be measured and recorded.
Low Smoke Zero Halogen cables are defined as having a pH value no less than 4.3 and a conductivity not exceeding 10µS/mm.
Cable Sizing Calculator
Supporting Low Voltage cable sizing to BS and IEC standards with our easy-to-use calculator
Try it now
Custom Cable Design
Tailoring cables to meet bespoke requirements of performance or environmental challenges when off-the-shelf options are unavailable.
Read more
CPD Cable Training
Expert cable tuition from our experts with CPD-certified cable training and tailored cable learning programmes
Courses