Cable Hot Set Testing for Cross-Linked Materials
Hot set testing for cross-linked materials is conducted in accordance with BS EN 60811-507, which provides the test methods for testing non-metallic materials of all types of cables. The approved test methods are intended to be referenced in standards for cable construction and for cable materials. Eland Cables undertakes hot set testing its cable portfolio as part of its rigorous quality assurance protocols, but The Cable Lab also offers this cable test as an independent service on cables from third-party sources. 
Hot set testing is performed on the insulation or sheathing material and not on the complete cable so the first step is to prepare the cable sample by removing the conductors and any braiding, armouring or tapes. Depending on the cross-sectional size and shape of the overall cable, the samples are either cut as a tubular slice or cut into smooth dumb-bell shaped pieces. The central 20mm (or 10mm for smaller samples) is marked by two lines.
In addition to an oven capable of maintaining the required temperature within specified tolerances, the ISO 17025 test method requires grips with attachable weights.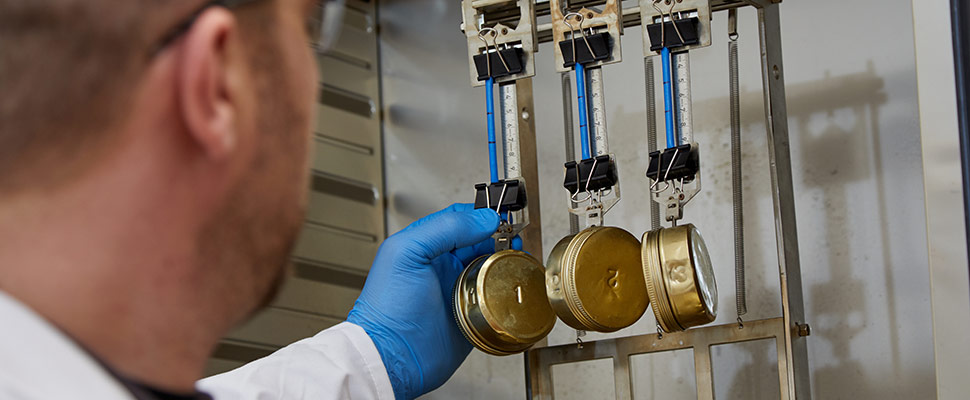 The cable testing samples are suspended in the oven and weights attached to the end of the insulation material for a defined time and temperature, specified for each material type in the relevant standard. The samples are held at this temperature for a period of 10 minutes and the degree of stretch between the marker lines is determined. The force applied through the weight is then removed by cutting the sample at the point where the weight is attached and the samples are allowed to settle in the oven for a further 5 minutes weight-free. Once removed from the oven, the samples are then cooled slowly to ambient temperature and the marker lines measured again to determine how much each sample has recovered by. It should be noted that the ambient temperature is also determined by the ISO 17025 test methods in order to achieve continuity and consistency in results.
The mean values of 3 samples are recorded and compared against the standard requirements resulting in a pass or fail.
Cable Sizing Calculator
Supporting Low Voltage cable sizing to BS and IEC standards with our easy-to-use calculator
Try it now
Custom Cable Design
Tailoring cables to meet bespoke requirements of performance or environmental challenges when off-the-shelf options are unavailable.
Read more
CPD Cable Training
Expert cable tuition from our experts with CPD-certified cable training and tailored cable learning programmes
Courses