The Growing Number of Data Centres Around the World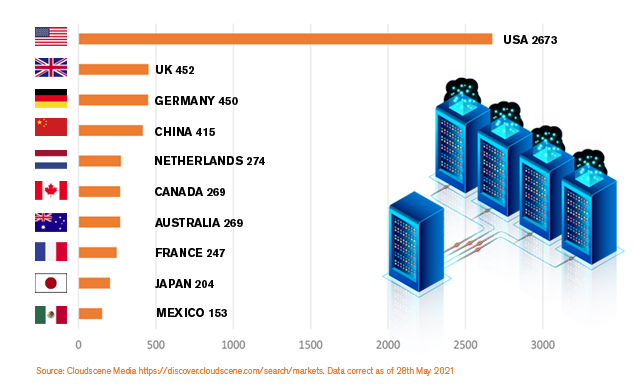 UPDATE: The data collated for 2022 shows the USA still claims the top spot with 2701 data centres. Germany has just pipped the UK for second place with 487 and 456 data centres respectively. (Data centers worldwide by country 2022 | Statista)
| | |
| --- | --- |
| Country | No. of Data Centres |
| USA | 2701 |
| Germany | 487 |
| UK | 456 |
| China | 443 |
| Canada | 328 |
| Australia | 287 |
| Netherlands | 281 |
| France | 264 |
| Japan | 207 |
| Mexico | 153 |
Please Note: When assessing this data the following information is important to bear in mind that size of data centre is not considered – no additional weighting is given the hyperscale datacentres so the 'powerhouses' of the European data centre industry such as Ireland and Sweden do not feature as prominently as they may otherwise.
Our modern lives mean that we are dependent on data centres far more than we realise. With such a vast amount of information stored and distributed within nanoseconds they need to maintain secure operations all day, every day, 365 days of the year, across the globe.
So how many data centres are there and where they are located? Thanks to Cloudscene Media we can see how many data centres are in each region - and then dig a little deeper with a breakdown by country and look at why some of these locations feature prominently.
| | |
| --- | --- |
| Region | No. of Data Centres |
| North America | 2945 |
| Europe | 2768 |
| Asia Pacific | 1598 |
| South America | 492 |
| Africa | 121 |
All information correct as of 28th May 2021
Regionally we can see how North America leads the way with 2,945 data centres. Obviously skewed heavily to the USA, it's interesting to see that despite only accounting for 9% of that figure Canada still ranks 6th in countries with the most data centres. Europe has a more levelled distribution with the UK, Germany, Netherlands and France collectively taking 51% of the region's data centres. Asia-Pacific also displays a similar outlook with China, Australia and Japan collectively having 56% of the region's market share.
Top 10 countries for Data Centres
| | |
| --- | --- |
| Country | No. of Data Centres |
| USA | 2673 |
| UK | 452 |
| Germany | 450 |
| China | 415 |
| Netherlands | 274 |
| Canada | 269 |
| Australia | 269 |
| France | 247 |
| Japan | 204 |
| Mexico | 153 |
So why do these countries rank so highly?
USA: To be expected - the largest single country for connectivity and cloud in the world with major markets including the financial hubs of New York and Chicago, the Tech hubs of San Francisco, Seattle and Portland; the population hubs of Dallas, Los Angeles, and Government operations in Washington DC. The USA total data centre numbers outweigh its nearest market (the UK) by five times.

The total GDP of America is over USD $19 trillion with a contribution of 7.1% from the digital economy.
UK: London is still Europe's major financial and services hub, with the UK also a major interconnection hub between North America and Europe. The UK has over 51 submarine communications cables of which majority are digital optical fibre cables.

The total GDP of the UK is over USD $2.86 trillion and with a contribution of 8% from the digital economy.
Germany: Considered the financial powerhouse of the European Union - whilst the country's capital is Berlin, the undisputed digital capital is the western city of Frankfurt. The country as a whole has rapidly modernised with advanced technology driving its place as one of Europe's largest telecom

The total GDP of the Germany is over USD $3.7 trillion, and with a contribution of 8% from the digital economy.
China: It is not surprising to see China in the top 10 but perhaps it might be expected to be higher up the list, especially with the strides made in other areas such as its rapid investment in renewable energy such as wind turbines. April 2020 saw the Alibaba Group Holding Ltd. announce an investment of CNY 200 billion (GBP 22 billion) on cloud infrastructure including data centres over the subsequent three years. Chinese Government oversight and regulations may have a bearing on where it is in the list – as noted previously the total number is not adjusted for size/capacity so it may be that China has fewer but larger datacentres. Equally, it may be that with the split between urban living and more traditional rural agricultural way of life it simply hasn't yet seen the scale if demand for connectivity in the less developed regions – either way, expect this number to grow significantly in the coming years.

It should be noted that Hong Kong, a special administrative region of the People's Republic of China, is listed separately – with 111 data centres.

The country witnessed an unprecedented growth in China's demand for online services during the pandemic with more than 70% of the population actively using e-commerce services.
The Netherlands: The Netherlands, in particular Amsterdam, is arguably the internet hub for Europe. Home of the world famous IX, AMS-IX (Amsterdam Internet Exchange), Amsterdam is often seen as the first landing point for providers connecting from the UK into continental Europe.

The total GDP of the Netherlands is over US $750 billion and with a contribution of 7.6% from the digital economy.
Canada: There are 269 Canadian data centres, the majority of these colocation facilities are located in and around Toronto on the Eastern side of the country – a short hop from major US cities such as Detroit, Pittsburgh and Chicago. From a regulatory point of view, the US CCPA regs and Canadian PIPEDA regs are similar so the location of co-lo sites may also be used by US companies.

The total GDP of the Canada is over US $1.55 trillion and with a contribution of 4.4% from the digital economy.
Australia: Over the last 10 years, data centre and cloud growth in Australia has accelerated significantly with both Amazon Web Services, Microsoft Azure and Google Cloud locally hosted in Australia. It's physical distance from other countries means it looks at building the infrastructure internally as opposed to cross-border sharing.

The total GDP of Australia is over US $1.34 trillion and with a contribution of 5.1% from the digital economy.
France: France has a population of over 67.84 million, and an internet literacy rate of 85.6% (57.23 million internet users). The two data centre powerhouses here are Paris and Marseilles – both with transatlantic data cables landing within close proximity.

The total GDP of France is over US $2.42 trillion and with a contribution of 4.2% from the digital economy.
Japan: Japan has 92 internet users per 100 citizens, while its connectivity ecosystem is made up of 196 colocation data centres, 195 cloud service providers and 7 network fabrics. Long seen as digital vanguards, the Japanese are early adopters and look to build their own infrastructure.

The total GDP of the Japan is over US $4.12 trillion and with a contribution of 9% from the digital economy.
Mexico: Despite Brazil's dominance in the big data market, Mexico boasts more data centres ranking at no.10 in the world. A continued investment in infrastructure in the country, including by Brazil-based Ascenty, has meant this will only increase as major investors look to extend their presence in the Latin American market.
With the rapid growth in digital infrastructure, consumption and production migration it's not surprising to see projects representing around US$1.5bn in Mexico's foreign investments.
Data centre construction – whether co-lo sites in the heart of a city or hyperscale builds on the outskirts of town – remain a booming industry. The connectivity and information access that data centres provide, aligned with the conscious efforts made to achieve net-zero in renewable markets and carbon neutral technologies, means they will remain a market to keep an eye on.