PECM: Eland Cables reflects on 2018 and talks about their approach to cable supply in 2019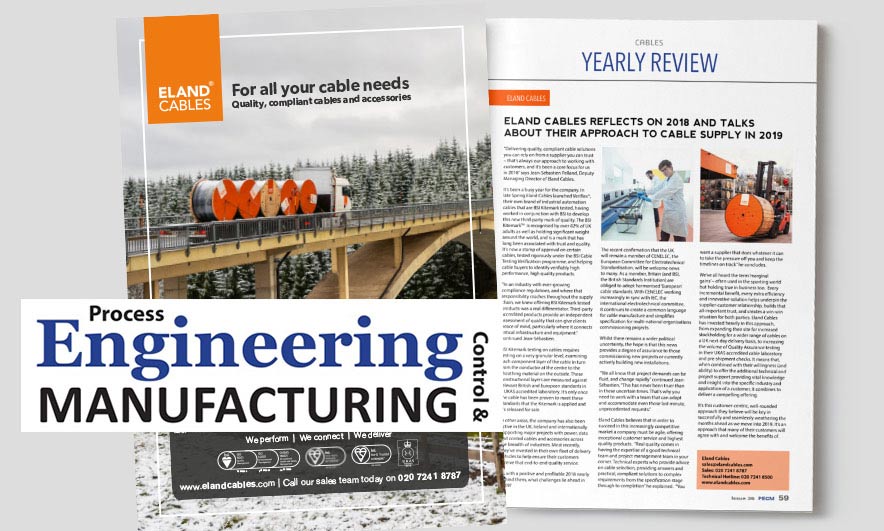 "Delivering quality, compliant cable solutions you can rely on from a supplier you can trust – that's always our approach to working with customers, and it's been a core focus for us in 2018" says Jean-Sébastien Pelland, Deputy Managing Director of Eland Cables.
It's been a busy year for the company. In late Spring Eland Cables launched Veriflex®, their own brand of industrial automation cables that are BSI Kitemark tested, having worked in conjunction with BSI to develop this new third-party mark of quality. The BSI KitemarkTM  is recognised by over 82% of UK adults as well as holding significant weight around the world, and is a mark that has long been associated with trust and quality.  It's now a stamp of approval on certain cables, tested rigorously under the BSI Cable Testing Verification programme, and helping cable buyers to identify verifiably high performance, high quality products.
"In an industry with ever-growing compliance regulations, and where that responsibility reaches throughout the supply chain, we knew offering BSI Kitemark tested products was a real differentiator. Third-party accredited products provide an independent assessment of quality that can give clients peace of mind, particularly where it connects critical infrastructure and equipment." continued Jean-Sébastien.
BSI Kitemark testing on cables requires testing on a very granular level, examining each component layer of the cable in turn from the conductor at the centre to the sheathing material on the outside. These constructional layers are measured against relevant British and European standards in a UKAS accredited laboratory. It's only once the cable has been proven to meet these standards that the Kitemark is applied and it's released for sale.
In other areas, the company has also been active in the UK, Ireland and internationally supporting major projects with power, data and control cables and accessories across the breadth of industries. Most recently, they've invested in their own fleet of delivery vehicles to help ensure their customers receive that end-to-end quality service.
So with a positive and profitable 2018 nearly behind them, what challenges lie ahead in 2019?
The recent confirmation that the UK will remain a member of CENELEC, the European Committee for Electrotechnical Standardisation, will be welcome news to many. As a member, Britain (and BSI, the British Standards Institution) are obliged to adopt harmonised 'European' cable standards. With CENELEC working increasingly in synch with IEC, the international electrotechnical committee, it continues to create a common language for cable manufacture and simplifies specification for multi-national organisations commissioning projects.
Whilst there remains a wider political uncertainty, the hope is that this news provides a degree of assurance to those commissioning new projects or currently actively building new installations.
 "We all know that project demands can be fluid, and change rapidly" continued Jean-Sébastien, "This has never been truer than in these uncertain times. That's why you need to work with a team that can adapt and accommodate even those last minute, unprecedented requests." 
Eland Cables believes that in order to succeed in this increasingly competitive market a company must be agile, offering exceptional customer service and highest quality products.  "Real quality comes in having the expertise of a good technical team and project management team in your corner. Technical experts who provide advice on cable selection, providing answers and practical, compliant solutions to complex requirements from the specification stage through to completion" he explained.  "You want a supplier that does whatever it can to take the pressure off you and keep the timelines on track" he concludes. 
We've all heard the term 'marginal gains' – often used in the sporting world but holding true in business too.  Every incremental benefit, every extra efficiency and innovative solution helps underpin the supplier-customer relationship, builds that all-important trust, and creates a win-win situation for both parties. Eland Cables has invested heavily in this approach, from expanding their site for increased stockholding for a wider range of cables on a UK next-day delivery basis, to increasing the volume of Quality Assurance testing in their UKAS accredited cable laboratory and pre-shipment checks. It means that, when combined with their willingness (and ability) to offer the additional technical and project support providing vital knowledge and insight into the specific industry and application of a customer, it combines to deliver a compelling offering.
It's this customer-centric, well-rounded approach they believe will be key in successfully and seamlessly weathering the months ahead as we move into 2019. It's an approach that many of their customers will agree with and welcome the benefits of.