Commitment to Quality: BSI ISO Accreditations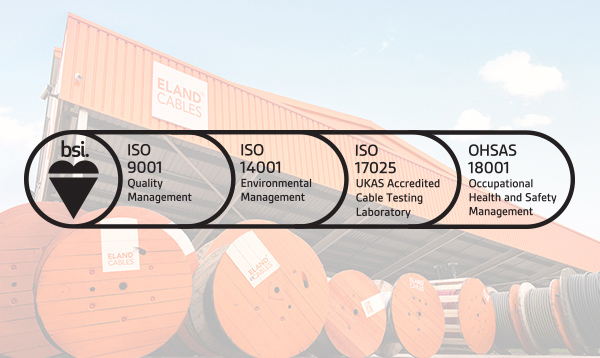 Our commitment to quality is a core company value, not just in the products we supply, but high standards across the board, including ethical business practices, health & safety protocols to protect our people, and our systems for maintaining records. As a company we live these values, impressing on our colleagues that it is the responsibility of everyone to help maintain these high levels. Yet it's important that our customers also see our commitment to quality, as it is an important factor in choosing their preferred cable supplier, and the easiest way to show this is through our Quality Accreditations.
We currently hold 4 internationally recognised quality accreditations:
ISO 9001 Management Systems Certification; streamlining business processes, stock traceability systems, and quality management systems
ISO 14001 Environmental Certification; operations and supply chain sustainability, measures to minimise or offset environmental and local community impact  
OHSAS 18001 Health & Safety Certification; safe working practices on company premises, staff wellbeing programmes
ISO 17025 UKAS Accredited Cable Testing Laboratory; test methodology and processes for cable testing
Until now, we've been assessed and awarded the ISO9001, ISO14001 and OHSAS18001 accreditations by Bureau Veritas, a respected UK testing, inspection and certification organisation. However, the British Standards Institute is the foremost standards and certifications body in the UK, so we felt it important our quality accreditations came from them. At the start of the year we began the process of renewing our certifications under BSI's assessment. We're proud to announce that we have completed the transition and were awarded all three of our ISO quality accreditations under BSI's banner.
Holding these ISO certifications is an important recognition of our commitment to best practice across our Company, but with a programme of continuous improvement across our business, we will continue to strive to improve our activities and processes. We have now started the process of moving from ISO 9001:2008 to the revised and upgraded ISO 9001:2015. This has additional clauses covering the context of the organisation, focuses more on the leadership and management commitment, and puts greater emphasis on risk-based thinking, looking at planning for any eventuality - this transition will be completed by Q1 2018 and will only further strengthen our commitment to quality.