MEPCA Tips to avoid problem cable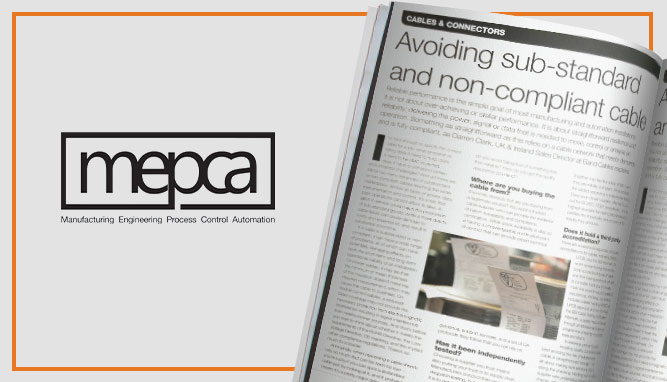 Reliable performance is the simple goal of most manufacturing and automation installations. You're not looking for over-achieving, stellar performance, just straightforward resilience and reliability. It's about delivering the power, signal or data that is needed to move, control or analyse an operation. Yet something as straightforward as this relies on a cable network that both meets demands and is fully compliant.
It's hard enough to specify the correct cable for the job: what temperature rating does it need to hold, does it need to be EMC screened, does it have to withstand certain environmental challenges? And yet there are still far too many instances of substandard or non-compliant cables reaching the wider marketplace, across all types of power, data, instrumentation and control, and it's a risk that plant operations cannot afford to take. A glitch in service could mean the production of sub-standard goods, whilst a more drastic cable failure can cause damage to costly and essential kit and result in substantial downtime.
If a cable is substandard or non-compliant it can have a wide range of problems, all of which can have potentially damaging effects on both the short-term and long-term operational viability of your installation. On power cables it may be that the minimum or mean thickness of the insulation doesn't meet the required measurement which may cause the cable to overheat; whilst on flexible control cables a reduced braid coverage may not provide the necessary protection from electromagnetic interference resulting in signal interference from nearby power sources  – and that's before you start to think about whether it meets the requirements of the RoHS Directive, the Low Voltage Directive, CE marking, and the myriad other compliance regulations… There's so much to consider.
Annoyingly, when assessing a cable there's only so much that can be seen by eye - you're lucky if you can spot substandard cable just by looking at it, and it probably means it's a pretty major defect. So how do you avoid falling foul of something less than reliable? How do you get the quality assurance you need?
Where are you buying the cable from?
It sounds obvious, but are you buying from a legitimate source? You want a trusted cable supplier who can provide the evidence of batch traceability and compliance certification. Whilst stock availability is vital, so is having a knowledgeable and trusted point of contact that can provide expert technical guidance, support services, and a set of QA protocols they follow that you can rely on.
Has it been independently tested?
Choosing a supplier you trust means also putting your trust in their supply chain. Manufacturers conduct their own pre-despatch testing but we all know how easy it is to overlook things when checking your own work. Manufacturers will have multiple production facilities all around the world too so there can be differences between sites which together may feel like a leap of faith even if they are reliably compliant. What provides the added assurance is independent testing. Does your chosen supplier offer that? Look out for ISO/IEC 17025 accreditation – it's the highest standard for testing laboratories and certifies the impartiality and accuracy of the results they produce.
Does it hold a third-party accreditation?
There are a number of well-respected third-party accreditations for cables, including BASEC, LPCB, and the BSI Kitemark. It's worth remembering that no one body accredits all types of cable and their testing protocols will differ, but a cable holding a third-party mark can provide valuable additional assurances. As a business, our portfolio includes cables holding BASEC and LPCB approval and we also hold the BSI Cable Testing Verification Kitemark, a quality mark achieved through an intensive and rigorous programme of testing on specific reels and drums.
In essence, procuring and installing quality, compliant cable (and avoiding the risk of substandard cable) is straightforward enough – it's all about making sure someone else is doing the checking! Working with a cable supplier who undertakes intensive QA check, offers independent testing, and provides expert technical and project support, is not only good due diligence but more importantly it's the service you need to ensure you deliver an installation that performs exactly as you need it to!
MEPCA Magazine January 2020