Creating Zero Landfill Waste - our shift to Biomass fuel production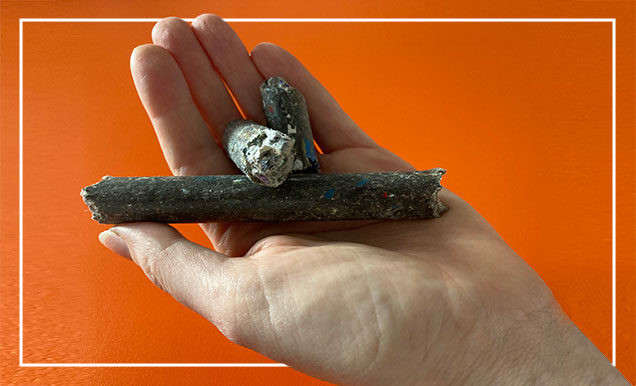 Our recycling credentials are already noteworthy:  As a business we've invested extensively in plant machinery and equipment to be able to recycle our cable wastage, the wooden cable drums, plys & reels, and our paper, plastics and cardboard waste. Our packaging is made from recycled materials and can in turn be recycled at end of life. But what do you do with the general waste that can't be crushed, bailed or otherwise processed on site? Whilst we've made it easy to separate and recycle across every area of our business, there is inevitably waste materials that would normally head to landfill. Sweepings from the floor, non-recyclable waste from the canteen and staff areas, the bins next to office desk – just day-to-day detritus.
We're all familiar with the motto 'Reuse, Recycle, Reduce' when talking about Sustainability and a Sustainable Circular Economy – so we're proud to be able to announce that we are now sending NO material to landfill. How are we achieving this? We're turning that non-recycled rubbish into biomass fuels!
What are biomass fuels? They're derived from carbon-based materials which can be gasified – food processing waste, solid waste, wood waste – that are processed, pelletised and then burnt to produce heat or electricity. The processing of this waste and the subsequent burning is considered significantly more climate friendly than traditional fossil fuel electricity production (providing it comes from sustainable sources), and has the enormous benefit of reducing landfill. Biomass fuels can be used on a large-scale commercial level, such as the Drax Power Station in the UK, and in domestic settings to provide a heat source. IRENA, the International Renewable Energy Agency, has suggested that biomass fuels may contribute up to 60% of renewable energy globally by 2030.
For us at Eland Cables, making the decision to update our waste processing procedures so that we can eliminate sending material to landfill was both obvious and easy. As we look to make our sites ever-more energy efficient and sustainable, it fit seamlessly with our commitment to ISO 50001 Energy Management and sits alongside our push to reach Net Zero. Whilst the implementation has been during the latter half of 2022 and will be referenced and recognised in our next annual sustainability report, we look forward to seeing the full impact next year and in years to come.