Autonomous Ship in a World First Launch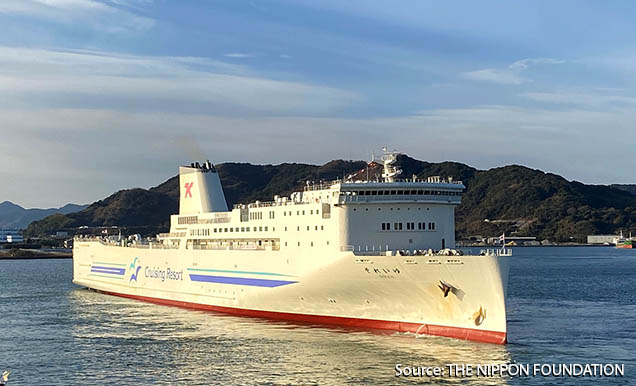 The world's first fully autonomous ferry set sail on its maiden voyage on 17th January 2022 – a test run to demonstrate its capabilities at sea.
Reaching speeds of 26 knots (48kph/30mph), the car ferry was autonomously navigated from Shinmoji, Kitakyushuu City through a 240km (149 mile) stretch of Japan's Iyonda Sea. The trial also included complex docking operations during the final stages of the journey which lasted approximately 7 hours.
Supported by The Nippon Foundation, the demonstration was part of a project called MEGURI 2040, designed to advance the development of fully autonomous vessels. The test showcased the capabilities of the navigation system technology, developed by Mitsubishi Shipbuilding (a subsidiary of Nippon Foundation), and it was used on the 222m (728ft) ferry named 'Soleil.'
Three months of testing verification running from January until March 2022 is in place putting the autonomous navigation system through its paces. Success will bring us one step closer to addressing maritime issues of accident prevention and crew absenteeism through the use of AI (artificial intelligence) and advancements in ICT (Information and communications technology) for radar and control systems.
Mitsuyuki Unno, Executive Director of the Nippon Foundation commented: "I hope this will lead to further development toward practical use. There are still many issues to be resolved, however, and I believe today's results will be a guide toward the creation of international rules for fully autonomous vessels"
Naoki Ueda, Executive Vice President, Mitsubishi Shipbuilding Co., Ltd also said: "This demonstration test greatly accelerated the development of fully autonomous ship navigation systems using many advanced technologies including artificial intelligence. We will continue to develop technologies using the valuable knowledge gained to achieve safety and high-quality service for passenger ferries, which play an important role in supporting marine transportation in the island nation of Japan."
Technology advancements like the high-precision sensor image analysis system with infrared cameras are used to detect foreign objects such as other ships which means darkness is not a compromising factor. Coined the SUPER BRIDGE-X, the automated vessel navigation system includes automated avoidance function and an automated port berthing and unberthing operation system.
Masami Sasaki, Executive Director, Shin Nihonkai Ferry Co., Ltd. said: "We are honoured to be involved in the development of a fully autonomous ship navigation system that represents the future of Japan's shipping industry.
As a passenger ferry company, we have high expectations for the social application and widespread use of fully autonomous operation as one of the solutions to issues including human error and crew labour savings."
As the race for autonomous vessels in marine environments continues, one of the biggest issues is advanced fault prediction, this coupled with the development in navigation, data analysis and security will be key to future advancements. It seems MEGURI 2040 and the ferry Soleil may just have cracked it.