Eland Cables' grid-to-car electric vehicle solutions include the Mode 4 DC EV cable, suitable for high-powered DC charging units usually above 50kW. The Mode 4 EV Charging cable runs from car to charging unit, to be terminated with a moulded plug, whether universal format or model specific. The Mode 4 DC electric vehicle charging cable is the final link from grid to car.
Mode 4 DC EV Cable Voltage Rating
This EV charging cable has a rated voltage of 1500VDC. The cable is manufactured according to IEC 62893 so as to meet the requirements of the internationally recognised EV charging standard IEC/EN 61851-1. 
Mode 4 DC EV Cable Specification
Construction sees rubber insulated class 6 extra flexible copper conductors, including a reduced earth core, laid up alongside Control and Pilot cores, with a halogen-free polyurethane outer sheath to provide robust environmental protection. The cables for plug-in vehicles are frequently trailed along the tarmac, so the PUR sheath offers abrasion and tear resistance. The Mode 4 cable is AD7 rated for water resistance so can be intermittently partially or fully immersed in water (although not permanently fully submerged).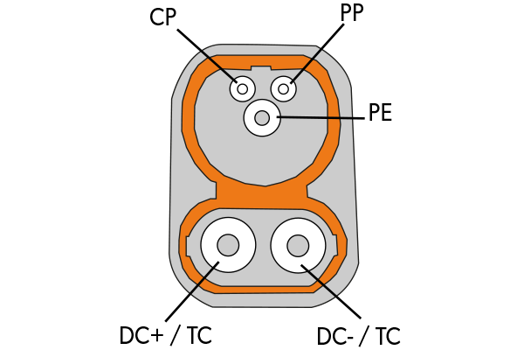 Mode 4 DC EV Cable Datasheet
Our technical datasheets cover the details of dimensions and electrical characteristics, required to be able to specify with confidence. Extensive support from eMobility experts is available to assist with any additional information required.
Where AC charging is required, for Mode 1 (domestic) Mode 2 and Mode 3 (public and commercial) charging units, the H05BZ5-F and H07BZ5-F cable may be suitable.
For EV charging unit connections we offer the EV Charging Cable, and for wider grid connection we provide a range of QA tested MV cables. Together they offer an end-to-end solution for the EV automotive market.
For support in specification at any stage of EV connection, whether in line with BS7671 UK wiring regulations or for European and international markets, please contact our EV industry specialists and Technical Hotline.
Construction Table
| | Mode 4 DC EV Cable |
| --- | --- |
| VOLTAGE | 1500 VDC |
| CONDUCTOR | Class 6 fine flexible stranded Copper |
| INSULATION | Rubber |
| LAY UP | With Communication and Pilot cores |
| OUTER SHEATH | PUR-HF (Polyurethane halogen free) |
| Product name | Part No | Cores | Nominal cross-sectional area (mm²) | Sheath colour | Length (m) | |
| --- | --- | --- | --- | --- | --- | --- |
| Mode 4 DC EV Cable | B6R202016/16BK | 2 | 16/16 | Black | | |
| Mode 4 DC EV Cable | B6R202025/16BK | 2 | 25/16 | Black | | |
| Mode 4 DC EV Cable | B6R202035/16BK | 2 | 35/16 | Black | | |
| Mode 4 DC EV Cable | B6R202050/25BK | 2 | 50/25 | Black | | |
| Mode 4 DC EV Cable | B6R202070/35BK | 2 | 70/35 | Black | | |
| Mode 4 DC EV Cable | B6R202095/50BK | 2 | 95/50 | Black | | |
| Mode 4 DC EV Cable | B6R202016/16OR | 2 | 16/16 | Orange | | |
| Mode 4 DC EV Cable | B6R202025/16OR | 2 | 25/16 | Orange | | |
| Mode 4 DC EV Cable | B6R202035/16OR | 2 | 35/16 | Orange | | |
| Mode 4 DC EV Cable | B6R202050/25OR | 2 | 50/25 | Orange | | |
| Mode 4 DC EV Cable | B6R202070/35OR | 2 | 70/35 | Orange | | |
| Mode 4 DC EV Cable | B6R202095/50OR | 2 | 95/50 | Orange | | |