Shrinkage Tests for Cable Insulation
There are two key pieces of equipment used for testing insulation shrinkage in cables - an air oven which is electrically heated and controlled, and a measuring device capable of measuring to within a tolerance of 0.5mm.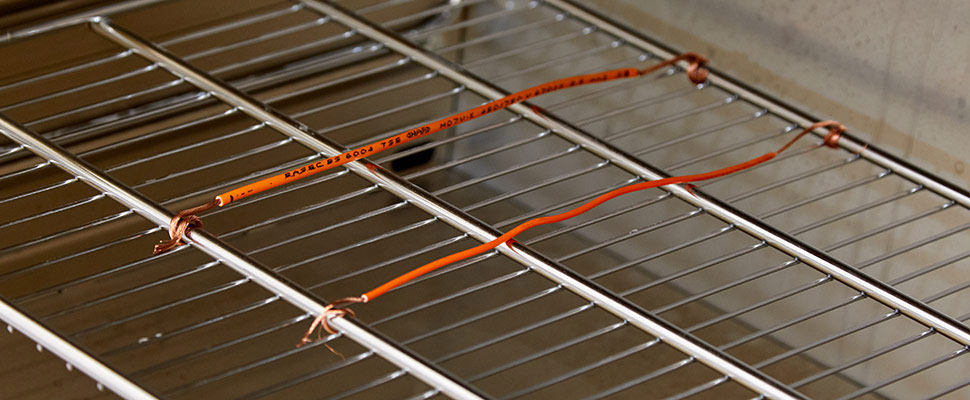 A prepared test length of L+/-5mm is marked in the middle of each sample of insulated conductor, each test piece is then prepared by cutting and removing the insulation from both ends of each sample up to positions between 2mm and 5mm away from the marks. The cable is then placed in the air oven, supported horizontally, at temperatures and for time periods defined for that insulation material type in the relevant standard. After the appropriate air oven exposure and being allowed to cool in air to room temperature, the percentage shrinkage of insulation is measured and results are compared against allowable tolerances. It should be noted that the ambient room temperature within the cable facility is controlled and regulated in accordance with the ISO 17025 cable testing laboratory requirements.
The duration of the test for cable insulation shrinkage can differs between materials as they may have different requirements for temperature and time, for example cross-linked polyethylene is tested at 130°C for 1 hour.
Cable Sizing Calculator
Supporting Low Voltage cable sizing to BS and IEC standards with our easy-to-use calculator
Try it now
Custom Cable Design
Tailoring cables to meet bespoke requirements of performance or environmental challenges when off-the-shelf options are unavailable.
Read more
CPD Cable Training
Expert cable tuition from our experts with CPD-certified cable training and tailored cable learning programmes
Courses