The cables that make 1.265 billion passenger journeys a year possible: Rail Technology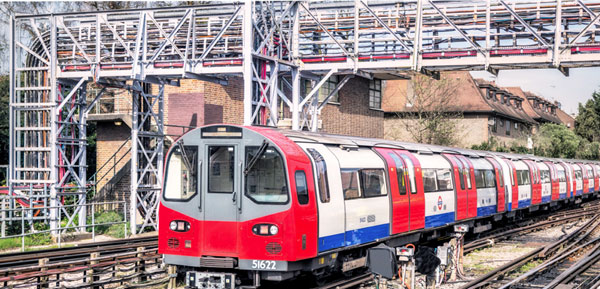 Chris Barnes, Technical and Projects Manager at Eland Cables, talks about connecting the Underground
With the recent announcement that Thales has been awarded the contract for the signaling and train control upgrades across four of London's sub-surface lines, it starts a process of improving some of the oldest infrastructure on the underground network. The Circle, District, Hammersmith & City, and Metropolitan lines have long needed this upgrade, and the improvement works will see up to 32 trains an hour travelling across the lines.
Whilst the process of modernisation and renovation is exciting, it is worth remembering the equipment and particularly the cables that have served these lines until now. There aren't many other industries where an installation could be subjected to the sort of environmental and mechanical stresses these sub-surface lines face, and yet consistently perform year-in, year-out for as long as they have. Cables are a key element of installations as they supply power to the point of use, interconnecting all elements of the signalling and train control systems, as well as connecting CCTV cameras, public address systems, lighting, ventilation systems and fire detection and alarm systems. Without robust cables capable of withstanding all that the Underground throws at them, 389.4 million[1] passenger journeys per year would be left waiting for the train to arrive.
Achieving compliance with LU specifications
For a cable to achieve a place on the LUL Approved Products Register and therefore be certified for use across the network it has been subjected to a rigorous testing regime. This involves not only thorough raw material and electrical testing of the finished product to demonstrate compliance to LU specifications, but also comprehensive fire testing that involves tests for temperature index, toxicity screen, flame propagation, toxic fume emissions and the low smoke emissions that allow people to have adequate time and visibility to escape.
The cables – whether for power, signalling, telecoms or data – have to deliver the functionality, incorporate the necessary safety features, and survive the installation conditions ranging from repetitive movement, rodent attack and water submersion, to just simply the high and low extremes of the British weather. It is only cables that can deliver these operational, physical and fire performance capabilities that are certified for use across the network.
Fire performance is paramount
LUL now has some of the most demanding specifications for cables of anywhere in the world, particularly when it comes to fire performance. Due to the Kings Cross fire disaster of 1987, specifications were written to encompass the need for Low Smoke Zero Halogen (LSZH) or Limited Fire Hazard (LFH) insulated and sheathed cabling throughout the network - changes that are integral to keeping passengers and staff safe on their journeys. The importance of this is immediately apparent when you learn that burning PVC produces significant amounts of dense black smoke and toxic gases. Chlorine is emitted and combines with water in the atmosphere to form hydrochloric acid. That water is not just from fire-fighting efforts and sprinkler systems – it can be from particles in the air, or from the moisture in a person's eyes, nose, throat and lungs. When mixed with water, 2.86kg of PVC can produce up to 320 litres of concentrated hydrochloric acid, enough to cover 1400 square metres[2], whilst just 0.85kg of PVC can produce light-obscuring smoke in a 1000 cubic metre room.
Pushing the boundaries of cable construction
Developments in materials and manufacturing processes have seen cable construction advance to overcome many of these issues and achieve the desired performance capabilities. These include:
Halogen-free and Limited Fire compounds emitting low levels of smoke and fumes that are self-extinguishing once a flame is removed.

Mica Glass tape - incorporated into many cable designs to provide additional fire resistance where required, providing both a flame and heat barrier resisting temperature exposure of up to 950o

Steel wire armour to provide mechanical protection whilst still offering the required flexibility. Copper wire braid can also be incorporated to provide an effective EMC screen and a lower level of mechanical protection.


Firetec BS7846 LPCB BASEC Approved Impact Power Cable (LUL) stranded copper conductor, Mica glass fire barrier tape, XLPE insulation, LSZH bedding, Steel wire armour, LSZH sheath
As a company, Eland Cables' technical team works closely with engineers from Network Rail, London Underground, and their contractors, to use these advancements to develop new products which will improve safety and efficiency on the rail network. Recently, the team from the Cable Lab®, Eland Cables' in-house specialist UKAS-accredited ISO 17025 cable testing laboratory, designed and achieved approval from Network Rail for a cable with a layer of Fibre Glass Tape (FGT) incorporated into the construction – the FGT having been found to reduce rodent attack. It is in the very early stages of being presented to LUL for possible addition to the APR, but it is developments like these which help extend the lifecycle of the cables in use.
As projects across the rail networks are once again being given the green light to progress, Eland Cables' industry-leading technical expertise will continue to be relied upon to deliver further design and reliability improvements. Excitingly, these will result in cost efficiencies over the products' lifecycle, and will help keep the network running smoothly right up to the next round of upgrades, whenever that may be.
For more information on The Cable Lab and the work of Eland Cables in the rail industry, visit www.elandcables.com/industry-sectors/rail-metro  
Chris Barnes
cbarnes@elandcables.com
www.elandcables.com
020 7241 8774
[1] Ridership data for Circle, District, Hammersmith & City and Metropolitan lines. Performance : LU Performance Data Almanac, Transport for London 2011/12
[2] Radox Wire+Cable catalogue, p22, Toxic and Corrosive Gases