Eland Cables overcomes HGV driver shortage by creating in-house driving training school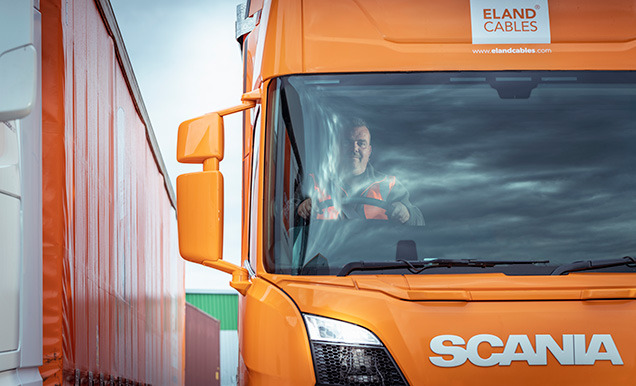 The shortage of trained and available HGV drivers and the pressure this has put on the logistics supply chain has been well publicised, but these challenges haven't slowed the expansion of Eland Cables' fleet.
When a next-day delivery service to the UK and large parts of Europe is a key element of their offering, having the drivers to be able to deliver on that commitment is essential. At a time when other organisations are struggling to hire and train, Eland Cables has been able to recruit more than 40 drivers for their growing fleet without the need to go to the open market – instead employing from personal recommendations from existing employees and offering specialist training to staff who seek to expand their skillset.
So how is driver training delivered?
Eland Cables has established its own driver training school at its main South Yorkshire site, currently focused on supporting its own in-house needs but with scope to provide third-party training in the near future. It prepares drivers for their CPC assessments (Certificate of Professional Competency) which all drivers are required to complete every 5 years and requires a minimum 35 hours of training. Overseen by a dedicated training manager it combines the classroom theoretical knowledge with practical supervised on-road experience to deliver the competencies and qualifications needed to meet the requirements of the HGV licensing. In line with the vehicles in Eland's fleet this means HGV Class 1 (articulated) and Class 2 (rigid body) trucks over 7.5 tonnes in weight.
Clarke Robinson, Head of Logistics for Eland Cables, comments "Being able to recruit and train drivers at a time when their skills are in such high demand is obviously fantastic for the business, but it also shows the lengths we'll go to ensure we give our customers the service they expect.
Our rapidly expanding fleet means we're making thousands of deliveries every week, with customers being provided with accurate delivery dates, fully traceable and with instant PODs. It's become a real benefit."
This is in addition to the specific training in cable handling and driver training requirements associated with Eland Cables' FORS Silver accreditation, from the Fleet Operators Recognition Scheme, which includes training on environmental mitigation, from efficient driving styles to green routes and urban driving protocols. Many of the modern fleet are also equipped with automatic engine cut-offs in the event they are stationary or idle for more than 2 minutes.
This new driver training school is supporting new job opportunities, working in a compliant manner, at a time when the skills and professionalism of HGV drivers has never been more prominent.
--END—