Eland Cables joins the Living Wage Foundation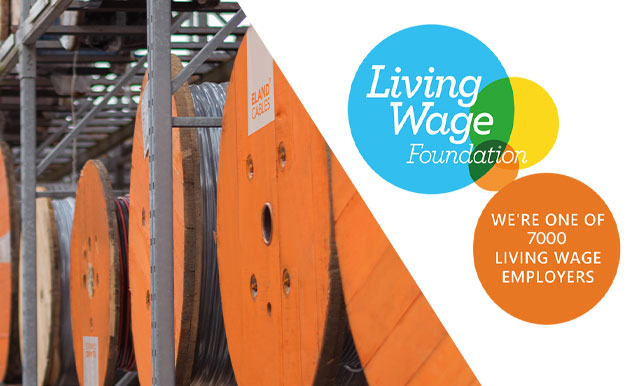 It's official – we're a signatory to the Living Wage Foundation. We've joined over 7000 UK businesses in committing to pay a minimum hourly rate that is linked to the cost of living – a figure in excess of the Government minimum wage.
We've actually been a real Living Wage employer for a number of years when it came to all our employees, but postponed becoming a Foundation signatory until now. We're proud to announce this important undertaking, joining household names including Nationwide, Google, IKEA, Nestle and KPMG.
So what is the real Living Wage? The voluntary amount is independently calculated based on a basket of household goods and services (drawn from Minimum Income Standards research funded by the Joseph Rowntree Foundation), and applies to everyone over the age of 18 working in the business. It applies not only to PAYE employees but also to any temporary or contracted workforce. It rises annually with calculations based on best available evidence of living standards in London and across the UK.
Jean-Sebastien Pelland, Deputy Managing Director, said: "We know that our people are what makes our business special, and their hard work deserves to be recognised with a working environment and a compensation package that reflects this. By committing to this long-term investment in our colleagues we're certain it will also reflect positively on the interactions we have with our customers too."
Our real Living Wage commitment is just one of the many ways we're supporting our colleagues, and what makes us a key employer in the areas where we operate.
For more information on the Living Wage Foundation and the real living wage, visit https://www.livingwage.org.uk/