Eland Cables at All Energy 2017 - the future of energy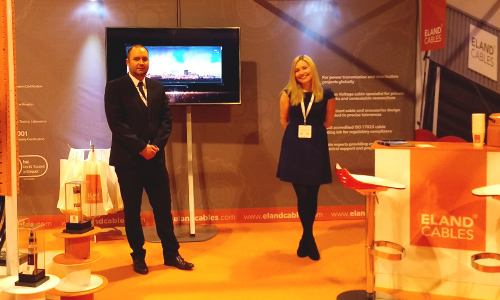 On the 10th and 11th of May, Eland Cables attended the All Energy exhibition and conference, held at the SECC Glasgow. Inside the bustling exhibition centre, approximately 7000 exhibitors and attendees across the two days came together to discuss energy innovations and technologies. Attendees were from across the energy sector, including renewables such as wind, solar, hydro, and more, as well as more traditional power transmission providers and technologies. The event gave Eland Cables an opportunity to speak with this fast-moving, innovation hungry industry, connecting with existing clients and meeting new contacts.
In the past 15 years, the energy industry has grown rapidly, and millions of pounds are invested year after year to improve technology and find new ways to become more efficient, reliable and sustainable. Renewable energy sources are being embraced and installed at an astounding speed. Last year, the International Energy agency announced that the world's capacity to generate renewable power has overtaken coal for the first time, but the more conventional power transmission sources are still vital to supply reliable energy to meet the ever-growing demands. Change takes time and keeping the conversation alive is key.
In the UK alone there is a target of for 15% of the UK's total energy requirements to come from renewable sources by 2020. To stay on track, renewables in the UK need reliable partners to help facilitate projects with quality products and technical expertise even more than ever before. Renewable energy technology is growing rapidly, but there are still key issues facing the industry, which make events like All Energy important as a way to get industry players talking and innovating. The volatility of renewable energy is one such key issue. Battery technology has leapt forward in recent years to begin filling the gap in energy availability and consistency to the grid, but traditional energy sources are still needed to keep electricity running smoothly and consistently. With both solar and wind generation experiencing peaks and troughs, to dependably supply 24-hour demand, high capacity battery technology for storage is constantly being developed and evolving. But in the meantime, it's vital that these newer technologies work in harmony with traditional sources. Durable and reliable power supply was among one of the many conversations that took place during the event.
Eland Cables has worked extensively in energy industry for many years, contributing to a number of high profile projects, including working with the Distribution Network Operators here in the UK. Our technical excellence, quality products and hands-on project management has made us the partner of choice for power projects, both traditional and renewable, across the globe. We're excited to be a part of the future of energy. If you missed the opportunity to speak with us at All Energy, don't hesitate to get in touch with our energy experts to learn more.