Cycling colleagues raise money for Macmillan Cancer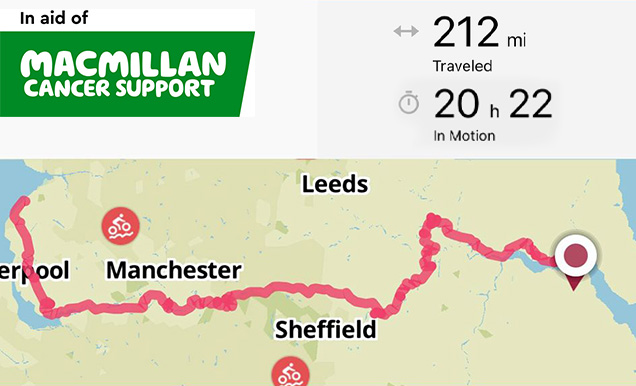 The Eland Cables Cycle Team has been at it again, pedalling their way across the Trans-Pennine route on behalf of Macmillan Cancer Support, raising a mammoth £10,250 donation.
The team of hardy cyclists set off on their mountain bikes from Southport on the Friday morning, riding the 212 miles across the country to Hull. As is the case with British weather, they had gusting wind, glorious sunshine, and some rain (just needing sleet, snow and hail to get the full set of seasons) but they battled through. A slight detour allowed a welcome pit-stop in our South Yorkshire Operations site on Saturday – a site that's expanded and changed significantly since some had last visited pre-Covid.
212 miles in 3 days is no easy feat. The drive and determination needed to get back on your bike after 2 hard days is a challenge. Yet the team as a whole all claimed to have loved every minute; with the camaraderie and team spirit helping the miles to melt away.
Nick J from the London Purchasing team commented: "It was great – I won't say it was easy, but the team rallied round any time one of us started to flag, and the sense of achievement when we got to the overnight rest stops was a buzz. As strange as it sounds, we're all keen to do more and cycle further!"
JS Pelland, Director and fellow cyclist, said "We've been bitten by the cycling bug and it's so good that we can do this as a team of like-minded colleagues. It's a great way to get to know people outside of the work environment… and to be able to raise money for charity at the same time is a welcome bonus."
Eland Cables' support of Macmillan Cancer Research is part of our wider ESG strategy, with our charitable activities and contributions playing an important role in how we interact with our communities, and how we engage with our employees and the issues that matter to them.
With more long-distance rides already planned for later in the year, this team of lycra-clad cyclists are doing the company proud. Well done to all who took part!