A faster connected world – The High-speed railway revolution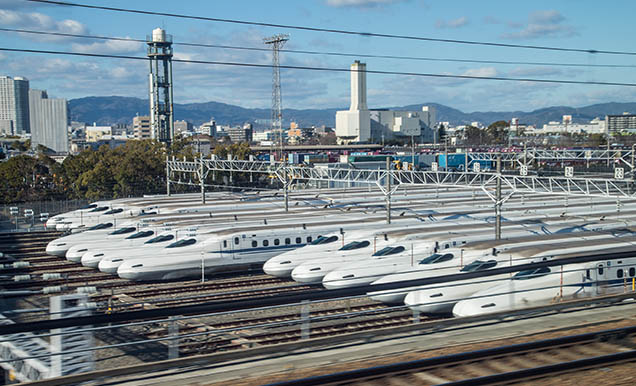 When thinking of high-speed rail, initial thoughts often turn to Japan's Shinkansen (bullet train) which has been running to very precise schedules since 1964, but high-speed rail has a global presence which is growing year on year. We look at a few of the headline networks:
Japan
Japan is now ranked third in the world when it comes to the length of high-speed rail lines in operation. Connecting its three main islands, Japan has 22 major cities served by a network of nine high speed rail lines with additional lines in development. Their infrastructure has created the busiest high-speed rail service in the world: trains travel up to 320km/h (200 mph) and the network has in excess of 420,000 commuters using the service on an average weekday.
China
China is the outright powerhouse and major stakeholder in high-speed rail for several reasons. With its rate of growth and investment from the Chinese government there's a momentum that few (if any) countries can match.
Like many countries, China based its high-speed network using the Japanese Shinkansen system during the 1990s. Service operation started in 2008 which saw trains running at speeds of up to 350km/h (217 mph). China's long-term plans for a high-speed network are predicted to reach as much as 45,000km - to put that into perspective, at its current rate of growth it would equate to more high-speed rail lines than the rest world combined.
Rapid speed in progression meant China needed to initially import the majority of its high-speed rail systems. Joint ventures with countries like France, Germany, Japan and others has helped China to develop production capabilities internally; China is now part of the mix when it comes to developing high-speed rail systems for other countries. The accelerated infrastructure build has also been driving a changing the way in which people travel: Domestic airline flights have seen a downturn in commuters, which forced a reduction in airfare prices, and even saw regional flights cancelled to cut costs.
Europe
With cross-border connections throughout Europe, many countries have followed the French rail standards for signalling, voltage, and travel speeds using ERTMS (European Rail Traffic Management System) due to the country's early adoption of high-speed rail, although Germany currently uses ETCS Level 2 (European Train Control System) for its network.
Europe saw its first high-speed rail system in France in 1981; the second country to offer high-speed rail travel. The early days saw TGVs (Trains à Grande Vitesse - operated by SNCF) reaching speeds of 200km/h (124 mph) and this has increased over the decades with speeds of up to 320km/h (200 mph) now being the average journey.
In 1991 Germany commenced high-speed rail travel via its Inter-City Express (ICE) trains, reaching multiple cities throughout the country with connections spanning from Hamburg to Berlin and Augsburg to Munich. Work still continues with multiple lines under construction for connection and others still at the planning stages.
Although somewhat under the radar, Spain is the European country that is becoming known for its ambitious investment in the high-speed rail sector. In 1992 Spain launched with its first route between Madrid's Atocha terminus and Seville, and since then the expansion has continued reaching Barcelona, Alicante, Valencia and others major cities. With 3,567km of high-speed rail, it holds the accolade of the second longest high-speed rail network in the world, though it's quite a way off China in first place. With links across the country Spain is seeing a transition in commuter and tourist travel behaviour, allowing passengers to travel in comfort between Madrid and Barcelona in two and half hours whilst reaching speeds up to 310kmph (192.6mph).
And of course not forgetting the Eurostar – the cross-channel rail service connecting London, UK and Paris, France which opened in 1994 and has now expanded to include other major European cities including Brussels and Amsterdam.
These examples all demonstrate that the adoption of high-speed rail is a global phenomenon, bringing benefits to passenger travel and freight movement, as well as environmental benefits when upgrading to electrified lines or taking haulage off the roads. New networks are being given the green line all the time, including the 1,800km of lines in Egypt which is being positioned as 'a Suez Canal on wheels' and is expected to be inaugurated in 2023. It's clear that the adoption of high-speed rail network systems, wherever they are in the world, will continue to see further shifts in the way people and businesses operate in the future.