Cable Harnessing Solutions
Pre-fabricated, pre-terminated cable harnesses can offer a time-saving and cost-efficient solution for installation, reducing waste and removing the onsite cutting, crimping and terminating of bundles of cables.
Eland Cables provide bespoke cable harnesses to meet specific installation requirements, fitted with the connectors and with multiple junctions where required. Cable harnessing can bundle power, data, control and communications cables, or a combination of cables. Cable connectors including glands, lugs, rectangular, circular and pin & sleeve connectors can be applied, with over-moulding options also available.
Easy identification of the cables in the harness aids speed of installation so markers can be applied to the cable assemblies, either colour-coded or numbered, and bundled wire looms can be wrapped with sleeving to match the installation specifications, including heat-shrink and cold-shrink PVC, Neoprene, LSZH and braided options.
Our cable looms cover a broad range of industrial applications, from pre-wired switchgear for control systems (including use of high temperature cables), to cable track systems for robotic applications, powerchain systems, spiral cables, Servo motor cable harnesses and other ready-to-install systems, all custom designed against your application designs and schematics.
Box Build assemblies are another turnkey approach to complex cable connections, forming part of our wider cable harnessing solutions portfolio. Box Builds deliver a precise and replicated product wired to design schematics, saving time during a wider manufacturing or installation process.
Our cable harnessing solutions can offer a time-saving and accurate method of interconnecting cables into the larger build programme. 

Quality Assurance for cable assemblies
Eland Cables' cable harness solution benefits from our quality-assured cables, connectors and terminations and the technical support of The Cable Lab®. Our experts can provide advice on the most appropriate cable combination in your cable loom to meet your specifications and the sleeving necessary for your application.
All cable assemblies are fully tested for point-to-point connectivity and insulation resistance and integrity.
Our extensive experience across the breadth of industries means equipment manufacturers (OEMs) working in all disciplines can be assured of a precision product that supports your manufacturing activities.
For more information on our range of cable harnessing and pre-termination services, please contact our team by emailing harnessing@elandcables.com
Back to top
Call Sales on +44 (0)20 7241 8787
Click to Email Us We will reply within 3 hours
Technical Hotline +44 (0)20 7241 8500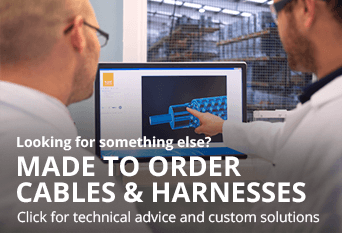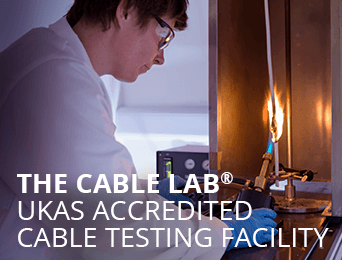 The Cable Lab®
UKAS-accredited specialist cable testing laboratory
The Cable Lab® our in-house cable testing facility, is UKAS-accredited to ISO 17025, which is the single most important standard for calibration and testing laboratories around the world. Accreditation to this international standard demonstrates our laboratory's technical competence and the accuracy of its results.
For our customers, it means peace of mind. They can have full confidence in the quality of our products and can demonstrate due diligence in selecting their cable supplier.
Our customers can also rely on the Cable Lab's services for an independent, objective and comprehensive quality assessment of cables procured from third parties.

About Eland Cables
Established in 1975, Eland Cables is a supplier of power, data, instrumentation and control cables and cable accessories to the world's most demanding industries and to some of its most prestigious projects. Our reputation is built on an unswerving focus on quality, technical expertise and customer service.
Quality
Our focus on quality has resulted in our in-house specialist cable testing facility securing the ISO 17025 accreditation. This certifies the competence, impartiality and performance capability of our laboratory and its evaluations. In turn, it means peace of mind for our customers with regard to the quality of the cables they source from us.

Expert tecHnical support
Our highly-qualified technical team is on hand to provide technical support with all aspects of cable selection, technical specification, regulatory requirements, and bespoke cable design and manufacture.

Complete Cable Solutions
We are a key contributor to projects in over 100 countries every year, adding value through comprehensive technical support, reliable logistics, innovative solutions, and a customer-centric approach.