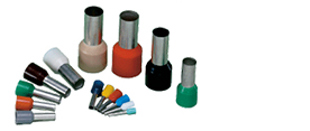 Eland Cables' comprehensive portfolio of cable terminals and terminations is designed to protect exposed conductors up to the fitting connectors or terminal blocks.
As for other cable accessories such as glands and lugs, selecting the right cable terminal (also referred to as cord end terminal) is essential to ensuring the integrity of your electrical systems.
Applied prior to fitting screw-type terminal blocks or connectors, the crimped ends of the terminals protect the exposed wire strands from screw damage, resulting in a stronger connection. Our cable terminals are available with colour-coded insulation or uninsulated. Dual Entry Cord End Terminals are designed to accommodate two cables terminating on the same sleeve. Eland Cables' accessories portfolio also includes cable tools for crimping the terminations.
| Product name | Part No | Cable Size | Length | Width | Colour Range | Colour | Quantity | |
| --- | --- | --- | --- | --- | --- | --- | --- | --- |
| Cord End Terminals | FET0.25F | 0.25 | n/a | n/a | French | Violet | | |
| Cord End Terminals | FET0.5F | 0.5 | n/a | n/a | French | White | | |
| Cord End Terminals | FET0.75F | 0.75 | n/a | n/a | French | Blue | | |
| Cord End Terminals | FET1F | 1 | n/a | n/a | French | Red | | |
| Cord End Terminals | FET1.5F | 1.5 | n/a | n/a | French | Black | | |
| Cord End Terminals | FET2.5F | 2.5 | n/a | n/a | French | Grey | | |
| Cord End Terminals | FET4F | 4 | n/a | n/a | French | Orange | | |
| Cord End Terminals | FET6F | 6 | n/a | n/a | French | Green | | |
| Cord End Terminals | FET10F | 10 | n/a | n/a | French | Brown | | |
| Cord End Terminals | FET16F | 16 | n/a | n/a | French | Ivory | | |
| Cord End Terminals | FET25F | 25 | n/a | n/a | French | Black | | |
| Cord End Terminals | FET35F | 35 | n/a | n/a | French | Red | | |
| Cord End Terminals | FET50F | 50 | n/a | n/a | French | Blue | | |
| Cord End Terminals | FET0.25 | 0.25 | n/a | n/a | German | Light Blue | | |
| Cord End Terminals | FET0.34 | 0.34 | n/a | n/a | German | Turquoise | | |
| Cord End Terminals | FET0.5 | 0.5 | n/a | n/a | German | Orange | | |
| Cord End Terminals | FET0.75 | 0.75 | n/a | n/a | German | White | | |
| Cord End Terminals | FET1 | 1 | n/a | n/a | German | Yellow | | |
| Cord End Terminals | FET1.5 | 1.5 | n/a | n/a | German | Red | | |
| Cord End Terminals | FET2.5 | 2.5 | n/a | n/a | German | Blue | | |
| Cord End Terminals | FET4 | 4 | n/a | n/a | German | Grey | | |
| Cord End Terminals | FET6 | 6 | n/a | n/a | German | Black | | |
| Cord End Terminals | FET10 | 10 | n/a | n/a | German | Ivory | | |
| Cord End Terminals | FET16 | 16 | n/a | n/a | German | Green | | |
| Cord End Terminals | FET25 | 25 | n/a | n/a | German | Brown | | |
| Cord End Terminals | FET35 | 35 | n/a | n/a | German | Beige | | |
| Cord End Terminals | FET50 | 50 | n/a | n/a | German | Olive | | |
| Dual Entry Cord End Terminals | FCEET2 x 0.5 | 2 x 0.5 | n/a | n/a | n/a | White | | |
| Dual Entry Cord End Terminals | FCEET2 x 0.75 | 2 x 0.75 | n/a | n/a | n/a | Grey | | |
| Dual Entry Cord End Terminals | FCEET2 x 1G | 2 x 1 | n/a | n/a | n/a | Yellow | | |
| Dual Entry Cord End Terminals | FCEET2 x 1F | 2 x 1 | n/a | n/a | n/a | Red | | |
| Dual Entry Cord End Terminals | FCEET2 x 1.5F | 2 x 1.5 | n/a | n/a | n/a | Black | | |
| Dual Entry Cord End Terminals | FCEET2 x 2.5 | 2 x 2.5 | n/a | n/a | n/a | Blue | | |
| Dual Entry Cord End Terminals | FCEET2 x 4 | 2 x 4 | n/a | n/a | n/a | Grey | | |
| Dual Entry Cord End Terminals | FCEET2 x 6 | 2 x 6 | n/a | n/a | n/a | Yellow | | |
| Dual Entry Cord End Terminals | FCEET2 x 10 | 2 x 10 | n/a | n/a | n/a | Red | | |
| Uninsulated Cord End Terminals | FCUT 0.25-5 | 0.25 | 5 | 0.8 | n/a | n/a | | |
| Uninsulated Cord End Terminals | FCUT 0.5-6 | 0.5 | 6 | 1 | n/a | n/a | | |
| Uninsulated Cord End Terminals | FCUT 0.5-10 | 0.5 | 10 | 1 | n/a | n/a | | |
| Uninsulated Cord End Terminals | FCUT 0.75-6 | 0.75 | 6 | 1.2 | n/a | n/a | | |
| Uninsulated Cord End Terminals | FCUT 0.75-10 | 0.75 | 10 | 1.2 | n/a | n/a | | |
| Uninsulated Cord End Terminals | FCUT 1.0-6 | 1 | 6 | 1.4 | n/a | n/a | | |
| Uninsulated Cord End Terminals | FCUT 1.0-10 | 1 | 10 | 1.4 | n/a | n/a | | |
| Uninsulated Cord End Terminals | FCUT 1.5-7 | 1.5 | 7 | 1.7 | n/a | n/a | | |
| Uninsulated Cord End Terminals | FCUT 1.5-10 | 1.5 | 10 | 1.7 | n/a | n/a | | |
| Uninsulated Cord End Terminals | FCUT 2.5-7 | 2.5 | 7 | 2.2 | n/a | n/a | | |
| Uninsulated Cord End Terminals | FCUT 2.5-10 | 2.5 | 10 | 2.2 | n/a | n/a | | |
| Uninsulated Cord End Terminals | FCUT 4.0-9 | 4 | 9 | 2.8 | n/a | n/a | | |
| Uninsulated Cord End Terminals | FCUT 4.0-12 | 4 | 12 | 2.8 | n/a | n/a | | |
| Uninsulated Cord End Terminals | FCUT 6.0-12 | 6 | 12 | 3.5 | n/a | n/a | | |
| Uninsulated Cord End Terminals | FCUT 6.0-15 | 6 | 15 | 3.5 | n/a | n/a | | |
| Uninsulated Cord End Terminals | FCUT 10.0-12 | 10 | 12 | 4.5 | n/a | n/a | | |
| Uninsulated Cord End Terminals | FCUT 10.0-15 | 10 | 15 | 4.5 | n/a | n/a | | |
| Uninsulated Cord End Terminals | FCUT 10.0-18 | 10 | 18 | 4.5 | n/a | n/a | | |
| Uninsulated Cord End Terminals | FCUT 16.0-12 | 16 | 12 | 5.8 | n/a | n/a | | |
| Uninsulated Cord End Terminals | FCUT 16.0-15 | 16 | 15 | 5.8 | n/a | n/a | | |
| Uninsulated Cord End Terminals | FCUT 16.0-18 | 16 | 18 | 5.8 | n/a | n/a | | |
| Uninsulated Cord End Terminals | FCUT 25-15 | 25 | 15 | 7.3 | n/a | n/a | | |
| Uninsulated Cord End Terminals | FCUT 25-18 | 25 | 18 | 7.3 | n/a | n/a | | |
| Uninsulated Cord End Terminals | FCUT 25-25 | 25 | 25 | 7.3 | n/a | n/a | | |