Cord snatch test
Thermoplastic and Thermosetting insulated cables can be tested, which sees the cable connected to a 0.5kg weight (5N*1)and elevated to a height of 0.5m. The cable has a current of 230V, 50Hz supply passed through it.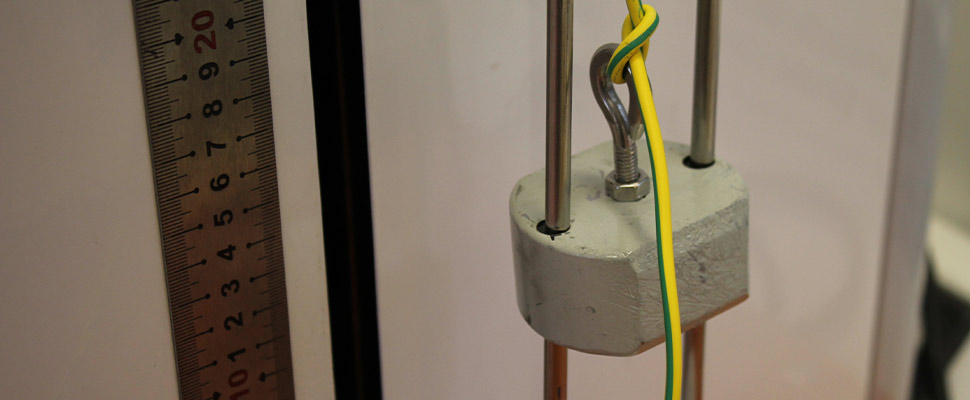 Cables meeting the following criteria can be tested under our UKAS accreditation for Cord Snatch Testing:
| Thickness of Insulation specified value (mm) | Mean overall Dimensions (Lower Limit) (mm) | Mean overall dimensions (Upper Limit) (mm) | Minimum insulation resistance at 70oC (MΩ.km) | Maximum conductor resistance at 20oC (Ω/km) |
| --- | --- | --- | --- | --- |
| 0.8 | 2.2 x 4.4 | 3.5 x 7.0 | 0.019 | 270 |
The test sees the weight electromagnetically released to drop simply using gravity, with the cable assessed to determine continued operation each time. Each test is recorded in real time, and any failure or break in the conductivity is alerted. The snatch test is repeated 5 times before the cable is deemed to have passed. 
Cable Sizing Calculator
Supporting Low Voltage cable sizing to BS and IEC standards with our easy-to-use calculator
Try it now
Custom Cable Design
Tailoring cables to meet bespoke requirements of performance or environmental challenges when off-the-shelf options are unavailable.
Read more
CPD Cable Training
Expert cable tuition from our experts with CPD-certified cable training and tailored cable learning programmes
Courses