Technical Training across our commercial teams: BS7671 18th Ed Wiring Regs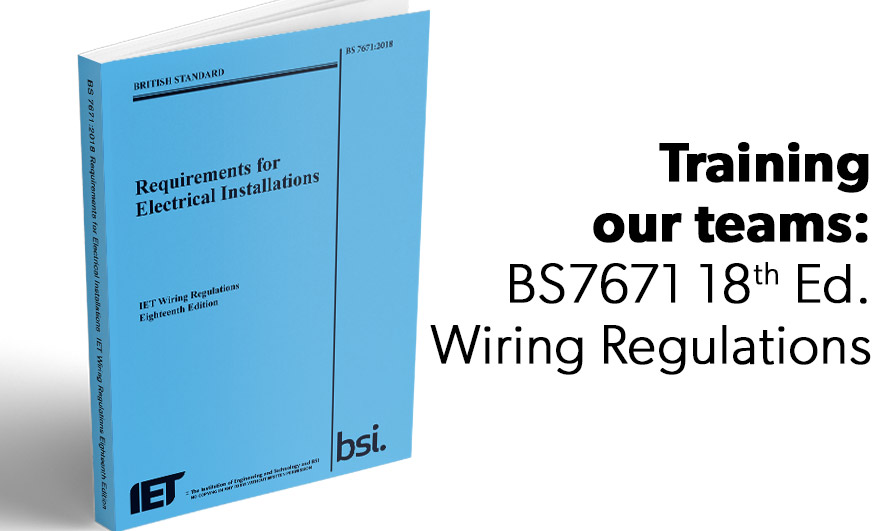 With the new 18th Edition of the Wiring Regulations, BS7671, now mandatory – the co-existence period alongside the 17th Edition having ended on 1st January 2019 – we felt it important that our teams remain up-to-date with the changes and how this may impact our customers' projects. Whilst we have a dedicated technical team within The Cable Lab working to support our customers on detailed technical enquiries, it's key that our sales staff are informed enough to provide the everyday front-line support for customer enquiries, and be able to assess who best to assist further with the query.
With this in mind, some of our colleagues from across the business sat the NICEIC City & Guilds Level 3 exam on BS7671. We had members from across the commercial teams sit (and pass) the exam after a period of intensive learning. For some of the students this was a 'top-up' course, having previously passed the same exam on the 17th edition, whilst others were sitting this exam for the first time. The City & Guilds qualification is a course that practicing electricians, as well as other electrical professionals such as surveyors and consultants, should sit to ensure they understand the IEE Wiring Regulations – especially in light of the changes made since the last edition was released 10 years ago. NICEIC are not alone in offering this course – the IET and other industry bodies also offer this training with course dates throughout the year and across the country at various training centres.
Some of the high profile updates included references to mandatory CPR compliance, as well as an amendment to conditions of 'Selection of Electrical Equipment' (133) where the addition of provision 133.1.3 allows for the use of equipment either not in accordance with 133.1.1 or used outside the scope of its standard to be confirmed by the designer and the person responsible for specification by recording in the electrical certification in Part 6. This opens the door to use of cables such as the Veriflex SY cable which is not manufactured to a specific standard but where the individual constructional layers have been tested against relevant British and European standards in our laboratory and the BSI Cable Testing Verification Kitemark applied, confirming it meets relevant performance safety standards.
We have always put emphasis on the depth of technical support – our Technical Hotline is available for any cable queries you may have – and we're proud that this knowledge is shared across the business. It's just one more way we make sure we can deliver the 'Eland Experience' that our customers merit.