Energy Engineering Magazine: Cable Talk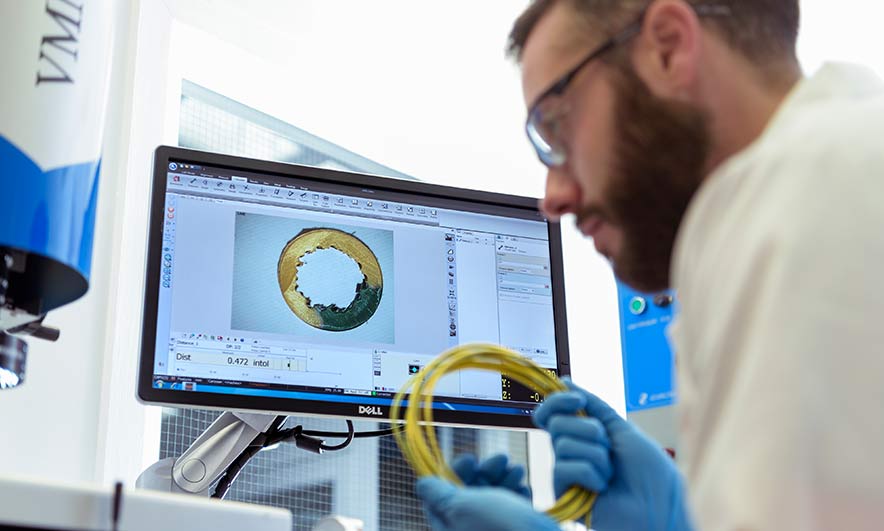 Jean-Sebastien Pelland speaks to Energy Engineering Magazine about the cable industry
The UK energy sector – and by extension our whole society – is on the cusp of a major revolution. But as rockstar technologists and top engineers set about designing the smart systems and next-generation renewable technologies that will power the future, are we neglecting the humble cable?
Cabling will underpin every part of the imminent energy revolution. Want to connect the decentralised renewable generation? That will take some high-spec cable. Thinking of microgrids? Think cable. Buying an Electric Vehicle and looking at the EV vehicle charging infrastructure? Yes, it's cable again. Even battery storage technology has cables at its core.
It may not be shiny and exciting, but cabling is absolutely crucial. It's not an exaggeration to say that the success of the energy revolution will depend on the quality of cable that underpins it. Which would – which should – be fine.
Yes, there are British, European and international standards to define our cable construction and performance, as well as clear rules for compliance. The industries in which the cables are used are also often heavily regulated. Various industry bodies are charged with keeping standards up to date and fit for purpose, and the specifications they publish are stringent to safeguard safety and reliability. Our national standards body, the BSI (British Standards Institute) is part of CENELEC (the European Committee for Electrotechnical Standardisation) and is bound as a member to adopt its recommendations on top of our own regulations, promoting uniformity in standards across the EU. There is no sign Brexit will affect this.
Yet with all that it's still estimated that up to 20% of all cables in the UK are either sub-standard, counterfeit or non-approved1. For a project, sub-standard cable can result in downtime, reliability issues and ballooning maintenance costs at best and major safety hazards at worst, as well as potential environmental damage. If one of the goals of the energy transition is environmental improvement, non-compliance would therefore be self-defeating.
It's clear that to ensure the safety and success of the energy revolution, it still requires site developers and engineers to be vigilant and take a far more proactive stance to cabling to ensure only compliant products are installed for use.
Up to standard
To the uninitiated, the sheer number of types of cable and the accompanying array of cable standards would be dazzling. There are cables for power, for data, for control and instrumentation; there are low voltage, medium voltage and high voltage cables; some cables are armoured or are fire-resistant; and they can be covered in a range of materials, commonly often PVC but also Low Smoke Zero Halogen (LSZH) compounds. For each cable or component material there is a relevant standard (or series of standards) relating to all of these use-cases and characteristics, as well as specifications on how these should be tested for compliance.
One such piece of legislation applied across Europe, the RoHS Directive (the Restriction of Hazardous Substances), designed to prevent products with overly high levels of substances including lead, mercury and hexavalent chromium entering our supply chain - substances that can have a devastating impact on health. Any cables sold inside the EU need to be RoHS compliant and most are, but it's essential to be absolutely certain.
Similarly, there are standards to determine the flame propagation (Vertical Flame Testing to BS EN 60331-1-2) and gas emissions of cables under fire conditions (BS EN 60754) – for instance, PVC emits chlorine gas when burnt which, when mixed with water from the atmosphere turns into hydrochloric acid, as well as producing a thick, light-obscuring smoke that can cause both damage to sensitive equipment and prove a serious risk to the safe evacuation of anyone in the building. It's why Low Smoke Zero Halogen sheath materials are recommended for cables in public buildings and public spaces in the UK – they emit low levels of toxic fumes, 60% less dense black smoke, and none of the acid gases.  
Regulating the cable supply chain
Cable manufacture is now limited in the UK. The bulk of manufacturers of British and European standard cables are based in countries such as Italy, Spain, Portugal and Turkey. There is nothing wrong with this in itself, but policing standards and regulations can be harder from afar.
Small changes to the raw materials going into the cable can have a huge bearing on the final product. For example, small reductions in the concentration of copper content in the conductor can have a major impact on the performance of the finished product; or the water used to mix with the pellets for the sheathing and insulation materials might have elevated levels of lead as a result of emissions from an upstream factory.
All this would be manageable enough though, if substandard, non-compliant cable could be comprehensively prevented entering the UK supply chain. Sadly, that's not always enforced to the degree it should be, meaning in most cases it's not immediately apparent that you've bought and installed non-compliant cable. It might be years before problems come to light. With the smarter, decentralised energy grid taking more cable than ever deeper into our communities, it's even more important to understand the impact that using a non-compliant can have on the long-term safety of a project.
Holes in the net
It's not enough to assume it is up to standard just because there hasn't been a reported problem with that product or supplier before. The good manufacturers conduct extensive tests on the cables before releasing them to market, whilst third-party accreditation markings provide valuable reassurance by indicating the compliance of a tested length, but it is just against a sample rather than at a batch-by-batch or cable drum level. There remains too an issue with fraudulent cables available for sale – deliberate substandard copies made to look the part. It underlines the importance of testing throughout the cable supply chain, not just at the point of manufacture but at the point before delivery to the end user.
What's a site developer to do?
Rightly or wrongly, the buck ultimately stops with the company that buys and installs the cable. If something goes wrong, there's scant consolation that the wool was pulled over your eyes by non-compliant cable.
The killer mistake is to assume. Most projects source their cables from a supplier who can amalgamate the different cables and their sizes into one timely delivered order - going direct is not always an option as not all manufacturers can produce all types of cable, have long lead-times, and require large minimum order quantities.
So now the end user is relying on the cable supplier to be certain that every batch from every manufacturer is compliant and as expected – that requires extensive testing, the likes of which are beyond the in-house capabilities of most suppliers. Yes, the end user should be able to assume that any cable they buy from a UK manufacturer, supplier or wholesaler is wholly compliant and fit-for-purpose but unfortunately that's not universally the case.
So what to do? No control system is ever perfect, but there are a few things site engineers, developers, and installers can do to minimise the risk of substandard or non-compliant cable:
Look into the supplier's supply chain
This information shouldn't be hard to get from the supplier and is basic due diligence for any project. It's important they are tracking their products and – ideally – testing them with their own or third-party cable testing facilities. If this information isn't forthcoming, walk away.
Check for the appropriate markings
It's not fool proof – small changes, a testing mistake, or fraudulent behaviour might see a bad cable stamped with all the right things. However, it's a basic and easy check that is all too often overlooked.
Check for accreditations
High quality suppliers will proudly display their ISO, BSI and UKAS accreditations. If the supplier offering the best (cheapest) deal doesn't do the same, it's worth wondering why. In addition to these reputable industry accreditations there are also internationally-recognised marks such as the BSI RoHS Trusted Kitemark which pinpoint organisations who can assure quality and compliance.
If ever a site engineer suspects they might have sub-standard cable on their hands, they can have an accredited third party lab test it, or report it to the authorities to do so. An independent assessment into the quality and compliance of the cable will provide certainty one way or the other, but if it is a bad batch there's then the remedial action that needs to be taken, meaning prevention is always better than cure.
It's clear that to avoid undermining the energy transition, it's important to get cabling right. It may not be the flashiest part of our exciting energy future, but it's absolutely vital. You could be forgiven for assuming that, with the market so established, the supply chain is reliable and trustworthy. Mostly you'd be right, but you know what they say about assumptions.
1 Figures according to the Approved Cable Initiative