PECM: Why quality, compliant cables are at the heart of your whole operation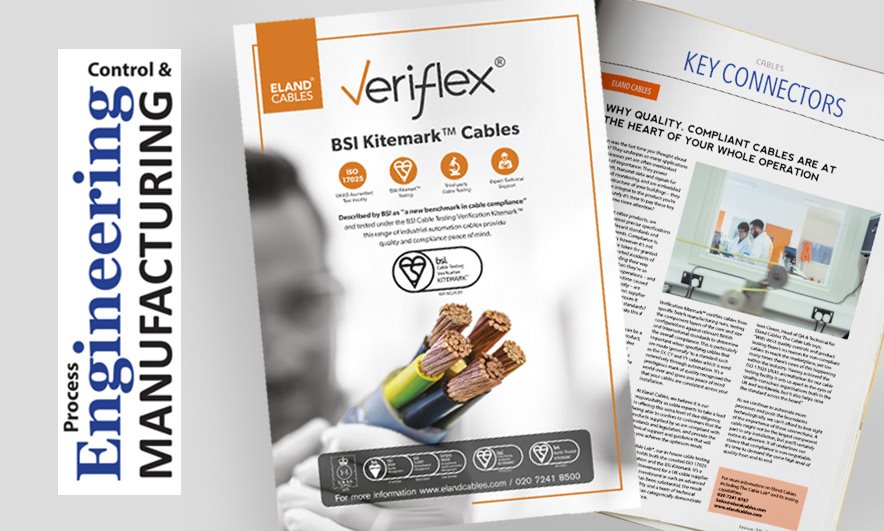 When was the last time you thought about cables? They underpin so many applications and processes yet are often overlooked in terms of importance. They power equipment, transmit data and signals for control and monitoring, and are embedded in the infrastructure of your buildings – they may even be integral to the product you're producing. Surely it's time to pay these key connectors some more attention? 
Cables, like most other products, are manufactured against precise specifications and in line with relevant standards and legislative requirements. Compliance is, of course, mandatory however it's not something that can be taken for granted and there remains reported incidents of sub-standard cables finding their way into the marketplace. When they're so fundamental to everyday operations – and when any unplanned downtime caused by cable failure can be so costly – are you confident that your chosen supplier is doing everything it can to ensure it meets these quality and safety standards? Importantly, can they demonstrate this if asked?
In-house quality assurance testing can be a light touch or a deep dive into the product, and it will differ from supplier to supplier. From a cable buyer's point of view, the more rigorous the better as it leaves less to chance – a lot can happen between the point of manufacture and delivery to you. The most stringent QA testing will involve laboratory testing under independently monitored conditions, recording accurately and impartially the results and quarantining any cable that fails to meet those requirements.
UKAS – the United Kingdom Accreditation Service – is the pinnacle of UK laboratory testing credentials. ISO17025 declares that the testing results and reporting are accurate and without bias, bound by strict parameters and conducted on state-of-the-art calibrated equipment. There are few suppliers that can claim to offer such a high level of due diligence on their cable.
QA testing establishes a solid baseline for quality and compliance but you can go a step further. The BSI Cable Testing Verification Kitemark™ certifies cables from specific batch manufacturing runs, testing the component layers of the core and size configurations against relevant British and International standards to determine the overall compliance. This is particularly important when specifying cables that are made 'generally' to a standard such as the SY, CY and YY cables which is used extensively through automation. It's a prestigious mark of quality recognised the world over and gives you peace of mind that your cables are consistent across your installation.
At Eland Cables, we believe it is our responsibility as cable experts to take a lead in offering this extra level of due diligence; being able to confirm to customers that the products supplied by us are compliant with standards and legislation, and provide the technical support and guidance that will help you achieve the optimum result.
The Cable Lab®, our in-house cable testing facility, holds both the coveted ISO 17025 accreditation and the BSI Kitemark. It's a unique achievement for a UK cable supplier. Whilst the investment in such an advanced laboratory has been substantial, the result is both a facility and a team of technical experts who can categorically demonstrate cable compliance.
Ivan Cleere, Head of QA & Technical for Eland Cables' The Cable Lab says;
"With strict quality controls and product testing there's no reason for non-compliant cables to reach the marketplace, yet too many times there's news of this happening within the industry. Having achieved the ISO 17025 UKAS accreditation for our cable testing facility it sets us apart in the eyes of quality-conscious organisations both in the UK and worldwide, but it also helps raise the standard across the board."
As we continue to automate more processes and push the boundaries technologically, we can't afford to lose sight of the importance of these connections. A cable might not be the largest component part in any installation, but you'll certainly notice its absence. It all underlines our stance that compliance is non-negotiable. It's time to demand the same high level of quality from end to end.