New Eurostar links bring the UK and Europe closer - by train at least!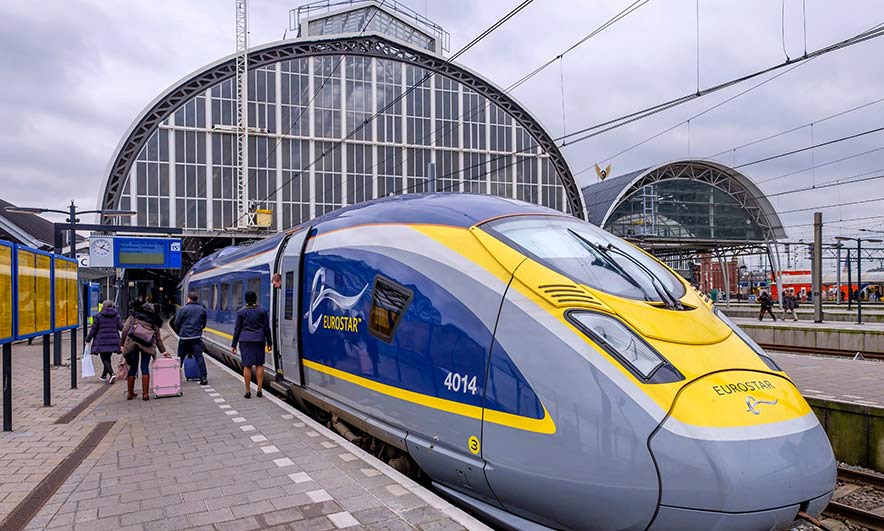 Travellers standing in central London can now enjoy a direct rail connection from London St Pancras International to Amsterdam, reaching the popular Netherlands capital city in just over 3½ hours. Eurostar, the high-speed rail service connecting the UK with mainland Europe, officially launched its new service direct from London to Rotterdam and Amsterdam in April 2018, with Eurostar's fleet of e320 trains will operate on the London-Amsterdam route. These trains have a traction power of 16,000kW and can reach a maximum operating speed of 320km/h (200mph). They are also provided with eight identical and independent traction converter units and 64 axles; 32 of which are driven. Its traction system is designed to operate on 25kV AC and 1.5kV/3kV DC voltage systems. At 400m in overall length, the trains can carry more than 900 passengers.
Aside from the competitive fares and an arguably more comfortable journey, rail of course also offers a far more environmentally friendly alternative to flying. The rail journey from London to Amsterdam, for example, emits 80% less carbon per passenger than the equivalent flight.
The introduction of the new direct service to the Netherlands opens up a wealth of travel opportunities and experiences, cementing the link between the UK and mainland Europe.
HS1: proposal to open a direct route to Bordeaux
There is also a proposal to open a direct route to Bordeaux means that passengers will be able to travel from London to Bordeaux in less than five hours on direct high-speed international trains. At present, rail passengers to Bordeaux must change trains in Paris, a journey that takes just shy of 5 ½ hours, with a 1-hour connection in Paris. The current return connection in Paris is even longer at just under 2 hours, due to border and security controls.
The proposed route bypasses Paris altogether, taking advantage of a recently completed French high-speed rail line, 302km in length, linking Tours with Bordeaux. The new service will be direct, with no need to change trains and, at a travel speed of up to 200mph between the two cities, will offer a less than 5-hour journey time.
With this quicker, direct route, and what many passengers may feel to be a more comfortable means of travel, the future train operator should be ideally placed to compete with low-cost airlines, which currently fly 1.2 million passengers per year between these two popular cities.
HS1 Ltd, the owner and operator of High Speed 1, is in advanced planning with three other international railway operators, Lisea, Eurotunnel and SNCF Réseau. The four are already planning and agreeing timetable slots, train routes and how best to develop Gare de Bordeaux-Saint-Jean to facilitate international departures. This means that a new international train operator should be able to get the route up and running in a couple of years.
Dyan Crowther, Chief Executive of HS1 Ltd, was quoted as saying: "As we've seen with the recent introduction of the Eurostar London-Amsterdam service, there's a real demand for international train services to provide a comfortable and better-connected service, especially for leisure journeys.
"This is the first time that railway operators have collaborated in this way and saves the train operator having to do a lot of legwork. The route is almost ready for a train operator to turn up and turn the key as soon as the UK and French Governments agree on border controls. With the right commitment, we could be looking at new services in the next couple of years. The service will take passengers direct from city centre to city centre, taking the hassle out of travel to South West France." 
With other major European cities also proposed for direct train routes in the near future, access to continental Europe has never been easier... by train at least!